Pillows and Throws
If you're craving a new look for your living room or bedroom (but your budget and schedule say otherwise), a simple and fairly inexpensive way to spice up your decor is to add decorative pillows, throw blankets or floor poufs. With the wide array of shapes, colors, materials, sizes and patterns these cozy accents come in, they are an ideal way to inject pops of personality and energy into your home.

Throw pillows can be stacked uniformly on your sofa or tossed about like you just don't care (but you really do, we know). A good way to start out your accent pillow collection is by selecting sizes and shapes that work well together. This allows you to switch up designs and colors with throw pillow covers. Don't feel limited to your sofa or couch, either. Decorative pillows can accent your bed, too.

Once your pillows are in place, find a decorative throw to drape over the back or arm of your sofa or at the end of your bed. These cozy additions can add a huge dose of texture to any room. You can find them in cable knit, cashmere and faux fur — and when you're ready to relax they're perfect for snuggling up in.

If you need additional seats or to fill an empty space, try adding a pouf to your seating arrangement. Large or small, these are simple yet comfortable seating options. For a traditional, global vibe, go for a Moroccan pouf. If simple solid colors will work better for your space, a cozy knit floor pillow can be subtle color-wise, but in terms of texture it still makes a statement.
1 - 36 of 106,892 products
Sponsored Products
Featured Reviews of Pillows and Throws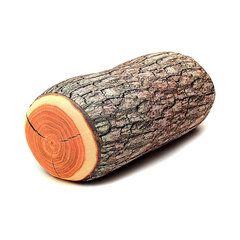 Pillows and Throws
Mellow: I have personal reasons to buy this pillow... I can resume... I am a Surfer in Miami Beach, FL and between hours I take a break under the trees behind the beach... so well... bringing that home... but more than what I expected... the filling of this pillow... Wow just blew me... it´s like a pillow full of grains of sand... exciting! I am getting attach to it...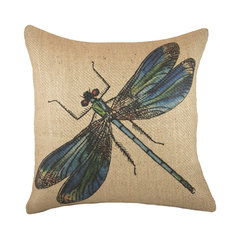 Pillows and Throws
I know I am the only one on the block with pillow!: The buying experience was so smooth, I never even thought of the seller. No problems at all! The pillow is exactly as it looks in the photo online. It is really different and truly stunning! Can't wait to show it off.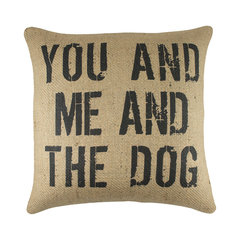 Doggone Happy Family Pillow, Black
Pillows and Throws
Perfect for us: Grown kids, husband and I just recently retired, this cute throw pillow on the swing on screened in porch pretty much tells the tale. Nice quality burlap, and the words are clear and easily visible.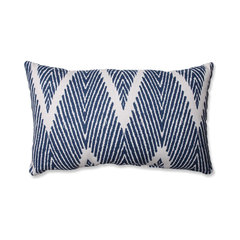 Bali Mandarin Rectangular Throw Pillow, Navy
Pillows and Throws
Nice accent pillows: The icat design definitely stands out on my dark blue chairs. The fabric is a bit more indoor/outdoor than I expected -- good for wear, but not terribly soft, if that's what you're looking for.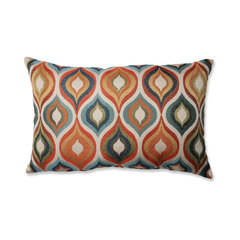 Flicker Jewel Rectangular Throw Pillow
Pillows and Throws
I love this pillow!: I love this pillow! Colors are just as shown, contemporary/transitional look that works wonderfully in most decor. This was just what I was seeking to dress up a chair in our entry way. Good quality fabric as well.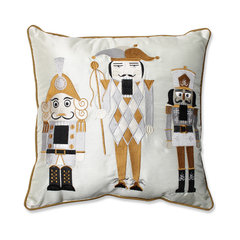 Holiday Embroidered Nutcrackers Throw Pillow, Gold and Silver
Pillows and Throws
Fabulous holiday pillow: I received this pillow from Houzz and was extremely pleased. I have waited for years to find the right Nutcracker pillow. The colors are vibrant and the fabric is 1st quality. I would highly recommend this item!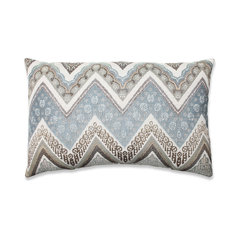 Cottage Mineral Rectangular Throw Pillow
Pillows and Throws
Beautiful fabric and color contrasts: The pillows look classy and although the colors are subtle, they pop. They are lovely. I wish they were bigger, like 21" instead of 18", all of the beautiful fabric and pattern could use being on a bigger pillow.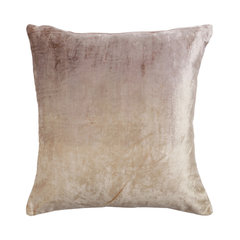 Ombre Velvet Pillow Cover, Beige
Pillows and Throws
sophisticated and perfect match: Really pleased with the pillows which arrived on time and are as close to the on line photo color as one could hope. The pillows are very nice quality with down inner pillow filling and well as a well constructed zipper for easy cleaning. I was looking for a pillow that would pick up the colors of my silk/bamboo rug which can look different depending on the light. These pillows were perfect and would be fine for casual or more formal decor. Quality and service excellent as was the value. I was reluctant to shop on line for something this color specific, but it worked out well and I wouldn't hesitate to shop here again.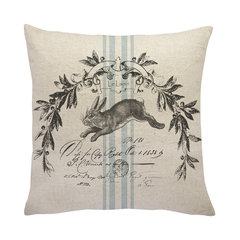 Lapin Linen French Throw Pillow
Pillows and Throws
Perfect in my kitchen on the white and yellow striped long bench cushion.: Perfect in my kitchen on the white and yellow striped long bench cushion. I could be anywhere in the French countryside. It is stuffed just enough to hold its shape well on the bench but still be cozy when snuggled against it while reading a journal with coffee. Also, it looks clean and fresh, but also has that "well-loved over the years" look. No odor, another great point. Arrived timely in a clean plastic bag that held up in transit. I recommend this to anyone else liking its decor.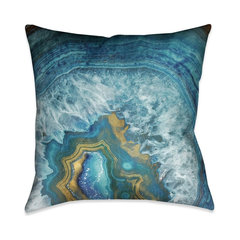 Laural Home Blue Golden Mineral Indoor Decorative Pillow
Pillows and Throws
Magic find: In decorating a room of grays blues and neutral colors for my den , I needed a pop of color. So, I purchased 2 lemon throw pillows to accent an older blue sofa. that looked good but not exactly what I wanted, so I added this beautiful pillow and boom the pop was perfect.