Hall and Stair Runners
Some areas, like hallways and stairways, simply won't fit a traditional rectangular or square rug. Instead, these narrow spaces can be softened with the addition of carpet runners. The long, thin design of runner rugs helps protect hall floors and stairways while simultaneously softening your steps and adding comfort. If a carpet runner sounds like a beautiful accessory for your hallway or stairs, here are some tips to help you bring home the right rug runners:
How do I select the right size carpet runners?
First and foremost, carefully measure the area where your new hallway or stair runner will be placed. This will help determine what size you need. Runner rugs should never be placed wall to wall, and instead you should have a border of uncovered flooring on either side of your carpet runner, with both sides being equal in size. As a general rule, it's recommended you look for a hallway or stair runner with a length that is five times longer than its width. If you're searching for hall runners in particular, don't forget to allow space for any doors to open and close without interference.
Be sure to consider whether the area where your carpet runner will be placed is a high traffic area, as well. Areas with lots of foot traffic will benefit from a non-slip bottom or non-slip rug pad to keep them in place and help prevent injuries. Knowing the correct size for your carpet runner will also help you pick out or size down your rug pad.
More:
Rug Size Guide — Find the Perfect Fit
What types of material are best for my new hallway or stair runners?
Natural fibers tend to be higher in quality, though you may opt for synthetic fiber rug runners due to their ability to hold up under a lot of traffic. Fibers that work well in high traffic areas are cotton, nylon, sisal and wool, while silk, sea grass, polypropylene, polyester and jute can be used in areas with low foot traffic.
1 - 36 of 79,887 products
Sponsored Products
Featured Reviews of Hall and Stair Runners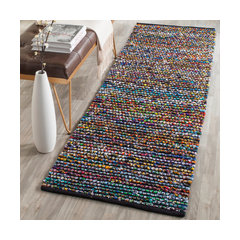 Jack Handwoven Rug, Multi, 2'3"x8'
Hall and Stair Runners
beautiful but: Loved the rug but ultimately returned because the rolled rag that looks so nice is very thick and uncomfortable under foot especially if barefoot. I purchased for a high traffic area and feel while the look is so great the thickness could create a trip hazard and the threads from the rags would be a nightmare to vacuum. Would be nice for a lower traffic area.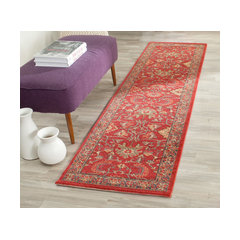 Safavieh Meek Woven Rug, Red and Navy, 2'2"x10'
Hall and Stair Runners
Fab for the price: I loved this pattern online and loved the rug even more in person. It's a machine-made polypropylene but looks nearly handmade of wool. The colors are muted and lovely. It blends will with very costly antique Persians I have but better suited for high-traffic area. Highly recommended.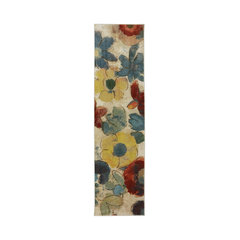 Hall and Stair Runners
watercolor carpet: my new watercolor rug is beautiful and seems sturdy. The beautiful colors really tie in the colors in my condo. I am thinking of getting another. Currently in my living area it would also go great in my bedroom.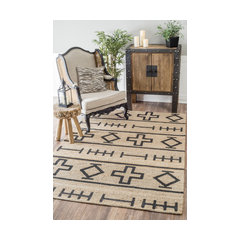 Clay Geometric Area Rug, Natural, 2'6"x8'
Hall and Stair Runners
Great rug for the price: This is a great price for this rug, it's a nice combo of jute and cotton so it's not super scratchy like some of the jute/sisal rugs out there. Has a cool southwestern vibe. It does smell a little at first (like all natural rugs do), a bit like seagrass or hay, but it goes away after about a week. Very happy with purchase, would highly recommend, especially for the price!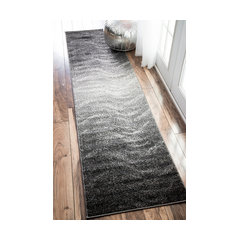 Contemporary Ombre Waves Polypropylene Rug, Gray, 2'5"x9'5"
Hall and Stair Runners
Beautiful Rug!: I ordered this rug for my living room, and it looks exactly like the picture, and even better in person. It exceeded my expectations! It's also super soft! I actually ordered this exact rug again, because I loved it so much.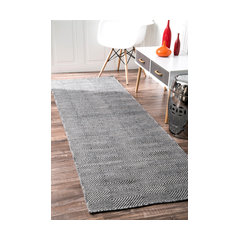 Mosby Hand-Tufted Rug, Gray, 2'6"x8' Runner
Hall and Stair Runners
Amazing: This rug looks and feels so high end. I haven't owned it long enough to review on wear and tear but as far as looks go it's a great value especially given the large size and fact that it's wool.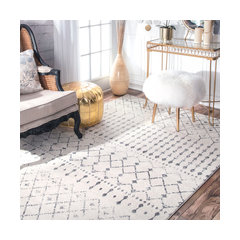 Peverelle Trellis Rug, Gray, 2'8"x8' Runner
Hall and Stair Runners
Exactly as Pictured: I am so happy with this rug! At such a great price, it came exactly as it looks in the photo. Colors are on point and quality is what you'd expect for a rug at this price. Loving my bedroom now!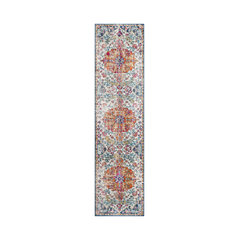 Harput Traditional Saffron, Light Gray Area Rug, 2'7"x7'3" Runner
Hall and Stair Runners
Soft and colorful.: I ended up settling for this rug but I'm so glad I did. It came rolled up and laid flat as soon as I unpacked it. All rugs have a chemical smell when they're fresh out of the box, but this rug's smell was minimal. The pattern is less busy in person and the colors are just a little lighter than the photo. I'd recommend buying this rug first and then matching around it.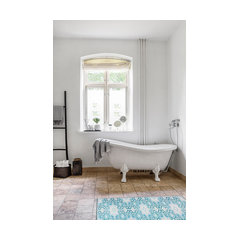 Fes Indoor/Outdoor Woven PET Runner, 2.5'x9'
Hall and Stair Runners
Wonderful: Quick shipping, easy to vacuum. I've had it a week so can't speak of longevity. The reason I gave it 4/5 stars is because I'm still fighting with the curled end from being stored/shipped.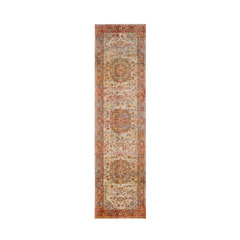 Safavieh Vintage Persian Rug, Saffron, 2'2"x8' Runner
Hall and Stair Runners
Great rug; fantastic price: I love this rug. It arrived on time and so well packaged! Looked great on the website, but it has beautiful and vibrant colors. It is soft, comfortable and good quality. It is as described, and I would definitely recommend this rug to others.