Range Hoods and Vents
Range hoods and vents are essential in any kitchen to diffuse cooking smells, hot air and gases from the stove. But besides their functional purpose, venting appliances can be a stylish way to complete the look of your kitchen, from statement-making
copper
and
stainless steel
range hoods to simple
microwaves with vents
. Whatever sort of range hood vent you're in the market for, consider the following guidelines:
Should I get a ducted or ductless range hood?
The first thing you should determine when shopping for a kitchen hood vent is whether you want it to be ducted for outside ventilation or not. A ducted range hood redirects air through a system of pipes to the outside, while a ductless or recirculating range hood simply filters the air and releases it back into the kitchen. While a ducted vent is more effective in getting rid of hot air and cooking smells, it is also more complicated to install than a ductless model. Professional range hood installation can make the process much easier, but if you decide to install the vent yourself, remember to never direct the piping into your attic or basement.
What type of range hood should I get?
Range hoods come in a variety of styles depending on where they are installed, and whether they are ducted or ductless. Think about the set-up of your kitchen, and which type would work best for your cooking needs.
Under Cabinet Range Hood - If you have a cabinet above your stove, an
under cabinet style
might be the best option for your kitchen. These vents are installed on the underside of the cabinet and can be ducted or ductless.
Island Range Hood - This venting system is for kitchens with a stovetop on top of an island.
Island hood vents
hang above the freestanding cooktop and diffuse air through ducting in the ceiling.
Range Hood Insert - If you want to hide your range hood and you have cabinets above your stove, the insert style can be a great option. This type is built into the cabinetry and is hidden behind cabinet doors, with only the bottom venting underneath the cabinet exposed. Hood inserts may or may not be ducted.
Microwave with Vent - While not a true kitchen hood, you can also strategically locate your microwave above your stove, making sure you have a model that includes a vent. Over-the-range microwaves with vents are not as effective at dissipating smells and heat, but they are a good multitasking option. They can be ducted or ductless.
Wall Mount Range Hood - Also called chimney hoods, this style has a flue that releases air upward and outside, for excellent ventilation.
Wall mount ranges
do take up more space, however, than other models and cannot be installed where there are cabinets. This type can also be installed above an island stovetop.
Downdraft Range Hood - If you want to minimize the appearance of your kitchen vent, the downdraft range is a particularly discreet style. This venting system pops up from the stovetop when needed, and can be hidden away when you're not cooking. It works by moving fumes through ducting running beneath the floor.
How powerful does my range hood need to be?
Some range hoods are much more heavy duty than others, so think about how often you cook, what kind of cooking you do and what kind of stove you have when choosing the right appliance for your kitchen. One of the most important indicators of a kitchen vent's power is the CFM, or how much air it moves in cubic feet per minute. A CFM between 300 and 800 will be sufficient for most household stoves, but you can calculate how much power you'll need by dividing your stove's BTU's, or British Thermal Units, by 100. In general, gas stoves will need a more heavy duty range hood than will electric stoves.
Of course, all of the air circulating that kitchen vents accomplish can create a lot of noise. You can compare noise levels by looking at a venting system's number of sones. Just keep in mind that the more powerful the appliance is, the louder it's going to be. Size is important too: For optimum circulation, your range hood should be at least as long as your stove, and it's even better if it hangs about three inches longer on either side.
Sponsored Products
Featured Reviews of Range Hoods and Vents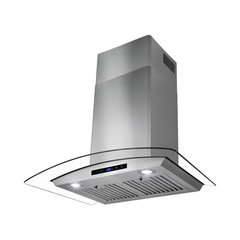 AKDY Stainless Steel Wall Mount Range Hood Touch Panel
Range Hoods and Vents
Beautiful hood: We purchased this hood for our new construction home so it is not installed yet, but it arrived in a timely manner and was well packaged. We anticipate being pleased with this purchase.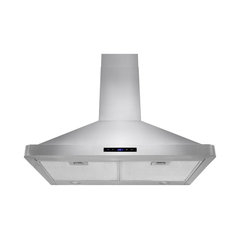 AKDY 30" Wall Mount Range Hood Stainless Steel Touch Panel LED Two Mesh Filters
Range Hoods and Vents
Great Range Hood: The Luxem Range Hood is a splendid item very modern and stylish, yet very affordable with superior functionality. There is not a better deal out there! For household items, I'm going to check Houzz first on all my future purchases.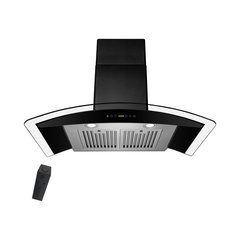 AKDY 30" Wall Mount Range Hood Black Stainless Steel With Remote Control
Range Hoods and Vents
Who wrote these instructions?: The product itself is fabulous. Who ever wrote the instructions for this product has the worlds best eye sight. Smallest print ever in an instruction manual. Also directions could be much better detailed. I had to figure a lot of the install out on my own. There is a clear plastic piece that came in the box I still have no idea what it is for or where it goes. No directions for the remote are clearly define. Vent hood flange should be reversible so if you dont have a vent less hood you don't need the vents at the top. Instructions say it can be done but doesn't look or install right if you try. I love the range hood itself but the directions need a ton of help.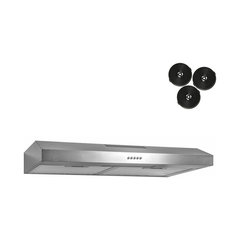 AKDY Under Cabinet Kitchen Range Hood Ductless Cooking Fan, Stainless Steel, 30"
Range Hoods and Vents
Sleek and shiny Rane Hood: The hood fit perfectly and it looks sleek and very modern. Controls are easy to use and the fan system is quiet on the low setting and not intrusive at the higher speeds. The lights add a warm glow while really lighting up the range area. Very pleased.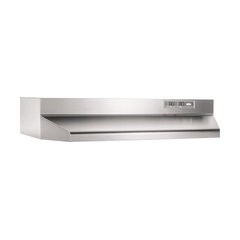 Broan 30" Range Hood, 2-Speed Rocker, Light, 160 Cfm 403004
Range Hoods and Vents
Excellent Service: The purchasing of the range hood was very easy, price was best I could find. The website was user friendly, product was exactly as advertised quality was great and it arrived on time. Works just fine. I highly recommend Houzz to anyone.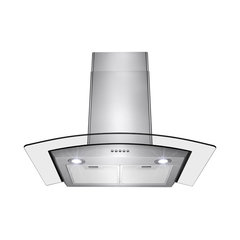 AKDY 30" Wall Mount Stainless Steel Button Panel Kitchen Range Hood Cooking Fan
Range Hoods and Vents
Overall decent range: Installation was the worst, then trying to line up the chimney pieces was another headache. Afterwards everything went fine, I had to run my power line a bit further it's a plug in not a hardwired hood. The suction is strong and lights are very nice. It complements my kitchen well.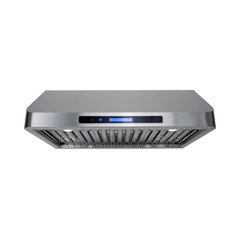 Anson Under-Cabinet Mount Kitchen Hood, 30"
Range Hoods and Vents
Quiet, powerful hood: This hood came with my house and I have to say that it is very quiet and sucks out all the smell from the kitchen when I cook. I also like the remote control where I can control it at the dinner table or the living room.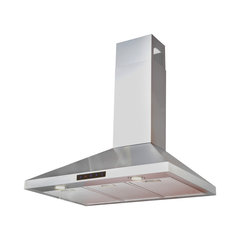 30" Stainless Steel Wall Hood
Range Hoods and Vents
Simple and clean.: Haven't put it on the wall yet but plugged it in to test that it worked ok like the instructions said. It feels like it moves a lot of air. Solid construction. Not flimsy. Had issues getting low speed to work on the touch panel. Apparently it is sensitive to the size of finger you use. Index finger would work consistently with power, light and high speed. Medium worked most of the time. But couldn't get low to work at all. Until I used my thumb and then it worked consistently. So may or may not be an issue overall.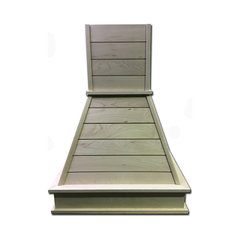 Shiplap Chimney Range Hood, Red Oak, 30"
Range Hoods and Vents
Perfect accent to our kitchen remodel!: We live that it came raw and we could choose the appropriate stain to match our island. Ensure you get the appropriate vent/light kit when you order this as you cannot buy a standard one from a box store.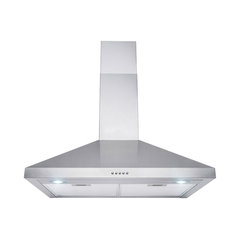 30" Wall Mount Stainless Steel Push Panel Kitchen Range Hood Cooking Fan
Range Hoods and Vents
Great low-cost option!: Bought and installed this as part of a kitchen reno on a budget. For $99 shipped, I couldn't be happier. Looks very nice, displaces a hell of a lot of air. A bit loud and the lights are a bit cold for my taste, but hey. At this price? I can deal. Also note that it comes with an IEC power cable...which can be cut off if you're in need of a hardwired hood.