Ceiling Fans
Ceiling fans were once thought of as strictly practical products, designed to move air around and cool down a room. Luckily, you don't have to sacrifice style for practicality anymore — you can have a ceiling fan that looks great and functions perfectly. Knowing what to look for will help you purchase the perfect fan for your room, so follow these easy tips to choose the right one.
What size ceiling fan do I need for my space?
Ceiling fans need to have enough room to rotate their blades and allow air to circulate properly. The size of a fan is determined by its blade span, which is measured straight across from one fan blade tip to the opposite blade tip. Here's a quick list of typical ceiling fan sizes and their matching room dimensions:
40-inch fan: Rooms up to 80 square feet (approximately 8'x10')

50-inch fan: Rooms between 80 and 168 square feet (approximately 12'x14')

60-inch fan: Rooms between 168 and 360 square feet (approximately 18'x20')

60+-inch fan: Rooms 360 square feet and larger (approximately 18'x20' and up)


Can ceiling fans be mounted differently?

Yes, not all fans are made to be used in every situation. The method of installation depends on the height and type of ceiling you have. A general rule is that ceiling fans should be installed about 8 feet from the ground, minimum 7 feet if absolutely necessary. Here are the three main mounting types:


Flush mount: Low ceilings require close or flush-mount ceiling fan installation. The low profile designs help minimize bulkiness while providing plenty of clearance to walk under. These are also known as hugger ceiling fans because of the way they "hug" the ceiling.

Downrod: If your ceilings are high, you may need a downrod to bring the fan to the correct height. Some downrod ceiling fans are adjustable, but most come in incremental lengths of six inches, so be sure to measure before buying.

Angled/sloped: Sloped ceilings can still accommodate a ceiling fan, you just need one that is sloped ceiling adaptable so that it hangs level to the floor.


Which features should I look for in a good ceiling fan?

The best ceiling fans will be the ones that work well for your specific space in terms of style, size and functionality, but if you want to ramp up the value look for these popular features:


Energy Star: Ceiling fans with the Energy Star rating have been certified as meeting certain energy efficiency standards. This could help save on your electricity bill without sacrificing any functionality.

Lighted: Ceiling fans with lights do double duty. Why have a fan and a separate lighting source when you can have both in one product?

Remote Control: Don't bother getting up and down to change the settings. Invest in a ceiling fan with a remote for easy control over blade speed and light intensity.

Quiet: Want to stay cool but don't want to hear the roar of a fan? Keep your eyes open for quiet ceiling fans that minimize the noise they make — you'll forget it's even on!

Outdoor: If you have a great outdoor living space, why not keep the airflow going with an outdoor ceiling fan? These are specifically designed for outdoor use or in potentially wet and damp locations. Do not try to use an indoor-only fan outside.

Reversible: Did you know fans can be used to heat a room also? Look for one with a reversible motor to heat and cool a space as needed. Set it to counter-clockwise to push air downwards and cause a cooling effect, or clockwise so it grabs the warm air that gathers near the ceiling (hot air rises!) and redistributes it throughout the room.
Sponsored Products
Featured Reviews of Ceiling Fans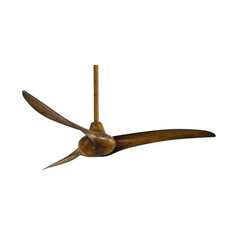 52" Wave Ceiling Fan, Distressed Koa
Ceiling Fans
Beautiful Fan: I was so happy to find this fan after initially being disappointed at the cost of a BAF Haiku. This is one of the most beautiful ceiling fans I've ever seen, it was easy to install, is very quiet, and the remote control is a handy feature. I would recommend this to anyone looking for a sleek and sculptural ceiling fan.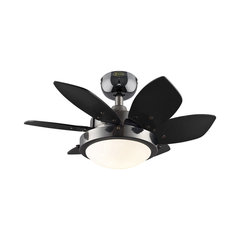 Westinghouse 24" Gun Metal 6-Blade Reversible Ceiling Fan With Light
Ceiling Fans
WH Quince 24" Ceiling Fan: Don't let this fans tiny blade size fool you. It packs a powerful force of airflow in a decent sized room. I recently purchased and installed this fan in my sun room since I don't have an AC & the results are phenomenal. The unique gunmetal finish goes great with any color scheme and enriches the room.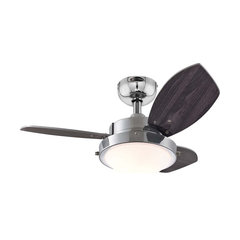 Westinghouse Wengue Ceiling Fan With Light, Chrome, 30"
Ceiling Fans
Extremely Powerful and Completely Silent!: I bought this fan for my son's bedroom because it had short blades and would be safer with bunkbeds. Little did I know, it would be the best ceiling fan that I would ever own. It is the most powerful fan I have ever seen, and also the quietest! Out of every fan that we bought, some triple the price as this one, this is definitely the best!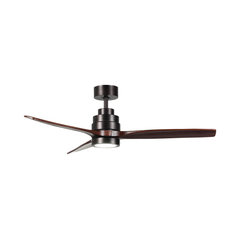 Portland Industrial 3-Blade Ceiling Fan, 52", 4000k
Ceiling Fans
T: My other arrived on time. The product quality is excellent and my husband love the wood. It perfectly match my family's room furniture. I could not add photos because they are on my I-phone. I do not know how to make a review from the houzz app. otherwise you could see how beautiful is on my family's room.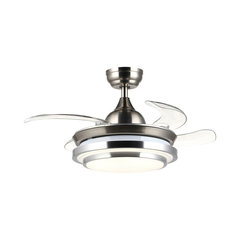 Rhodes Folding Blades Ceiling Fan With Light and Remote Control, 36"
Ceiling Fans
Fabulous!: I️ did 2 of these in my huge remodel — wish now I️ had done more. They are amazing it has become my favorite thing to show how you turn on the light and the blades come out & it works great is not obtrusive when you turn off the fan the blades disappear & you have a great light in the room. Can't wait for warmer weather to have them on. You won't be sorry— I️ think I️ paid much more for mine in the Fanimation line— very cool & sleek look for any room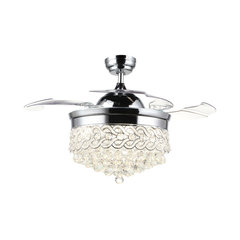 Jake Crystal Folding Blades Ceiling Fan and Remote Control, 42", White Light
Ceiling Fans
Stunning, Quiet and Lots of Airflow: I finished installing my fan/chandelier this weekend. It took next to no time to install the fan. The installation of the crystals took 4hrs. Almost 2 hours just on the outer ring. I don't know why the company could not have put those on prior to shipment. Do yourself a favor and install the outer ring faux crystals before you hang the assembly. Your arms and feet will thank you! It looks gorgeous fully assembled and the fan uses centrifugal acceleration to expand the fan blades once you choose a speed setting. Its neat to watch them move outward and then draw back in when you turn the power off. They are VERY quiet (think Prius quiet) and produce a lot of air. The crystal balls don't move at all with the fan in motion, so that is a testament to how well this is balanced. This design is very high end and all of the parts are high quality. The only draw back is that the LED is one setting: 4000K. So it's a very bright cool white. Which is too strong for use in a bedroom. I wish I could change the light color/intensity. But the beauty and functionality of this makes the one light level easy to overlook.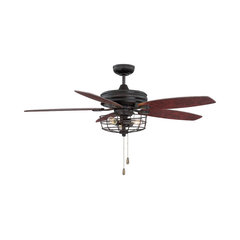 52" Ceiling Fan With Light
Ceiling Fans
Great Fan!: Quality, appearance, fan balance, ease of installment and even speed of shipment were all easily acceptable. The fan looks better than the picture had depicted it. I would recommend to a friend.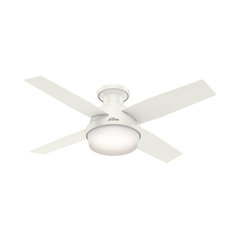 Dempsey 2 Light 44 in. Indoor Ceiling Fan in Fresh White
Ceiling Fans
Not Disappointed: This ceiling fan is better than pictured. Nice clean lines. My only complaint is the light only has one setting: on or off! The fan itself 3 settings. All in all a good product.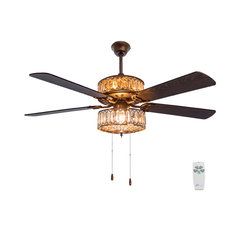 52" Silver Geometric Diamond Shaped Double-Layered Clear K-9 Crystal Ceiling Fan
Ceiling Fans
Elegant: Beautiful addition to our master suite! A lot of difficulty assembling, variations (upper and lower lighting chamber) in lighting not too practical in the conventional sense (whole room white lighting) nevertheless, it gives our master suite a very elegant and sophisticated look.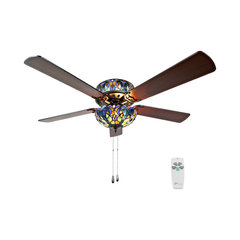 Tiffany Style Stained Glass Halston Ceiling Fan, Blue
Ceiling Fans
This is a gorgeous ceiling fan and the decor fits antique and beautiful.: This is a gorgeous ceiling fan and the decor fits antique and beautiful. The assembly took my handy husband 4 hours and a few consults to my engineer brother otherwise would have given 5 stars! Also, the upper portion has 4 seven watt bulbs which don't provide light, just illuminate the upper portion for looks. You have to unscrew the top to change these lights, so invest in 20 year bulbs. Lol. Enjoy the looks of this it's lovely!