Cabinet and Drawer Hardware
The hardware on your cabinets and drawers can transform the entire feel of a space. Think of your cabinet hardware like an accessory to an outfit — you can take the look to a different level just by swapping out one tiny detail. Whether you're adding new kitchen hardware and deciding between knobs and pulls, or updating furniture hardware, there are more than enough style, finish and material combinations to achieve any look you desire.


1 - 36 of 43,961 products
Sponsored Products
Featured Reviews of Cabinet and Drawer Hardware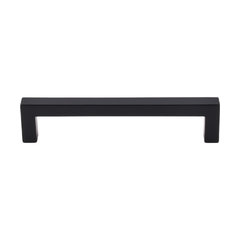 Square Bar Pull 5 1/16" (c-c) - Flat Black
Cabinet and Drawer Hardware
Nice product: I ordered one of these to see the quality and scale since shopping hardware online is so difficult. The quality is nice. Finish looks good and has a solid weight to it. It's narrower in width than I expected but overall looks really nice. It's definitely a top contender.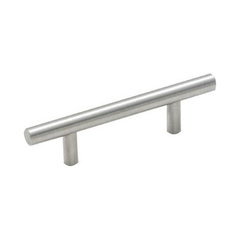 Cosmas European Bar Pull, Satin Nickel, 305-030
Cabinet and Drawer Hardware
Great value: Updated! What? The sizes are inconsistent? Yes, they are. The distance between the holes for installation varied as much as 1/2". Additionally, the bars aren't always straight. Luckily we had enough to move the more obviously misshapen ones to a lower drawer. I didn't want to send them back as my project is several weeks behind. Note to those considering purchase: buy several extra to allow culling of less than good pieces. Original post: These pulls are heavy duty! They don't feel wimpy and the size is substantial. We've not yet installed the cabinets to which they'll be attached but they look terrific even sitting in the box. We shopped high and low for this product but couldn't find any for a reasonable price. That is, until we located them on Houzz. Woohoo!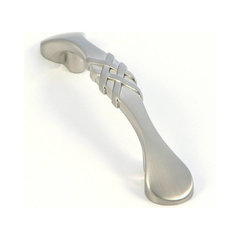 Stone Mill Hardware Satin Nickel Weave Cabinet Pull
Cabinet and Drawer Hardware
Great pulls for wet bar!: I wanted the pulls in the great room wet bar to be different from the pulls on the kitchen cabinets, and the design on these pulls is perfect. Elegant, timeless and classic and works with our transitional style home.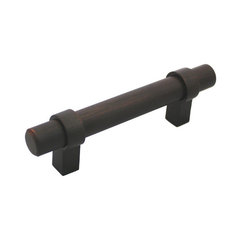 Cosmas 161-3ORB Oil Rubbed Bronze Euro Style Bar Pull
Cabinet and Drawer Hardware
Great Looking Hardware!: These pulls have a great transitional design and they really "pop-out" against the cabinets. I would give them a five star rating but just installed them so not sure how well the oil bronze finish will hold up with daily use in my kitchen.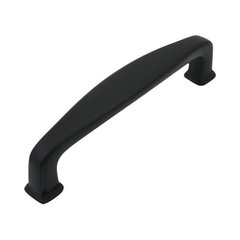 Cosmas 4389CH Polished Chrome Cabinet Pull, Flat Black
Cabinet and Drawer Hardware
Solid pull. Very reasonable price.: I wanted to update an old sideboard. The pulls I located in the local big box store were $7.49 each. These were similar but half the price. So I topk a chance. They are well made. I couldn't be happier.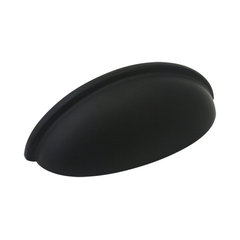 Cosmas 783 Cabinet Cup Pull, Flat Black
Cabinet and Drawer Hardware
Amazing and affordable: Again, this product proves that beautiful can be very affordable. This ORB cup pull was very nicely made and coordinates well (we couldn't tell they were different brands) with another product that I bought (Amerock) ORB knob. We are very happy with this purchase. We got the shipment very quickly as well.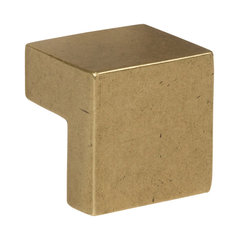 Atlas Homewares Small Square Knob 16mm CC, Vintage Brass
Cabinet and Drawer Hardware
Solid , high quality knobs: Very modern and high-quality knobs. I ordered The polished nickel, though, and I will have to return it to instead get stainless steel. My interpretation of polished nickel has a mild the yellow tint to it but this one came and appeared to be very shiny chrome which the picture online doesn't seem to reflect. Regardless, it is a solid , well constructed knob purchase and a great value.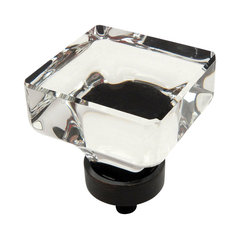 Cosmas 6377ORB Oil Rubbed Bronze and Glass Square Cabinet Knob, Clear Glass
Cabinet and Drawer Hardware
Knobs added the elegance I wanted for my kitchen: I couldn't afford to completely remodel my kitchen, but I wanted to make a change. I thought I liked it online, but I really fell in love with it once it reached my home. I'm using them in my kitchen, but they would be equally lovely in a bathroom. They are beautiful without being ostentatious.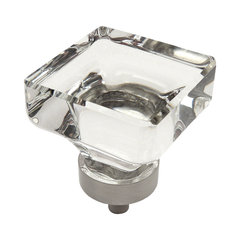 Cosmas 6377SN Satin Nickel and Glass Square Cabinet Knob, Clear Glass
Cabinet and Drawer Hardware
The BEST: This knob was far beyond my expectations. The glass is substantial with a beveled edge giving the knob a clean contemporary feel. They set off our bathrooom cabinets perfectly....adding depth and elegance to the drawers. They are also a nice size to use.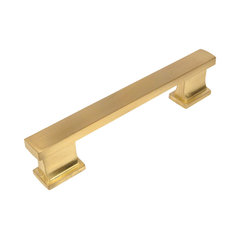 Cosmas 702-4BB Brushed Brass Contemporary Cabinet Pull, Set of 10
Cabinet and Drawer Hardware
Very nice quality: Love the quality of this product. It is brushed brass but still has a bit of shine to it that I was not expecting. Love the shape and weight of the pull, though. Trying it in a different finish. Love that it can easily be returned/exchanged.