Cabinet and Drawer Hardware
The hardware on your cabinets and drawers can transform the entire feel of a space. Think of your cabinet hardware like an accessory to an outfit — you can take the look to a different level just by swapping out one tiny detail. Whether you're adding new kitchen hardware and deciding between knobs and pulls, or updating furniture hardware, there are more than enough style, finish and material combinations to achieve any look you desire.


1 - 36 of 43,683 products
Featured Reviews of Cabinet and Drawer Hardware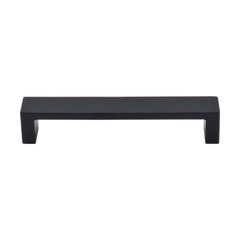 Modern Metro Pull 5" (c-c) - Flat Black
Cabinet and Drawer Hardware
High quality modern door pulls: These are high quality door pulls that look great. At first I thought they looked somewhat large but after all the pulls were installed, they looked perfect. All the pulls measure out exactly the same (5# c to c) so I was able to make a template out of plexiglass and this made the installation very easy.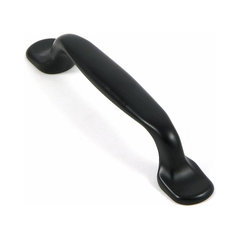 Stone Mill Hardware Matte Black Marshall Cabinet Pull
Cabinet and Drawer Hardware
Cabinet Pulls: I have been searching for cabinet pulls that were simple but elegant and I am so pleased to have found these. They will look beautiful on my new cabinets. Also I was very happy with the shipping which took less than a week.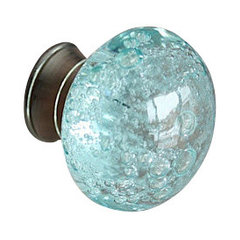 Glass Bubble Drawer Cabinet Knob, Blue
Cabinet and Drawer Hardware
Blue glass knob is beautiful!: The light reflects thru this blue glass knob makes it sparkle! It is so pretty! I couldn't find anything for my bathroom and kitchen that suited me from the cabinet designer, so I turned to Houzz & found what I was looking for. The hardware on the knobs are more silver then the pics show. According to the pic, I thought it was kinda bronze. But I will use them because they are so fab!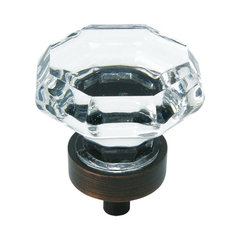 Cosmas 5268ORB-C Oil Rubbed Bronze and Clear Glass Cabinet Knob
Cabinet and Drawer Hardware
These are the best glass knobs I've seen!: When I chose glass knobs for our new bathroom vanity, all I found in stores were very plain and common looking. I actually purchased some THEN found these beauties online. There is truly no comparison, something even my husband said. They arrive very quickly in perfect condition and we couldn't be happier. I'm so happy to have found something that someone took such care in designing and creating.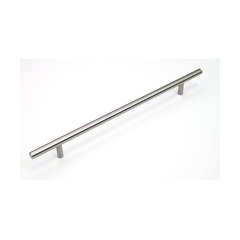 Euro 12", 300mm, Cabinet Stainless Steel Handle Bar Pull
Cabinet and Drawer Hardware
Cabinet Pulls: Order was received more quickly than expected and was packed well. Drawer pulls are heavy and nice quality; however, pulls are 11.75 inches rather than 12 inches as indicated. Much better price than I was able to find locally or on line.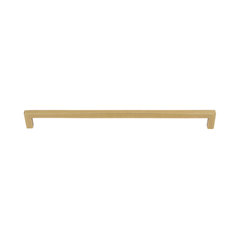 It Pull 288 MM CC, Vintage Brass
Cabinet and Drawer Hardware
Love these: Used these for the bypass closet doors in a Mad Men inspired office/guest-bedroom redo. The finish really works for that. They have a nice feel and are not too shiny or brassy, but have a nice glow when the light hits them. I think they really elevated the look of the doors. Overall extremely happy.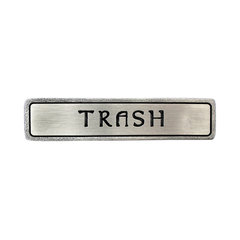 "TRASH" Pull Antique Pewter (Horizontal)
Cabinet and Drawer Hardware
"Trash" Pull Antique Pewter: This is greatest pull for a pull out trash cabinet. It's got a nice heavy weight to it, and we think it looks fantastic in our new kitchen. We love that we never have to tell guests where the trash is, because it's immediately obvious ;)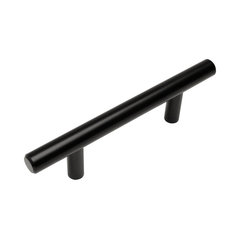 Cosmas 305-030FB Flat Black Cabinet Euro Style Bar Pull, 3" Hole Centers
Cabinet and Drawer Hardware
Another great product: Looks and feels great! The quality is outstanding. The same exact hardware is sold elsewhere for 3x's the cost. I ordered previously for my kitchen & was so pleased I ordered again for all my bathrooms. I've also referred this product & company to several friends.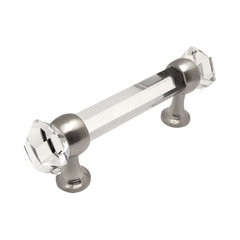 Cosmas 6393SN-C Satin Nickel With Clear Glass Cabinet Pull, Single
Cabinet and Drawer Hardware
Love'em: I ordered them and they were delivered within 4 days. I was very pleased with the ease of the ordering process. Pulls arrived and to my delight, they were everything I was hoping for; high quality, sturdy, beautiful!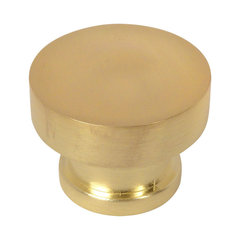 Cosmas 704BB Brushed Brass Round Contemporary Cabinet Knob
Cabinet and Drawer Hardware
Very glamorous knobs.: I bought these for a guest bath remodel. Although they did not match my vanity fixtures I am still keeping them for my next project. They are a great value and look very expensive.