Desks
Whether you're furnishing a home office or simply need somewhere to put your computer, desks are useful, multifunctional additions to any household. If you're looking to create a dedicated work space at home, a
corner desk
is a great option; if you're hoping to stay active while you work, a tall surface to stand at would be ideal. Think about the guidelines below to create your perfect workstation:
What type of desk should I buy?
Before doing any shopping, consider the sort of work you'll be doing to determine what types of desks would best fit your needs.
Computer Desk
- This style is often built around wire management and may come with a keyboard tray. Similar to a
writing desk
, this style is also defined by having sufficient working space to put a computer or laptop.
Standing Desk
- If you want to stand up while you work to remain focused and active, a working surface with adjustable height may be right for you. Make sure it can be adjusted to come up to your waist, for comfortable typing and writing.
Executive Desk
- This style often comes with a large set of drawers or a filing cabinet on both sides. Perfect as a home office desk, this type is also ideal for those who want a more stately, elegant look.
Desk with a Hutch
- For extra storage and to keep all of your books and working materials handy, an attached hutch can be very useful. This style is well suited to both the home office as well as kitchen workstations, as the extra shelving can blend seamlessly with kitchen cabinetry.
Secretary Desk
- This traditional style often slopes in a downward diagonal, with shelves up top giving way to a flat surface. Similarly, a
roll top
style offers some extra shelving, and when you're finished working for the day, you can simply roll the attached cover over your work surface to hide any messes.
Reception Desk
- This style has a raised front edge and a large workspace below, ideal for receiving visitors in a professional setting and keeping work and files hidden.
Wall-Mounted Desk
- This style is mounted on the wall and provides a compact workspace. A
leaning style
also provides a small yet convenient working surface, supported by two long poles that lean up against the wall.
Gaming Desk - These will have multiple levels to display two or three laptops or computers, for those that really want to be plugged in.
What shape do I want my desk to be?
Consider both the size of your office as well as your needs. An
L-shaped desk
provides plenty of workspace, room for your computer monitor and usually comes with storage. A
U-shaped desk
provides even more room to work, with a wrap-around look. If you're tight on extra room, consider a space-saving corner or wall-mounted style.
What materials, finish and style will be best in my workspace?
Just because you're going to be working doesn't mean you can't do it in style. If you're furnishing a separate home office, feel free to run with whatever look you like. If your workspace is in the kitchen, go with what matches the space -- maybe a clean
white desk
or a
farmhouse look
. Consider too whether your working station is meant for heavy use, or more as decoration. For lots of typing and writing
wood
is best, while a contemporary,
mirrored surface
might be best for an accent piece.
Sponsored Products
Featured Reviews of Desks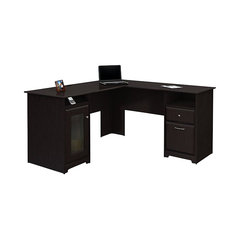 Bush Cabot 60" L-Shape Computer Desk in Espresso Oak
Desks
Overall Great Desk!: All the pieces are clearly labeled which was very helpful. The desk itself was beautiful. The only thing I was disappointed with was one of the top pieces of the desk had a chip in the wood as soon as I took it out of the box. I can't tell if it happened during shipping or it was shipped with the chip.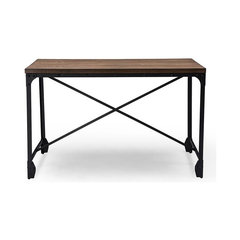 Desks
Great looking office desk for a home office: We purchased the desk for a home office. It is well made and assembly was easy. We purchased the matching end table for use as a printer stand. When we no longer need an office, we have a dining table or TV stand. Very versatile piece.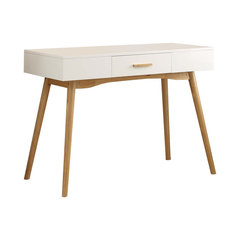 Helsinki Mid Century Writing Desk, White
Desks
Great for a Makeup Vanity: I was looking for a writing desk to make into a makeup vanity. This desk arrived in perfect condition. However, the posted dimensions are slightly off and I had to rehang a mirror I had hung based on the given dimensions. Looks great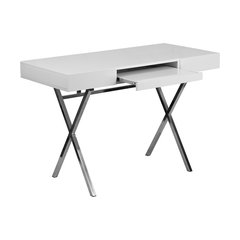 45.25"x21.75" White Computer Desk With Keyboard Tray and Drawers
Desks
Pretty great little desk!: I didn't expect to love a desk that cost me about $160 with free shipping. It looked cool in pics, but would it really be great? Well it is very nice looking. It's white so it keeps the space open looking, and the chrome kegs are also stylish. It's oddly covered in two layers of clear plastic - I think the idea is to leave one on so it stays really clean and shiny. One layer is wrapped into the jouns so you can't really get it all out without unscrewing it, and I don't want to do that. So I I kind of left it. But at the end of the day it is a greT looking desk. It comes all put together and it's s good size if you like things compact as I do. Very happy with it.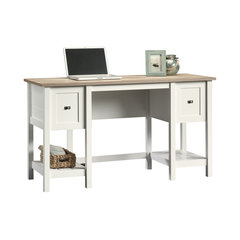 Summer Cottage Desk, White
Desks
Beautiful desk: The minute I opened the box I fell in love. It's sturdy and I like most of all that the instructions were very detailed and if you could understand you could watch a video to understand better I will definitely recommend it to everyone. I love your website very much keep it coming !!!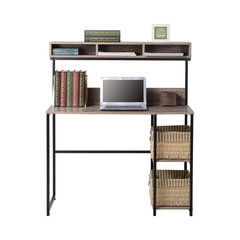 Homestar Laptop Desk With Hutch
Desks
Great looking small desk for son's room: Desk arrived very fast. My son and I put it together in about an hour or so without any problems. Be prepared though for a lot of time spent tightening all bolts and screws to assemble the desk. Overall, looks very nice and is an appropriate small desk with plenty of small areas for storage.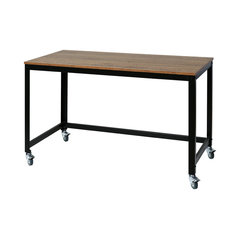 Desks
Perfect!: Love our new industrial looking desk. Clean lines. Easy to assemble. Well made. Very good looking piece of furniture. Love the locking mechanism on the wheels. Great price too!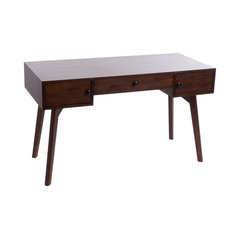 Quintone Walnut Finished Acacia Wood Desk
Desks
Almost a 5 Star: This is a beautiful desk, a great size and I would have rated this a 5 if but for one thing. It was VERY disappointing that the back of the desk is not finished. It will be fine if you situated against a wall, but I wanted it free standing in the center of the room. It was way too heavy for me to bother with repacking it and returning, otherwise I might have done just that.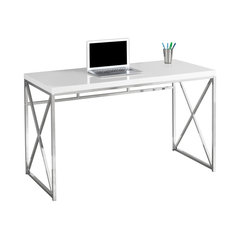 Exacto Chrome Base Computer Desk, Glossy White
Desks
Love it!: The desk works perfectly in my office/guest room. It's sleek and clean and it was easy to put together. I hate putting furniture together, but this was very simple and worth the effort.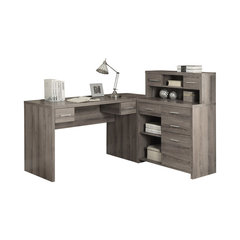 Monarch Hollow Core L Shaped Home Office Desk With Hutch, Dark Taupe
Desks
Perfect for our tiny office: We have a tiny little room as an office in our house and this desk works great. You can decide what orientation you want it and overall the desk was super easy to put together. There is a ton of desk space (we have two monitors) and lots of storage, which is what we needed. So far, I'm pretty happy about it! However, I think it's important to say that there are a lot of pieces (like around 60ish?) and it does take several hours by yourself. Remember the directions are online, not in the box. My husband was the one who put it together and usually he gets frustrated by all of those pieces, but he said it was super easy to do, just took a while.