Kitchen and Dining Furniture
Kitchen and dining spaces center around food, and where there's food, there's people. Between hosting dinner parties and scarfing down breakfast at your counter, your kitchen and dining room furniture sees its fair share of use. Because of this, it's essential that you invest in durable dining sets and kitchen furniture, including bar stools, pantry cabinets, kitchen islands, sideboards and bar carts that will hold up to the chaos.

The purpose of such furniture is geared more toward function than decor, but that doesn't mean you can't have both. Find pieces that fit the style of your space, but also offer versatility for all situations. For example, if you are short on space, look for a dining table with an insert so you can keep it small but expand it when you have more guests. Simple dining chairs can easily be dressed up with chair cushions or covers, so something less trendy and more classic will last you for years. Small bistro tables and bar tables are great for casual meals, as well as doing homework or small crafts. Take your time while shopping for furniture for your kitchen or dining room, as these big ticket items are easy to style but more difficult to change and replace.

Browse our kitchen and dining furniture section to find the products you love.
1 - 36 of 89,656 products
Featured Reviews of Kitchen and Dining Furniture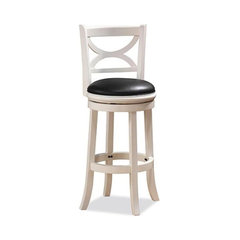 Florence Swivel Counter Stool, Distressed Ivory
Kitchen and Dining Furniture
Perfect counter height bar stool: I was looking for a distressed white bar stool to compliment our kitchen island and these are perfect. I had saved this bar stool to my idea board for when we moved because I knew I wanted these. I ended up going to my friend's house one day and she had the exact same stools at her island. I got to see them and sit on them before I made my purchase. Between seeing the bar stools and reading the reviews, it was a must I buy them.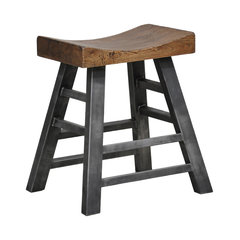 Harper Square Stool, Counter Stool
Kitchen and Dining Furniture
Great Quality Expensive Looking Thick Piece of Wood Heavy Counter Stools: We absolutely love it! Matches the style we wanted very well. Make sure you measure your space, we bought 4 of them, but they look too tight and we decided to use 3 and use the 4th one in another room. They are great and we didn't want to return one. You might want to add felt pads as we did, so it will slide easier, but they already come with plastic pads. Heavy counter stools and we highly recommend them! Customer service was very good and it arrived sooner than expected. Awesome buy :)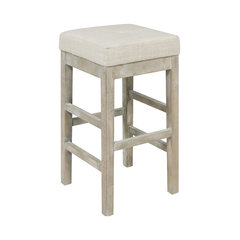 Valencia Backless Counter Stool Mystique Gray Legs, Canvas
Kitchen and Dining Furniture
Great value!: These stools are sturdy and comfortable and really just as they appear in pictures. Make sure you order them all at the same time though, as there is color variation if you order from different lots. I ordered 2 to make sure I liked them, then ordered 3 more. The wood on the second shipment had slightly more brown showing than gray...but it was a very subtle difference. I'm still using them together.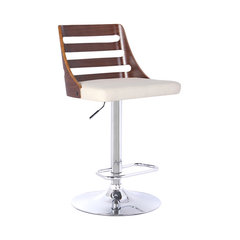 Storm Modern Adjustable Swivel Bar Stool, Cream
Kitchen and Dining Furniture
No Surprises!: Easy to assemble with great instructions. This is just what we were looking for. Very comfortable to sit in and we love the 360 rotation and the height adjustment. Great buy for the price.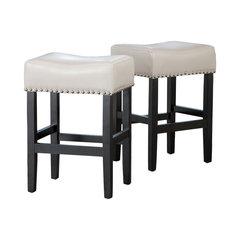 Ralph Off-White Leather Backless Counter Stool, Set of 2
Kitchen and Dining Furniture
Nice stools: When I ordered these stools I couldn't tell the difference between the Ralph and the Chantal stools except a little difference in dinensions. I opted for the wider seat and I'm glad I did. I have a 9.5 foot counter length and I purchased 4 stools. They fit great. My counter height is 36". The 26" height stools fit great. Assembly was fairly quick. Had a couple of wobblers so my husband pounded hard on the corners of the seat and that fixed it. One was a little more stubborn, so I sat on the seat while my husband tightened the screws and that fixed it. All four stools are level. I'm very happy with the look of stools.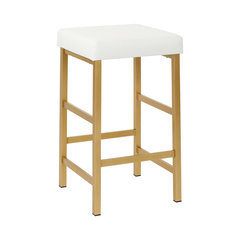 26" Gold Backless Stool, White
Kitchen and Dining Furniture
Perfect modern stool: I had been looking for bar stools for a long time when I came across these. They are the perfect modern pieces to finish off my kitchen. The only reason I gave them 4 stars is because two of the frames are crooked, but Houzz is replacing them. Definitely recommend!
Butterfly Adjustable Swivel Barstool, Black
Kitchen and Dining Furniture
Nice mid-century mod classic stool: I searched high and low for a stool that both my husband and I can agree on and didn't cost a million dollars. This stool exceeded my expectations. I've gotten so many compliments on it. I also love the fact that there's a short back and low arm rests, and the height is adjustable.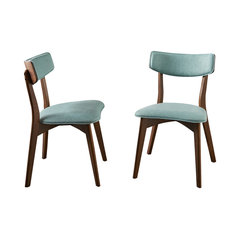 Molly Mid Century Modern Dining Chairs, Set of 2, Mint, Natural Walnut
Kitchen and Dining Furniture
Great Chairs!: I hope they continue selling these. I looked at so many other chairs and the reviews were so so. We just received these in last week, putting them together wasn't bad but the end product is definitely solid chairs. We have six around our table that we built ourselves and these are perfect with it. All of them are consistently built no issues so far. Hope these continue to hold up just as well as they started out.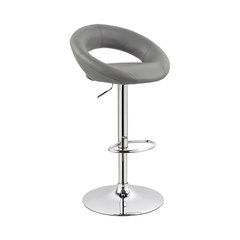 Cooper Faux Leather Adjustable Bar Stool, Gray
Kitchen and Dining Furniture
Just What I needed: I had to find adjustable stools so i could eat at the kitchen island in my new apartment. Was easy to place rder but had to use the phone to complete shipping info. I put them together all by myself and am already realizing how cool they look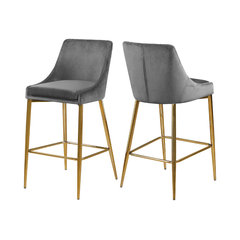 Karina Velvet Stool, Set of 2, Gray, Gold Base
Kitchen and Dining Furniture
Love these chairs.: Love these chairs. They're 27.5" tall and my island is 34". The 26" stools may have worked better for a sit down dinner on the island, but regardless, they look beautiful and are very comfortable. I don't regret buying them. Love them.