Dining Room Chairs
A good dining chair combines both comfort and style. To find the ideal fit for your dining room or kitchen consider what the primary function of your new dining chairs will be — will they be used for occasional dinner parties in a formal space, or will this be everyday seating that needs to withstand kids? As you shop for dining room chairs, keep in mind the following tips to ensure you pick something that is both functional and stylish in your space.
How many dining chairs do I need?
The number of dining room chairs you purchase is largely determined by the size of your table. As a rule of thumb, designate 24 inches of space per person for a comfortable table setting. Any less and you will feel cramped or unable to get in and out of your dining chair easily. With that said, be conscious of where the legs on your table are — if they are inset from the edge of the table, they might make a what you assumed was a three-chair width a two-chair width. Is your table expandable? If so, buy the number of dining chairs that will fit the widest setting so you aren't bringing in mismatched folding chairs for bigger parties (unless, of course, that's the sort of eclectic look you're going for). You can use the extra chairs around the house or stash them in the garage when not in use.
What's the best material for kitchen and dining room chairs?
There are plenty of great material options for dining chairs, but the best one for you will depend on your personal preferences and lifestyle.
Upholstered dining chairs
are typically the most comfortable because they have built-in padding, but they can also be the most difficult to keep clean, especially with kids and pets. If you want to look of upholstery with easier upkeep, try
leather dining chairs
that can be wiped clean and are less prone to stains and snags.
Wooden dining chairs
are likely the most sturdy and versatile, available in almost every style, and require very minimal upkeep — you can even add coordinating seat cushions for a little more comfort without having to commit to upholstery. You can do the same with
metal dining room chairs
or leave them bare for a more industrial look. Want something super lightweight and kid-friendly that also provides a contemporary feel?
Plastic dining chairs
are up for the challenge.
Which style of dining room chair is right for my space?
Depending on the overall style you're going for in your space, you have quite a few options. If sleek and streamlined is your desire, check out our selection of
modern dining chairs
. Love the feel of a retro space? Go for
midcentury dining chairs
to add a pop of mod to your table. For a more country-inspired eating area, incorporate
farmhouse dining chairs
. Don't be afraid to mix and match the style of your dining room table and chairs, they don't have to be a perfect set! Do you have a table that seats at least six? You may want use
armless dining side chairs
and add two coordinating
dining chairs with arms
at the head and foot of the table to create a more formal feel, or simply as a spot for you and your partner to comfortably relax after a filling meal. If you have a small table look for a matching set of four dining room chairs to keep things consistent in a limited space.
1 - 36 of 22,754 products
Sponsored Products
Featured Reviews of Dining Room Chairs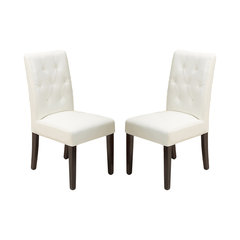 Waldon Leather Dining Chairs, Ivory, Set of 2
Dining Room Chairs
Love These Chairs: I ordered 4 of the chairs in ivory, and I am really impressed with my purchase. They arrived already assembled, one of the main reason I chose these over similarly priced chairs. The bonded leather is incredibly soft, the chairs are very comfortable and stylish, and the chairs match their appearance as described by the seller. I would definitely recommend these to others.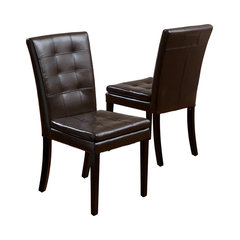 Amalee Leather Dining Chair, Set of 2
Dining Room Chairs
Quite satisfied: The chairs came well boxed with easy to understand assembly instructions. After assembly the chairs are sturdy and true to the pictures. The sticking is consistent and the color is very pleasing again true to the pictures. Very comfortable and a nice addition to the dining room. Would buy again in a heartbeat.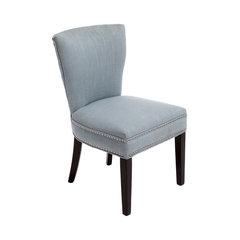 George Dining Chair , Ocean Blue
Dining Room Chairs
Comfortable, solid, attractive: Chairs arrived quickly and were well-packaged. The pieces are solid and have nice slides on the bottom of the legs that make no noise as they are moved. The seats have plenty of stuffing and are comfortable. The fabric color is very appealing and exactly as shown in the photos. One chair has a leg that is short, so it wobbles. This was easily fixed with a felt foot pad.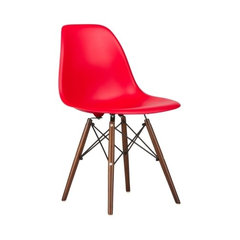 Poly and Bark Vortex Side Chair Walnut Legs, red
Dining Room Chairs
I'm happy with them: The legs did come with minor imperfections -- insignificant scratches. My table is standard height at 30" -- they're a little low but not bad. The price is amazing so the quality is as to be expected -- but quite good considering. They're quite easy to assemble. They're nice chairs to go with my kitchen table in a house full of kids. Easy to wipe down and not so expensive that I have to worry about them getting damaged.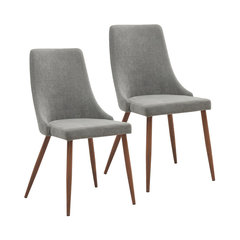 Rigby mid century Modern Upholstered Dining Chairs, Gray, Set of 2
Dining Room Chairs
Great chairs: These chairs are great looking and go well with most decor. They take time to put together (9 screws per chair that you have to use an allen key for (provided in the packaging).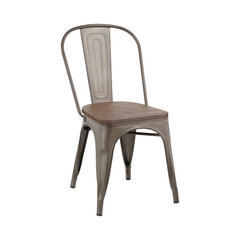 Industrial Wood Metal Antique-Style Rustic Distress Dining Chairs, Set of 4
Dining Room Chairs
Looks great!: I've only opened and put together one chair so far but it looks nice and feels solid. The backs are the lower version of these chairs. They come mid shoulder blades on me and I'm 5'6''. They seem perfect for our need.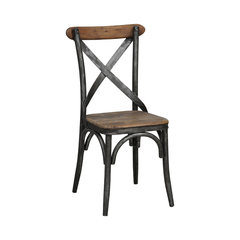 Dining Room Chairs
Love: I've neen looking for just the right chair for a very long time. Had seen a reclaimed wood and iron in a store a few years ago and could never find again. These are not the same, but super close. I personally love the term-claimed wood aspect, but you need to know that it's an imperfect product. There are some spot that seem Unfinished, but to me that's part of the beauty. They are nice and sturdy, need no assembly but aren't so heavy you have a hard time moving them. One chair arrived broken )hence the 4 vs 5 stars), but Houzz was extremely responsive and sent a new one very quickly. I know well enjoy them for years.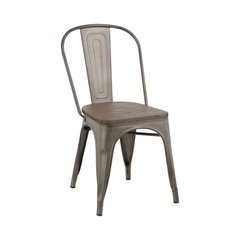 Industrial Metal Antique Bronze Rustic Distressed Side Dining Chair, Bistro Cafe
Dining Room Chairs
Great Sturdy accent chair: I bought this chair just to use for an accent piece but it's so solid I feel like I'm wasting it! Goes perfectly with my rustic farmhouse decor. The seat has a nice grooved wood grain to it that I couldn't see that well in the photos. It came in 2 pieces and wasn't too difficult to screw on the top. Overall I am very happy.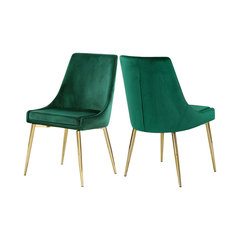 Karina Velvet Dining Chairs, Set of 2, Green, Gold Base
Dining Room Chairs
Too soon to tell: This review may be a bit premature since I have only had the chairs for less than a week but I am pleased so far. The chairs were easy to assemble and it only took 30 mins to assemble four of them. They seem to be very sturdy and do not wobble. The seats are firm and the velvet is beautiful and soft. My only gripe so far is that the gold legs are a little bright for my taste. I wish they were a little muted. Other than that, I am very happy and feel that I have made that right choice.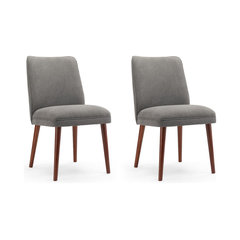 Bergen Mid Century Round Back Dining Chair, Gray, Set of 2
Dining Room Chairs
Perfect chairs: Very elegant, 19" high (floor to seat) perfect height for table ( this table is 2" higher than average). Seating firm but comfortable. Package arrived Wednesday (I ordered 11am Sunday) Love these chairs!