Dining Room Chairs
A good dining chair combines both comfort and style. To find the ideal fit for your dining room or kitchen consider what the primary function of your new dining chairs will be — will they be used for occasional dinner parties in a formal space, or will this be everyday seating that needs to withstand kids? As you shop for dining room chairs, keep in mind the following tips to ensure you pick something that is both functional and stylish in your space.
How many dining chairs do I need?
The number of dining room chairs you purchase is largely determined by the size of your table. As a rule of thumb, designate 24 inches of space per person for a comfortable table setting. Any less and you will feel cramped or unable to get in and out of your dining chair easily. With that said, be conscious of where the legs on your table are — if they are inset from the edge of the table, they might make a what you assumed was a three-chair width a two-chair width. Is your table expandable? If so, buy the number of dining chairs that will fit the widest setting so you aren't bringing in mismatched folding chairs for bigger parties (unless, of course, that's the sort of eclectic look you're going for). You can use the extra chairs around the house or stash them in the garage when not in use.
What's the best material for kitchen and dining room chairs?
There are plenty of great material options for dining chairs, but the best one for you will depend on your personal preferences and lifestyle.
Upholstered dining chairs
are typically the most comfortable because they have built-in padding, but they can also be the most difficult to keep clean, especially with kids and pets. If you want to look of upholstery with easier upkeep, try
leather dining chairs
that can be wiped clean and are less prone to stains and snags.
Wooden dining chairs
are likely the most sturdy and versatile, available in almost every style, and require very minimal upkeep — you can even add coordinating seat cushions for a little more comfort without having to commit to upholstery. You can do the same with
metal dining room chairs
or leave them bare for a more industrial look. Want something super lightweight and kid-friendly that also provides a contemporary feel?
Plastic dining chairs
are up for the challenge.
Which style of dining room chair is right for my space?
Depending on the overall style you're going for in your space, you have quite a few options. If sleek and streamlined is your desire, check out our selection of
modern dining chairs
. Love the feel of a retro space? Go for
midcentury dining chairs
to add a pop of mod to your table. For a more country-inspired eating area, incorporate
farmhouse dining chairs
. Don't be afraid to mix and match the style of your dining room table and chairs, they don't have to be a perfect set! Do you have a table that seats at least six? You may want use
armless dining side chairs
and add two coordinating
dining chairs with arms
at the head and foot of the table to create a more formal feel, or simply as a spot for you and your partner to comfortably relax after a filling meal. If you have a small table look for a matching set of four dining room chairs to keep things consistent in a limited space.
1 - 36 of 23,194 products
Featured Reviews of Dining Room Chairs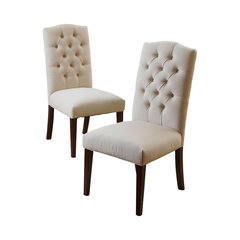 Clark Dining Chairs, Set of 2, Natural Linen
Dining Room Chairs
Solid, affordable dining chairs: They look great, but many of the pre-drilled holes didn't match up or the fabric was in the way of the holes. They're a little stiff, but they were very affordable and shipped quickly.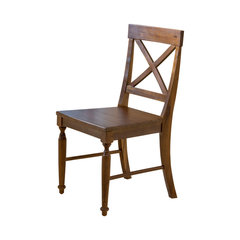 Leyden Brown Wood Dining Chairs, Set of 2
Dining Room Chairs
Highly recommend the seller!: Very good experience - easy communication, competitive prices, delivery on time, product exactly as described. My first (trial) purchase from Houzz being so successful, I spent the whole day today checking their products and am now ready to buy two more pieces of furniture. Thanks!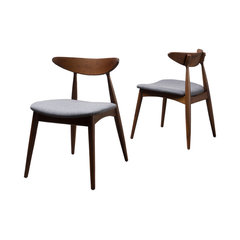 Issaic Mid Century Design Wood Dining Chairs, Set of 2, Charcoal/Walnut
Dining Room Chairs
Solid chairs, very large seat: These chairs are very sturdy and easy to put together. The grey seats are darker than pictured, and they do get a little wrinkled after you sit, but overall comfortable. My only issue is that the seat is pretty big/wide, so they can't be pushed under my table, so it's a little bulky looking, but I'lll be keeping them since they look good and were a great price!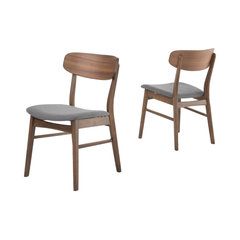 Lucille Fabric/ Wood Finish Dining Chair, Set of 2, Dark Gray/Walnut
Dining Room Chairs
The table is great for a small dinning room but came with no instructions on how to assemble the legs.: The table is great for a small dinning room but came with no instructions on how to assemble the legs. I looked on line and could not find the directions for this model number. It was a guessing game but I think we figured it out.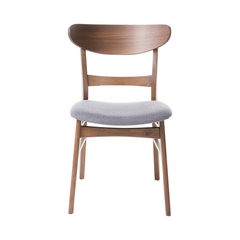 Helen Mid Century Dining Chair, Set of 2, Dark Gray/Walnut
Dining Room Chairs
Quality looking chairs, assembly took extra effort: The instructions were lacking clear detail. It also seems like the chair cushions aren't original as they have you use L brackets to connect them to the wood. They lose a star for these reasons, not the quality. The chair quality is what I expected at this price point.
Set of 4 Black Mid Century Dining Chairs Eiffel Dowel Molded Shell Plastic Wood
Dining Room Chairs
Very satisfied and these chairs will make any home look better: It arrived way earlier than estimated and we have had them for 2 weeks. They are super comfortable and are better than I expected. No problem putting them together and I get many compliments.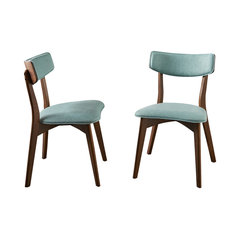 Molly Mid Century Modern Dining Chairs, Set of 2, Mint, Natural Walnut
Dining Room Chairs
Great Chairs!: I hope they continue selling these. I looked at so many other chairs and the reviews were so so. We just received these in last week, putting them together wasn't bad but the end product is definitely solid chairs. We have six around our table that we built ourselves and these are perfect with it. All of them are consistently built no issues so far. Hope these continue to hold up just as well as they started out.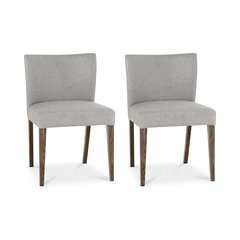 Tyler Dark Oak Upholstered Dining Chairs, Pebble Gray, Set of 2
Dining Room Chairs
So happy this comes with a matching table!: I LOVE the contemporary look of this set of chairs. From the modern gray fabric to the sleek low-back design, they just exude contemporary elegance. And they work beautifully with their corresponding dining table in the series. What a gorgeous look!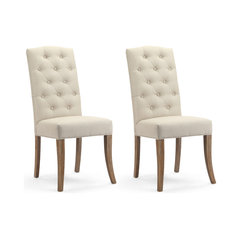 Rochelle Natural Linen Tufted Dining Chairs, Set of 2
Dining Room Chairs
The natural linen is so luxurious!: The hand-finished diamond tufting on these chairs is just exquisite! Added to the pure linen for the upholstery, this set exudes luxuriousness. The camelback design is also super comfy. I'm definitely a fan!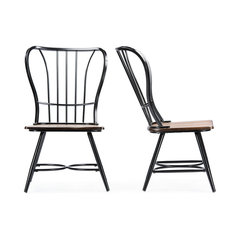 Longford Dining Chair, Set of 2, Dark Walnut/Black
Dining Room Chairs
Longford Dark-Walnut Wood, Black Metal Vintage Industrial Dining Chair: Order 4 dining chairs and two "captain" chairs (with arms). The order arrived on time and in good condition. The chairs are still in their boxes as our home is currently under construction. After peaking inside, they appear to be as described. I wanted chairs that were understated with low backs so the beauty of our hand crafted live edge table would be the star. These chairs will fit the bill and I will be able to switch around cushions and pillows for the seasons easily.