Filing Cabinets
Even in an age when most things have gone digital, you still need a sturdy filing cabinet to store those important documents and records that refuse to go paperless. Luckily, file cabinets now come in all sorts of shapes and sizes, making it much easier to feature them as home decor pieces as well as functional storage. The perfect file cabinet can be a balancing act between features and design, but we're here to help with some tips to keep you on the right track:


Do I need a filing cabinet?

If you're not working from home, you may wonder if a file cabinet is even necessary. However, the great thing about filing cabinets is their versatility. Along with storing paperwork, they can help organize odds and ends like paint swatches, recipes, magazines, photos, user manuals and much more. Don't be afraid to move your file cabinet to a room other than the office. These cabinets can add a touch of style and functionality to any room.


What kinds of file cabinets are there, and which one do I need?

During your search you may encounter two distinct types of filing cabinets: lateral and vertical. Here's a quick comparison of the two styles to make your choice easier:
• Vertical: These are your most common style and feature a tall, thin design. They're perfect for organizing all of your important documents and papers. Plus, their overall footprint is smaller since they make good use of vertical space.
• Lateral: A lateral file cabinet is shorter and wider than its vertical counterpart. Its shape makes it perfect for storing oversized papers or items that need to be stored flat. As a bonus, they can be used as a desk or an extra table because of their short height and wide top.
• Portable: Don't forget, there's always an option for a filing cabinet on wheels. If you need to move your files with you when you leave the room, this is a great type to have.


Do filing cabinets come with any security features?

It's natural to want to keep your important documents locked up and stored safely away. There are a number of safety features available for your file storage. Opt for a fireproof file cabinet to protect documents like passports, birth certificates and banking information from a fire. A locking file cabinet will keep burglars or unwanted visitors away. You can even have the best of both worlds and invest in a file cabinet that's both fireproof and lockable.
Sponsored Products
Featured Reviews of Filing Cabinets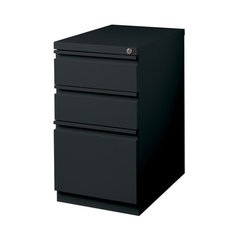 Hirsh Industries 3 Drawer Mobile File Cabinet File in Black
Filing Cabinets
Clean lines, durable, well priced: I thought this product was attractively priced relative to what else was out there for minimal yet functional filing cabinets. The product provides quite a bit of storage and compliments the look of our office.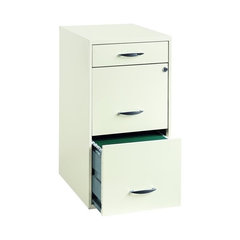 Hirsh Industries 3 Drawer Steel File Cabinet in White
Filing Cabinets
Sturdy cabinet: It's rather tinny, The drawers are steel tin with some holes inside not like a desk drawer. The color is great - brighter white. I had to install the handles with a philips head screw driver. It's very light and easy to move.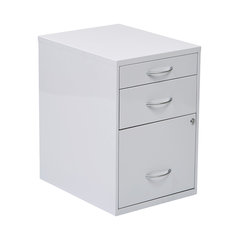 Madeline Storage Cabinet, White
Filing Cabinets
So me!!: Talk about pretty!! Functional & PURPLE!! Did I say PURPLE!!!! I want my whole apt. to sparkle & this sure helps that a long. It's just as functional as any other file cabinet, but so cute to look at. Makes it interesting!! So Cheshire kat satisfied!!!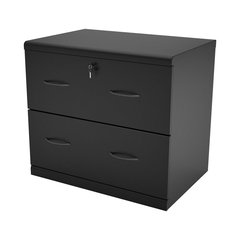 Galveston 2-Drawer File Cabinet, Black
Filing Cabinets
Easy assembly?: Assembly actually wasn't too bad and it looks really good for an inexpensive piece, except for the handles! I have this in my den and wanted some hardware that was a little nicer. The instructions were clear and easy to read. Anyone will need sharp scissors to open those plastic packages that hold the hardware, LOL.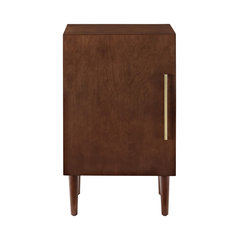 Everett Record Player Stand, Mahogany Finish
Filing Cabinets
Love this piece!: Really like the mid-century look of this piece. Fairly easy to assemble and very sturdy. Am using it in a guestroom as an accent piece with a lamp, not as a record player stand. Exactly what I was looking for in the price range I had in mind. Well worth it!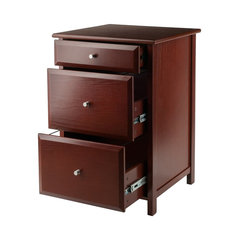 Winsome Wood Transitional Walnut Composite Wood File Cabinet
Filing Cabinets
We like the unit, but...: Product arrived with damage to outer shipping box, and damage to one of the corners, as well as the edge of the inside drawer. We are going to keep it, as returning it would be a hassle at this point. My husband managed to do a little fixing, so it turned out ok.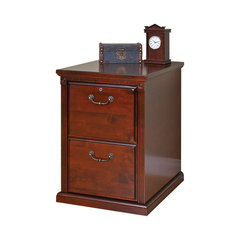 Stafford 2-Drawer Filing Cabinet, Burnish
Filing Cabinets
File cabinet: It is exactly what I expected. It is a beautiful piece and matches the rest of the furniture in the room. It was perfect except for a small piece was missing from the front drawer which surprised me considering how well it was packed. I was able to cover it with a furniture marker so it's not really visible. I will highly recommend this piece and may be ordeirng an additional one in the future should I need more filing space.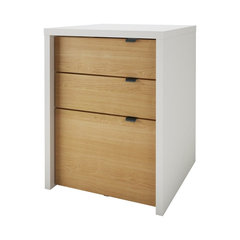 Chrono 3-Drawer Filing Cabinet, White and Natural Maple
Filing Cabinets
Great looking Filing Cabinet: I love the way it looks, and it challenged me to follow instructions, but if you can follow directions, it's not that difficult to assemble. The only negative for me was the very last step, and installing the drawer handles. The screws for those handles are too long, and do come through the finished front.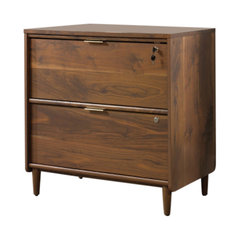 Clifford Place Lateral File, Walnut
Filing Cabinets
Filing Cabinet: There were a lot of pieces to assemble, but the directions were clear and all pieces and bags of hardware, etc. were labeled clearly. The cabinet is very heavy and sturdy and seems like it will hold up well.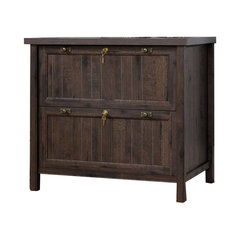 Costa Lateral File, Coffee Oak
Filing Cabinets
Fits the need quite well: I purchased this as the closest complement I could find to a 250-year-old carved Englsh oak desk. While the style is a bit more rustic, the color shown is accurate and the pieces look okay together. I am reviewing and condensing several drawers of personal files into this cabinet only, so am pleased that the two drawers each offer two banks of letter-size files; it holds a lot. Other features are individually locking drawers and a feature that doesn't allow both drawers to open at once. This does come flat-packed, in a very heavy carton, and assembly isn't simple; but the instructions are pretty clear and everything is labeled. Working very deliberately, it took two people (mostly one) about 2.5 hours to assemble it, and it looks like the photo. It isn't fine furniture, but I would buy it again at this price.