Chandeliers
It's easier than ever to make a statement in your space by hanging a chandelier. These showstopping light fixtures were once reserved for formal dining rooms and grand entrances, but designers are now using chandeliers in every room — kitchens, bedrooms, even bathrooms! Whether you prefer a timeless
crystal chandelier
or trendy
modern chandeliers
are more your style, check out these tips below to help find your new favorite lighting fixture.
What styles do chandeliers come in?
Chandelier lights have come a long way from the traditional styles they once were. While you can still find plenty of
traditional versions
, if that suits your taste, there are thousands of alternative styles to choose from that will be a perfect fit for your home's unique feel. Here are a few of the most popular styles available:
What size should my chandelier be?
Determining the size of your new light fixture will depend on several key factors:
Room size:
Be sure the overall size of the chandelier is not too big or small for the room it will be installed in. If you're guessing, it's best to choose something slightly too big rather than too small — something large will look like a statement, whereas something too small can look dinky and out of place. A general guideline to determine the ideal diameter is to add the width and length of your room together (in feet), then use that measurement in inches as the size of the light fixture. For example, a room that is 12 feet by 14 feet would need a chandelier that's 26 inches in diameter.
Height:
A higher ceiling lends itself better to a larger light fixture, but as a rule of thumb, chandelier light fixtures should hang no more than 7 feet from the floor, regardless of ceiling height. If it's hung above a surface, like a tabletop, give the surface and chandelier at least 30 to 32 inches of separation.
Placement:
Consider where you are planning to place your new chandelier. If it's going over a piece of furniture, like a dining table or kitchen island, make sure it doesn't overpower the furniture itself. Look for one that's approximately three-quarters the width of the object you're placing it over. If it's going to be suspended freely in an entryway or living space, you have a little more freedom when it comes to scale — refer to the room size point above.
1 - 36 of 70,322 products
Sponsored Products
Featured Reviews of Chandeliers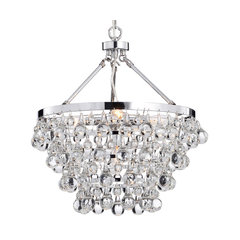 Crystal Glass 5-Light Luxury Chandelier, Chrome
Chandeliers
Luxury Chandelier: I wanted this chandelier after I saw a similar one at Z Gallerie in Atlanta, Ga. This item is not as detailed and big, however so far so good. Its is sure to add the style that I am looking for. I will update and post pictures once I have the entire living room set up.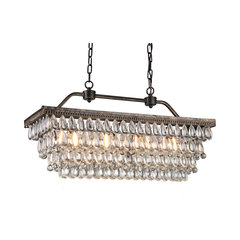 Amanda Antique-Style Copper 4-Light Rectangular Crystal Chandelier
Chandeliers
in love!: I had my eye on a chandelier very similar to this one at Lowe's. I was thrilled when I found this one that was exactly the same size for almost $100 less! It was wonderfully packaged with all the glass bobs individually wrapped and a few extra included. You do have to assemble the glass bobs on the frame, but I found it fairly simple once the frame was installed and hanging. Oh... and shipping was super fast. Over all I LOVE this light fixture and am definitely not disappointed. I would highly recommend this product especially if you are a fan of the one sold at Lowe's. The difference in the two is not enough to even notice.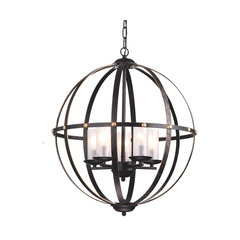 Pasadena Pendant Light, Antique Bronze
Chandeliers
Great product: It is durable, bright and a great looking fixture. My only complaint is it was a complicated assembly with not great instruction. But I love the light it puts off and how it looks. Totally recommend the product.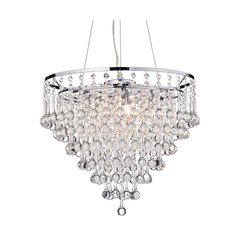 Mariella 5-Light Crystal Ballroom Chandelier
Chandeliers
Beautiful light: It took a few hours of ensembling the crystals and then adding them to the frame but worth the time. Very heavy and took 2 ladders and to men to hang it. The light reflecting on the walls and ceiling is beautiful.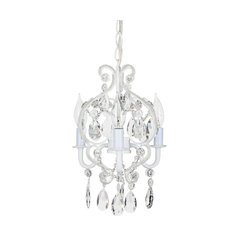 Tiffany 3-Light Mini Beaded Crystal Chandelier, White
Chandeliers
3 light chandelier: Very attractive beaded chandelier with tear drop cyrstals. It's small enough to use anywhere. Mine is hanging to the left of my bathroom mirror for a stunning effect. If you like pretty, this is it!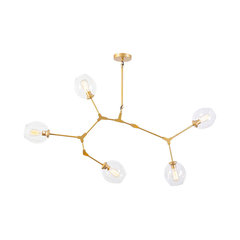 Thurston 5-Light Chandelier
Chandeliers
crazy, cool, well made light - tricky to get just right....: this light is definitely the focal point of our front sitting room. wow. It almost didn't work out for us because we have 9' ceilings, which are too low for this fixture without having the rod shortened by someone. But, after hours of fiddling with the arms/balance/etc and exhausting all ways to adjust it, we got it to hang with enough clearance to work for our room's set up. We have this light hanging over a coffee table, so no one will pass underneath it (anyone over 5'6" would bump into it). It wouldn't work for a more 'functional' room with 9' ceilings or lower, but we have this in a place where it is the center of a conversational area with a couch and chairs. It's a very cool, well made light. We have a traditional home, but we add a few quirky/modern/industrial touches here and there, so this piece works for us. I do recommend getting the arms the way that you want them BEFORE putting on the glass shades - it's too hard to balance with the weight of the glass . It's a two person job. Adjusting this fixture brought back physics class nightmares, that's for sure. But it was worth it in the end.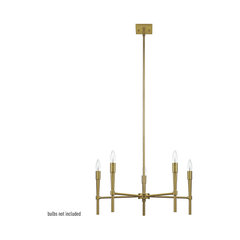 Phoenix 5-Light Chandelier, Brushed Brass
Chandeliers
I love it: I am so pleased with this chandelier, especially for the price. It was easy for my husband to install, and looks great. It actually looks much more expensive than it was. I know some other reviewers said it wasn't level, but that was not my experience. I love it.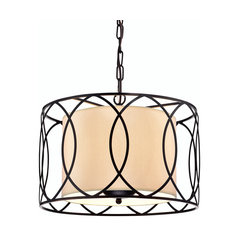 Everly 3-Light Double Drum Chandelier, Oil Rubbed Bronze
Chandeliers
Nice Chandelier: The simple design is exactly what I was looking for in my dining area and this one is very well made. It arrived on time and the packaging was the best I've ever seen. It takes only three chandelier (small) bulbs, so if you want bright light, this item isn't for you. It produces a soft glow, not good for lighting an entire area. I gave it 4 stars only because the mounting directions are AWFUL. I had to rehang it 4 times to get it right, not because it's difficult, but because you have to figure it out by trial and error.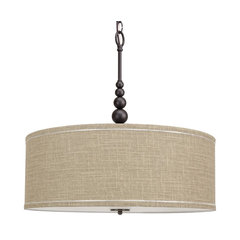 Kira Home Adelade 22" Chandelier, Sand Fabric Drum Shade, Glass Diffuser
Chandeliers
Mid Century Modern Light fixture!: I LOVE this fixture. It matches my dining room perfectly. It has just the right amount of light without being too bright and I put LED's in it. The shade is beautiful and even has a few small sparkles in it without being overbearing or gaudy. Would definitely recommend.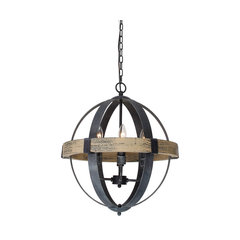 Castello 4-Light Rustic Industrial Chandelier
Chandeliers
Beautiful Chandelier: This is such a beautiful chandelier. I'm very happy I purchased it. It looks more expensive than the price. I would highly recommend this chandelier if you're looking for a rustic/farmhouse/casual with a hint of glam. Perfect!