Bar Stools and Counter Stools
A bar stool is a versatile seating option that can add character, color and texture to a kitchen or home bar — or simply offer a comfortable place to sit. Choosing one that fits your design and space can be difficult, so use our handy tips before you shop our collection of counter stools and bar stools for sale:
How do I choose the right height for my bar stools?
Pay close attention to the height of various bar chairs. They may not all provide enough legroom for you to sit comfortably and the last thing you want is a stool that has you cramming your legs under the counter. You'll want to aim for about nine to 13 inches between stool seat and countertop. To make things even easier, we've created a handy
bar stool height guide
, so you can find the right kitchen stools for your counter:
Table Height: 18 to 23 inches from floor to seat. These can accommodate a dining table of 28 to 30 inches and they're a great alternative to traditional dining chairs.


Counter Height: 24 to 27 inches from floor to seat. Counter-height stools fit beneath a surface that's 36 to 39 inches high. Note: They're smaller than a typical bar or restaurant stool.


Standard Bar Height: 28 to 32 inches from floor to seat. These are a perfect fit for a 40- to 42-inch-tall bar table or countertop.


Extra Tall: 33 to 36 inches from floor to seat. Get a spectator's view from a counter that's 44 to 47 inches high.
You should also keep in mind the space around your bar stool. Six inches between each stool is optimal for socializing and eating, but if your dream bar or kitchen has
swivel bar stools
or
counter stools with arms
, you'll want to space stools farther apart.
What style of bar stool is best for my counter or bar?
Have a look around your kitchen or bar and decide if you want your new stools to stand out or blend in with the color, style or materials already present.
Backless bar stools
are a great choice in narrow kitchens because they can be tucked out of the way under an island's overhang. If your seating is the pièce de résistance to your dining area, look for easy-to-clean materials like wood, metal or leather bar stools.
Don't be afraid to mix and match either. For example,
metal bar stools
add a taste of trendy industrial style to rustic kitchens while
wooden bar stools
warm up modern, high-gloss home bars. Similarly,
white bar stools
brighten dark spaces while
black bar stools
anchor all-white designs. Whichever look you're going for, you'll find a wide variety of bar furniture on Houzz in all the sizes, styles and colors you want and need.
1 - 36 of 25,831 products
Sponsored Products
Featured Reviews of Bar Stools and Counter Stools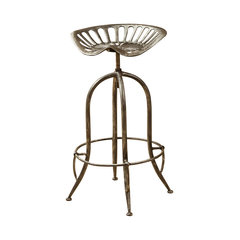 Aldean Industrial Design Metal Tractor Adjustable Height Seat Stool, Brushed Sil
Bar Stools and Counter Stools
natalies kitchen: My daughter loves this product. Goes perfectly with her style. I thought it was really unique when I purchased it for her but looked uncomfortable. She said the shape of the seat fits perfectly with every person who has sat on it. With that in mind,,,I am going to purchase another one for her!!!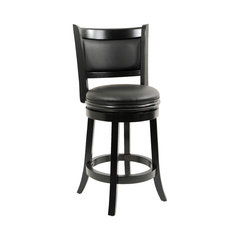 Dune Augusta Swivel Counter Stool, Black
Bar Stools and Counter Stools
table and chairs: I purchased the table and chairs separately. Although the cherry finish is not exact, they go together well and are very solid. Both the table and stools were easy to put together. Looks very high-end. I'd recommend to others.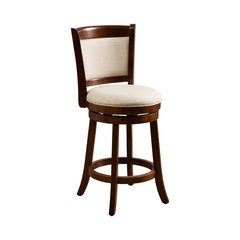 Davis Fabric Swivel Backed Counter Stool
Bar Stools and Counter Stools
Very pleased.: We are delighted with our stools so far. Hopefully they will hold up over time. We had a hiccup with one of the swivels, but called and they said they would send a replacement. We are very happy, very comfortable, beautiful stools.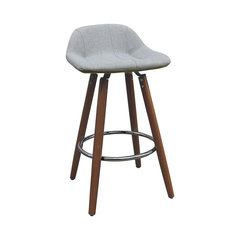 Anka Upholstered Counter Stools, Set of 2
Bar Stools and Counter Stools
Love these stools!: These are perfect for my needs. They were pretty easy to assemble and look and sit great. I have one small issue...one of the metal footrests has a ding in it. Time will tell how they hold up. I would recommend them to anyone.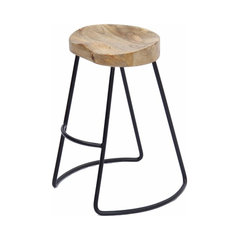 Bar Stools and Counter Stools
Perfectly imperfect!: Better than I imagined! Received two days after ordering and before scheduled delivery, sooner than expected, and to top it off, assembled!!! Literally only had to remove them from the box and remove the packing material. If you like for things to be matchy matchy, you probably won't like these, but they are perfect! They are wood and show different colors, grain, and patterns. They are rustic and modern. Can't say enough good things about these stools!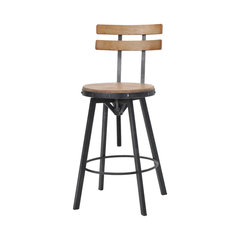 Poe Anique Finish Firwood Height Adjustable Bar Stool
Bar Stools and Counter Stools
They look exactly as advertised, however they are not real wood (kind of "tinny" sounding but not heavy either).: They look exactly as advertised, however they are not real wood (kind of "tinny" sounding but not heavy either). More of a fake wood plastic, but it seems durable. You can adjust these to whatever height you need but don't expect to reach the foot bars if you have it too high. Since they are more lightweight, they are easy to move in and out of the counter area. The backs have some give so they are fairly comfortable to sit in. These are perfect for the price.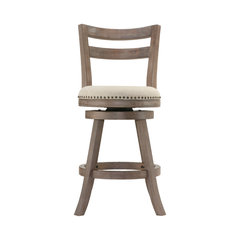 Manchester Swivel Fabric Counter Stool
Bar Stools and Counter Stools
Great chair: Processed quickly and shipped fast! I actually exclaimed "WOW!" when I saw it arrive! Sturdy and sleek. This chair is exactly what we wanted to go with our decor and style. It holds up well and the finish is appealing.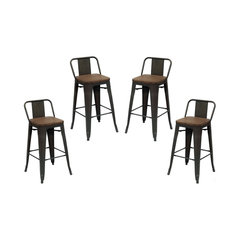 Purenity 24'' Matte Metal Industrial Wood Top Counter Stool, Set of 4
Bar Stools and Counter Stools
Wrong color: Very nice chairs and nice size. They were easy to put together and they seem pretty sturdy. The color is closer to copper instead of matte black. Otherwise I am pleased with them.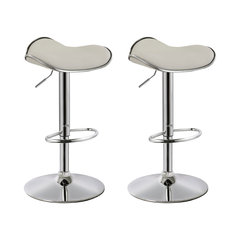 Dylan Backless Faux Leather Adjustable Bar Stools, Set of 2, White
Bar Stools and Counter Stools
Comfy: I love the comfort of them but the only thing I don't love is the design. I saw the pictures beforehand but didn't realize how different looking they are from other bar stool designs. I love the swivel of them, adjustable and comfy!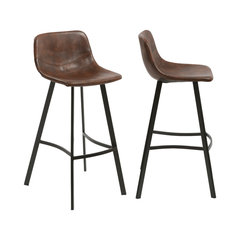 30" Faux Leather Upholstered Crocodile Skin Metal Barstools, Set of 2
Bar Stools and Counter Stools
Awesome barstools!!!: These barstools are very comfortable with the way they gently curve up the back. Even though they are low back, it does not cut or dig into your back like other barstools. Great quality (for faux leather) and value and the price- can't be beat. Love the subtle detail of the crocodile texture. True matte black wrought iron look and feel. Color is exactly as pictured- warm rich deep brown. The entire metal base comes as a one piece unit which makes for an extremely sturdy stool and very easy assembly. No wobbly legs or tippy feeling as some other stools that require each leg to be attached separately. Simply attach the seat base and it's ready to go. Love them so much I bought 2 more- had just enough room at the bar top to fit 5. Will keep the extra as a spare. Awesome product and highly recommend!