Sponsored Products
Featured Reviews of Bar Stools and Counter Stools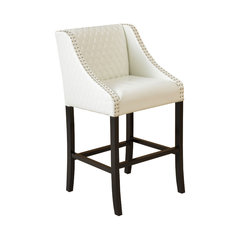 Filton Quilted Leather Counter Stool, Ivory
Bar Stools and Counter Stools
Filton counter stools: My chairs arrived in nicely packaged boxes, the chairs were wrapped in a way that surprised me. They came with chair covers and already put together. There was no messing with hardware or holes that don't align. Overall very satisfied with my choice. I did look for chairs online for about 2 weeks and feel I made the best decision by choosing my chairs from Houzz. Well done Houzz!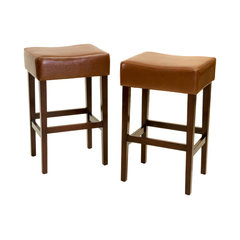 Duff Backless Leather Counter Stools, Hazelnut, Set of 2
Bar Stools and Counter Stools
stylish and simple: Easy to assemble and easy on the eyes. These were the perfect solution to a tight dining space in my kitchen as they nest neatly under the table when not in use. Extra screws included! Who does that?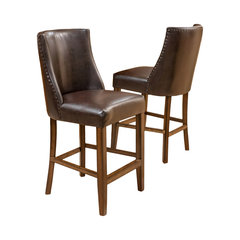 Rydel Nailhead Accent Brown Leather Stools, Counter Height, Set of 2
Bar Stools and Counter Stools
Chairs are nice, but the wrong height: It's my fault for not reading the description fully to see that these were too high for my kitchen island. They are well-made, and hopefully I can find another buyer who can use these in their home.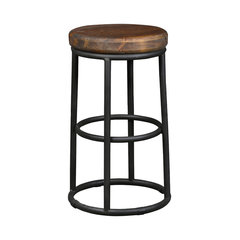 Bar Stools and Counter Stools
We love these stools...: We bought 4 of these for our newly renovated kitchen. We were looking for a light-weight stool with a small footprint that would match our transitional/rustic kitchen. These completely fit our criteria. The seat is a nice quality wood...each is a little different due to the character of the wood. The only thing they don't have that I wish they did is a swivel seat.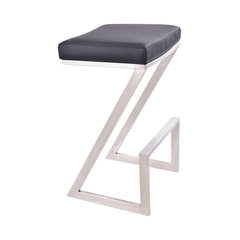 Ace Backless Stool, Black, Counter Height
Bar Stools and Counter Stools
They look and feel great.: I was looking for a modern replacement for my previous barstools that failed on the steel frame. Given the construction of these stools, I don't anticipate a problem. They look great, and if they hold up I will probably replace the faux leather with real leather. The frame comes well wrapped in foam so the stainless steel arrived in pristine condition. For initial quality I give them five stars. I will see how well they hold up day to day with kids to see if they will last more than the two years I had with their predecessors. So far I would say go for it!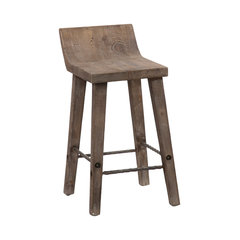 Bar Stools and Counter Stools
Counter stools: I recently had my kitchen cabinets refaced and these counter stools are perfect color with the cabinets. they are comfortable and do not overtake the space by having a high bulky back to the stool. There is just enough of a back to make it more comfortable than a flat stool. Great quality and look and nothing to assemble.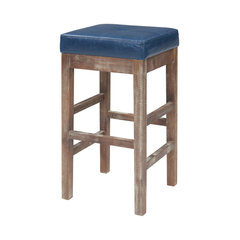 Valencia Bonded Leather Counter Stool With Driftwood Legs, Vintage Blue
Bar Stools and Counter Stools
Comfortable and slim: I was looking for a smaller stool and this one was the one and the blue leather matches with a new focal point wall painted in Be Moore midnight navy. The blue is darker than in the pictures. I may need to sand the legs because the wood has a very rough finish. All in all price was right for nice style!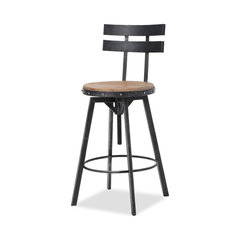 Modern Industrial Design Counter/Bar Stool, Adjustable Seat Height, Smooth Backr
Bar Stools and Counter Stools
Great Stools: Was very impressed with the quality and ease of assembly - look great too. I was surprised that the back rest was actually metal, I thought it was wood stained black. Metal adds a bit more rustic feel. Shipping was fast and on time.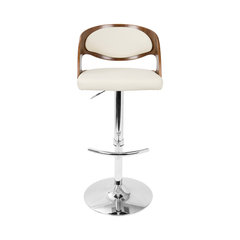 Lumisource Pino Bar Stool, Walnut and Cream
Bar Stools and Counter Stools
wood bar stool: We are just putting it together, but we are thrilled with the quality. I looked at other sites, but wanted it in gray. So far this stool exceeds our expectations. It comes REALLY well packed.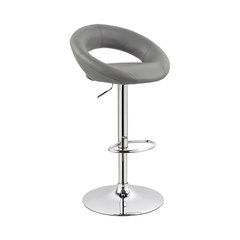 Cooper Faux Leather Adjustable Bar Stool, Gray
Bar Stools and Counter Stools
Just What I needed: I had to find adjustable stools so i could eat at the kitchen island in my new apartment. Was easy to place rder but had to use the phone to complete shipping info. I put them together all by myself and am already realizing how cool they look