Sponsored Products
Featured Reviews of Bar Stools and Counter Stools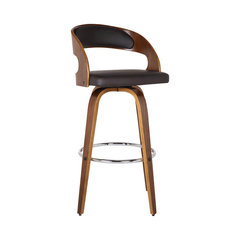 Galvin Counter Stool, 26"
Bar Stools and Counter Stools
Exactly what we needed: We needed 26" high stools for our taller than normal kitchen counter. These are perfect and soooooooo comfy. They swivel easily and slide gently on our hard wood floors. We were well packaged and easy to assemble. They also arrived earlier than expected which was great.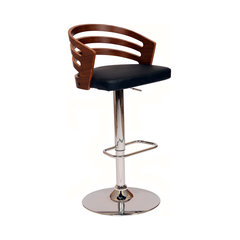 Deshield Swivel Bar Stool, Black
Bar Stools and Counter Stools
Good looking and functional: I bought two of these for use with my bar height counter. The height also adjusts perfectly for use with the bar height as well as a counter height dining table I have when I need extra seating.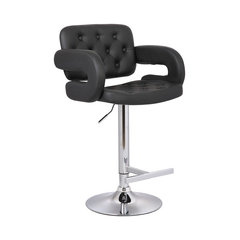 Contemporary Tufted Adjustable Swivel Arm Bar Stool With Cushion
Bar Stools and Counter Stools
Comfortable computer swivel chair: Love this chair. Easy for me to put together Adjustable and fits under the desk like a regular chair but yet I can raise it to sit at the computer. Cushion is very comfortable I see the arm cushion has a zipper in it so as it wears I can replace that part of it. Was very pleased with this purchase which happened to be on sale. One of the better deals I have made lately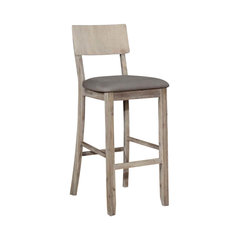 Bar Stools and Counter Stools
Good for the price: I ordered 5 of these counter stools for my kitchen island. They look great, are fine to sit on, feel sturdy, and are durable. The only problem is that 1 out of the 5 I ordered did not have holes big enough for my husband to put it together so I am having to return it. Otherwise, nice for the price!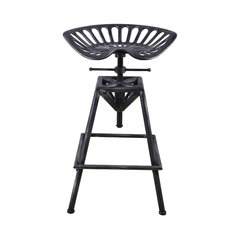 Industrial Cast Iron and Steel Adjustable Tractor Stool
Bar Stools and Counter Stools
great price good stool: cant beat this one.. I live on a ranch so its a shoe in for this sort of stuff- but a lot at this price is cheap garbage this is not made strong so some of my fat ass friends can actually sit on it.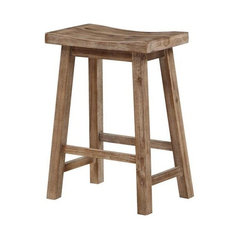 Bar Stools and Counter Stools
Counter height saddle stool: I love the look of these stools!!! My only issue is the edges are a bit hard and kind of down g in a bit when sitting on them. Based on the photo I expected the seat to have a bit of a softer edge to it. I'd also like it to be a bit of a bigger seat comfort wise. That being said, for the price and for a stool that will likely not be sat on THAT much it certainly serves its purpose.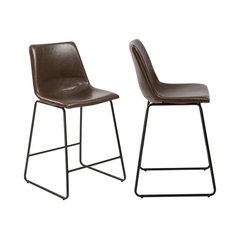 Leather Upholstery Counterheight Stool Chairs, Set of 2, Brown Rustic Style
Bar Stools and Counter Stools
Love these chairs!: We bought two sets of chairs...we especially like that the foot rest is welded together. they we shipped promptly, packaged nicely and a breeze to put together! they are comfortable and just the modern flare we were looking for.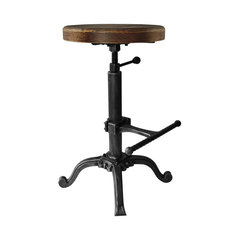 Jamie Adjustable Bar Stool
Bar Stools and Counter Stools
Stylish and Sturdy: This chair is exactly as its pictured. Really, stylish and seem very sturdy we will see as they get used. I"m knocking off one star because it was a little hard to put it together. In particular there is no clear direction as to where to place the foot rest. I ordered four of these and I wanted the foot rest to be in about the same spot so it was a bit of a process. I think these are going to go great in my wine cellar/game room once we are all done with it.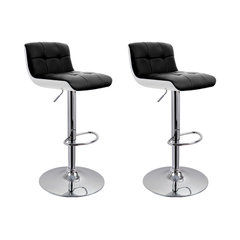 Boyd Faux Leather Adjustable Bar Stools, Set of 2, Black
Bar Stools and Counter Stools
Style for your bar.: These stools look good and are well built. The upholstery is high quality with a hard plastic molded one piece seat and back. The seat is well connected to the base with Allen bolts. The pneumatic mechanism raises and lowers the seat with ease. The foot rest rotates with the seat so there is always somewhere to put your feet. My husband is a pretty big guy and has been able to use them although he complains that they could be a little wider. Generally they are comfortable as he sits on it regularly. The stools are high quality.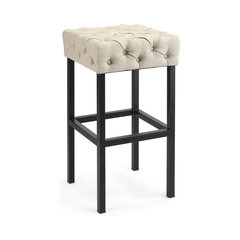 Quincy Backless Bar Stool, Beige Linen
Bar Stools and Counter Stools
Awesome: Can't believe what a great find these bar stools were! We bought three for our 42" high bar counter and we love them. The quality is great and I would definitive recommend them. The base is metal- we thought it was black painted wood, but metal is even better since it makes it sturdier.