Headboards
Although a headboard is often seen as a decorative element, it's also a practical one. Headboards allow you to prop yourself up while watching TV, reading, working or even eating. Most pieces, especially upholstered headboards and padded headboards, offer comfortable backing for ultimate relaxation, while other wood and metal options are trendy and may also provide additional shelving. On the other end, literally, a footboard can make your bed feel like a cozy cocoon or provide a visual barrier between your bed and an open door.

Whether you're looking for a twin or king headboard and footboard (or something in between), here's what you should consider:


What shape and style headboards are available?

Since a headboard's closest neighbor is the bed itself, you want to make sure the two styles are complementary. Beds often come with the headboard, but if that isn't the case, be sure you match the style, size and color. Surprisingly, a rectangular shape isn't your only option. Get creative by determining what kind of statement you want to make. For example, square or rounded corners are more traditional, while the curves of a regency-style or wingback headboard will add a little drama.


Will an upholstered headboard look dated?

Though upholstered pieces lost some of their luster in the 1990s, the look has returned and is a popular choice with many designers. Not only are padded headboards more comfortable to sit against, but they tend to be visually appealing and add texture and color to a room. Plus, the options are endless: A popular choice is a tufted headboard, but you can also opt for monogrammed, quilted, slipcovered and more. Browse through bedrooms on Houzz to get a good sense of what might look right in your room.
Sponsored Products
Featured Reviews of Headboards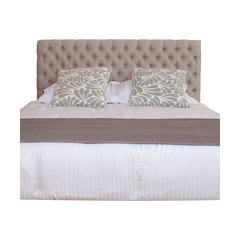 Denise Austin Home Wyoming Queen Button Tufted Fabric Headboard, Beige
Headboards
Vinyl tufted headboard: Ideal replacement for my old Italian wooden headboard. This material is soft and it's just what I needed so I can sit up on my bed with support for my neck. Price reasonable and very easy to follow instructions for assembly. I like it.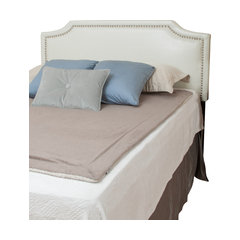 Forde Queen To Full Sized Ivory Leather Bed Headboard
Headboards
Great Deal!: I love everything about this headboard. It blends in with any wall color or bedding. The feel of the leather (YES, leather!) is luxurious and the nail heads just pop. Buy this!!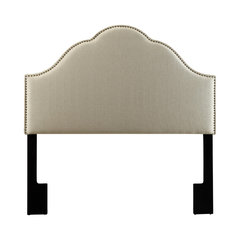 Glam Upholstered Headboard, Tuxedo Oatmeal, Queen
Headboards
Beautiful!!: Just got this delivered and couldn't wait to peek inside the box! It's for my daughter and she's going to love it! Such a pretty neutral color and the brads add a nice compliment. I cannot wait to see how it looks installed with her bed and comforter.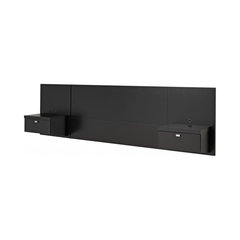 Prepac Series 9 Designer Floating Queen Headboard With Nightstands
Headboards
Stylish at a great price: This product looks sophisticated and stylish, especially for the price! We used it with a platform bed from Crate & Barrel and the result is amazing. One quick note about assembly: the wooden pieces from which the headboard hangs -- especially the notch -- doesn't really accommodate for an uneven wall surface. Our house is 80 years old, and even though the plaster i smooth, the wall has a bit of imperfections. Once we screwed the wall piece, and it hugged the wall, we could no longer hang the frame. Fortunately the solution was to put a thin shim behind the notched piece.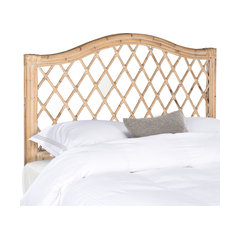 Safavieh Gabrielle White Washed Wicker Headboard, Queen
Headboards
Love this little headboard!: I was looking for headboard to upgrade girls' room (from toddlers to teens) and this headboard was perfect. Blends beautifully w/other furnishings (some pine and other white washed pieces). Packed so securely I could hardly get it out of the box! Price was half less than other sites. Couldn't be more pleased.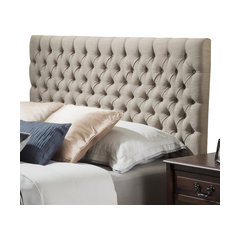 Denise Austin Home Cannes Adjustable King/ California King Fabric Headboard, San
Headboards
Love this!!: This was super easy to assemble. The came with screws and washers to attach it to our bed frame, unfortunately we had to run to the store to grab a smaller stew and nut to fit through our frames hole, but we still used the washers it came with. The height is adjustable also. We decided to put ours an inch above our mattress to create that height, but our shame and pillows cover the gap...just knows it's all adjustable to your preference :) great product for the price and came super fast.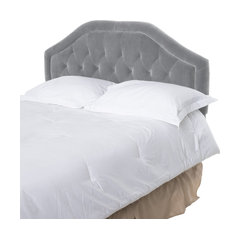 Headboards
Like it!: Good product considering price. Instructions were not complete and very vague and unclear. I sent a Message to the seller and didn't get a response. I figured it out and managed to assamble it. Headboard quality is ok and I really like how it looks in my bedroom. I will be covering the legs with fabric or something because I don't like the black metal showing on the side of the bed.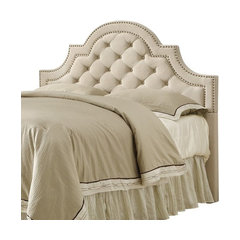 Coaster Ojai King Upholstered Headboard, Beige
Headboards
Great find: This headboard looks really good in the room. It brings the whole room together and it was easy to assemble. The small pieces were all over the place in the box . We were able to find them All.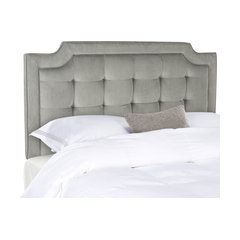 Safavieh Sapphire Tufted Velvet Headboard, Pewter, King
Headboards
headboard: Love the headboard! Not happy with the shipping. The box arrived with a big 6 inch gouge out of it. The headboard was only wrapped in a thin piece of fabric. No other padding was around the headboard. I'm lucky this did not damage or get the headboard dirty I'm surprised the headboard was not cracked since there was no packing around it. Not happy with suppliers packing of the headboard at all.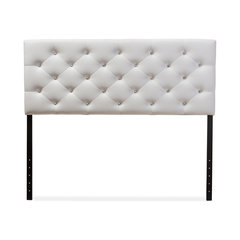 Viviana Upholstered Button-Tufted Headboard, Queen, White
Headboards
Beautiful: Very pretty and good quality. Mine arrived with a small smudge on it, but I'm sure I will be the only person who notices it. I do wish that Houzz didn't take a week from the date I purchased to ship it. Other than that, I am completely happy with this headboard.