Major Kitchen Appliances
Major kitchen appliances are major helpers. Refrigerators and freezers, for example, help prolong the life of perishables, while cooktops and ovens aid us in turning those ingredients into delicious meals. The key to a functional kitchen is having each of your appliances work as a team. However, the importance of each one varies from person to person — cooking appliances that are luxuries to some might be necessities to others.

To figure out exactly which kitchen appliances you should purchase, think about the type of cooking you do and how often you do it. Do a lot of baking but not so much stovetop cooking? Put your money toward a quality oven and put the range and vent combo on the backburner. If heat-and-eat is your style, a new microwave should be at the top of your list. Ever have to wash a massive pile of dishes by hand? Then you know how necessary a dishwasher is. When it comes to choosing between the high-end kitchen appliances versus the middle-of-the-road models, evaluate what you can realistically afford and how often you'll use them. There are plenty of great designs that won't break your budget, but if you can justify the cost, go for the good stuff!

Browse our major kitchen appliance section to find the products you love.
Sponsored Products
Featured Reviews of Major Kitchen Appliances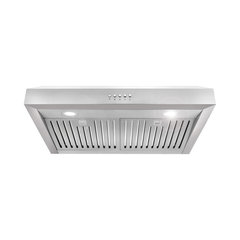 Cosmo 30" 760 CFM Under Cabinet Range Hood With Permanent Filters
Major Kitchen Appliances
Nice commercial look: This hood has a nice commercial look to it and goes great over a stainless Kitchen Aid double oven range. The fan sucks out the air at an astounding rate of 750 cfm!! Clears your kitchen of any odors and smoke quickly. Most hardware stores hoods top out at 350cfm. You're getting your money's worth with this boxy blower.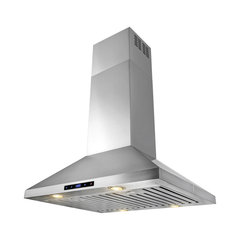 AKDY 30" Stainless Steel Island Mount Range Hood, Ducted
Major Kitchen Appliances
Beautiful!: It looks great and it works. My kitchen is still under construction so I haven't ben able to use it for cooking yet, but like it a lot. I give it 4 stars because it arrived with a small dent.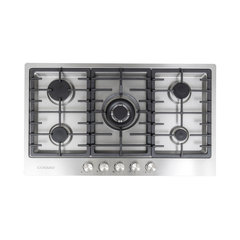 Salcedo Gas Cooktop With 5 Italian-Made Burners
Major Kitchen Appliances
So far so good!: So far so good! We received it in great condition, and it is beautiful!! We are waiting for our renovations to finish up so I haven't use it yet, but it is exactly what I wanted so far!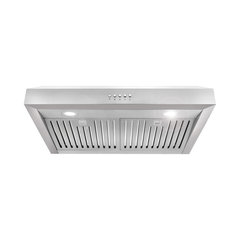 Colton Under-Cabinet Mount Kitchen Hood, 30"
Major Kitchen Appliances
Not loud and gets rid of the smell.: I bought this vent because it says that it is quiet or as quiet as a kitchen vent can be and its true. I don't get ear or headaches anymore because of my loud kitchen vent. Looks nice enough and gets rid of the smells.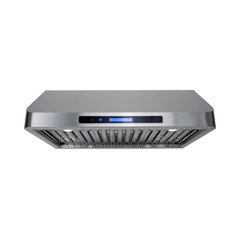 Anson Under-Cabinet Mount Kitchen Hood, 30"
Major Kitchen Appliances
Quiet, powerful hood: This hood came with my house and I have to say that it is very quiet and sucks out all the smell from the kitchen when I cook. I also like the remote control where I can control it at the dinner table or the living room.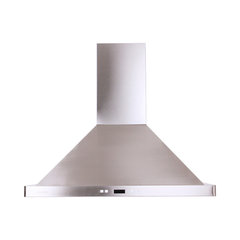 Cavaliere Wall Mounted Stainless St Kitchen Range Hood, 30"
Major Kitchen Appliances
LOVE IT: Looks, sounds and runs like a quality device exceeding my expectations. Would recommend the Cavaliere unit for anyone looking for a quality Kitchen Range Hood. This will be the center piece along the stone back splash once the job is complete.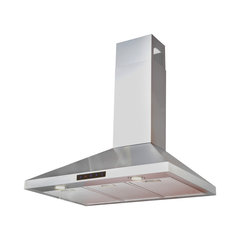 30" Stainless Steel Wall Hood
Major Kitchen Appliances
Simple and clean.: Haven't put it on the wall yet but plugged it in to test that it worked ok like the instructions said. It feels like it moves a lot of air. Solid construction. Not flimsy. Had issues getting low speed to work on the touch panel. Apparently it is sensitive to the size of finger you use. Index finger would work consistently with power, light and high speed. Medium worked most of the time. But couldn't get low to work at all. Until I used my thumb and then it worked consistently. So may or may not be an issue overall.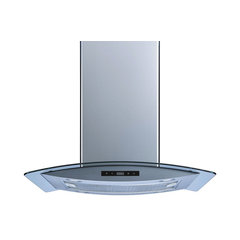 Winflo 30" Island Stainless Steel Tempered Glass Convertible Range Hood
Major Kitchen Appliances
Winflo 30" Island Range Hood: Beautiful product. Our contractor had to improvise a bit to raise it higher so it wouldn't block our view but it works great; we put it on all the time when cooking. 3 speeds fan; we usually always use on the highest speed, which is a bit noisy but it's only needed while cooking. The glass surround on top is gorgeous but it 'does' get greasy and needs frequent cleaning but it's worth it. The 4 LED lights are very bright and help A LOT when cooking. I would definitely order this unit again. :)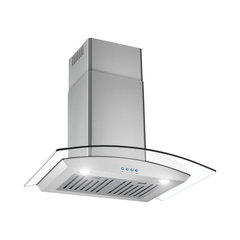 Stainless Steel and Glass Range Hood 30" With LED Buttons
Major Kitchen Appliances
Too bad it did not work for us: The package came super quick!!! Sadly the package was a little damaged but when we opened the box it was packaged beautifully, and everything was protected. The hood was beautiful too bad I picked the wrong type of hood for what we needed. I would recommend it because it is a great hood for the price. And the return process was super easy.. I will order the replacement from Houzz happily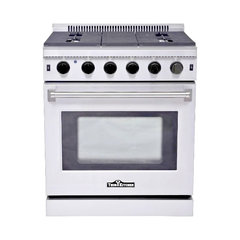 Thor Kitchen 30" Stainless Steel Gas Range Oven With 5 Burner LRG3001U
Major Kitchen Appliances
Arrived on Time and in great condition: We received the stove on time and it was in great condition. All working parts, Would have been nice if they brought it in the house instead of just dropping it in the driveway. It is steardy and heavy duty. Love the gas range and the oven is great!