Kitchen Sinks
The sink is one of the busiest spots in the kitchen, used for everything from prep and cleanup to food disposal. Because it wears multiple hats, you need to invest in a quality kitchen sink that will stand the test of time. Whether you prefer sleek stainless steel or a timeless white sink in cast iron, there is something out there to accommodate even the pickiest home chef. As you shop for kitchen sinks, be sure to keep the following tips in mind:
What are my mounting options for kitchen sinks?
Different kitchen sink styles call for various types of mounting and installation, which can make or break your budget. Learn about the three main designs and decide which one is right for your tastes and needs:
Drop-In - Also called top-mount, drop-in kitchen sinks are the easiest type to install, often meaning a lower price point.


Undermount - This popular design requires a more tricky install which can increase the overall price point. However, undermount kitchen sinks make for super simple cleanup and a sleek, continuous counter look, making them worth the splurge.


Farmhouse - Also known as apron-front, a farmhouse kitchen sink is great for those that love a deep, wide basin and the appeal of a sink as a focal point instead of hiding it behind the counter and cabinets.

What's the best kitchen sink material?
Choosing a material is a decision based on style as much as it is on functionality. Kitchen sinks should reflect the aesthetic of the entire space, but also live up to your expectations in terms of use and maintenance. Learn about these common materials to help make an informed choice:
What size kitchen sink should I get?
Kitchen sink sizes can feel overwhelming to get right, but as long as you keep in mind your current or desired layout and how you actually intend to use your new fixture, it's really not that hard. The National Kitchen & Bath Association suggests a standard 22 by 24 inch single bowl kitchen sink for spaces smaller than 150 square feet, however if you desire a specific look or functionality not covered by that size, feel free to go wild — it's your kitchen after all! For larger spaces, you really have the freedom to choose whichever width, depth and basin size you desire, but these explanations of bowl configurations might help guide your decision:
Single bowl - Large pots, pans and bakeware fit best in a single basin kitchen sink since there is no divider to get in the way. You may prefer this if you do a lot of cooking and don't have a dishwasher to throw large items into right away. If you like the idea of having separate areas to soak, wash and/or prep, however, this might not be the best option.


Double bowl - If you're the sort of person who appreciates having designated zones for separate tasks, a double kitchen sink may be the way to go. With two bowls, this design allows for soaking and washing on one side and rinsing or prepping on the other. You can even use one bowl to defrost a meal while still using the other to do your dirty work.


Triple bowl - If you have space, and lots of it, you can spring for a triple bowl kitchen sink. These models are similar to a double bowl style, with the addition of one smaller basin that's great for prep work that won't interfere with whatever you've got going on (soaking, drying etc) in the two larger bowls.
Sponsored Products
Featured Reviews of Kitchen Sinks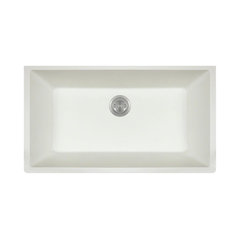 Large Single Bowl Quartz Kitchen Sink, White, No Additional Accessories
Kitchen Sinks
Nice deep basin: I struggled finding a composite sink that would work with a 33" base cabinet while maximizing how much sink you got. This was the winner. We did have some installation issues - we had to actually cut into the base cabinet to get it to fit. I like the color very much - it's a cool gray. It does show cast iron marks very easily but they come off easily with a big of baking soda paste.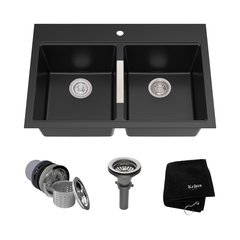 KRAUS 33" Dual Mount 50/50 Granite Kitchen Sink, Black Onyx With Strainers
Kitchen Sinks
Shop O Holic: The ordering process was very easy. This sink is very contemporary. Its is also very heavy duty quality. It looked just how it was described online. Would definitely recommend.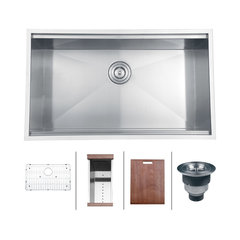 Ruvati RVH8300 Undermount 16 Gauge 32" Kitchen Sink Single Bowl
Kitchen Sinks
Love this sink!: This was not a brand that I was familiar with but did the research and it was spot on! Heavy duty, beautifully made and I would put this up against the Kohler sink anyday...great bang for the buck!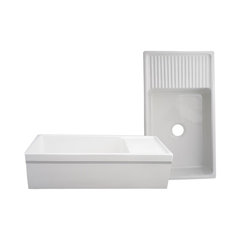 Large Quatro Alcove Reversible Fireclay Sink, White
Kitchen Sinks
Spectacular, Timeless, Useful: Wow...this sink is beautiful. Arrived in perfect condition. Packaging was top notch & three days arrival! So excited! We are building a home & this will be the show piece of our kitchen!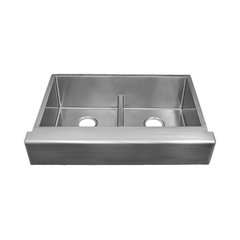 Unique-Fit Apron Sinks Radial Low Divide 50-50 Double Bowl Apron Sink, 33"
Kitchen Sinks
Love it!: Sink arrived as promised. Is well made with smooth interior corners. Love the comfort edge on the front. I do wish her apron was a tad shallower. I know this is a retrofit i believe it would improve the sinks usability. I purchased wire racks from amazon to prevent scratching and they fit beautifully. I will be buying another in a few weeks for our next project so I'm definitely a fan!!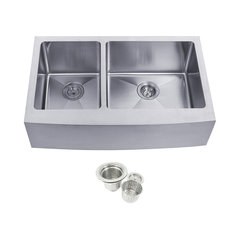 Stainless Steel Undermount Farmhouse 40/60 Double Bowl Kitchen Sink
Kitchen Sinks
Happy Customer: My sink was beautiful. We are still remodeling but we opened the box and it's well packaged. Even the sink was in a cloth bag to prevent scratching. They forgot the accessory kit and template for the sink but I called customer service at Houzz and they got right on the problem and it was in the mail the same day and I received it within 3 days USPS mail. I can't wait to see it installed. So happy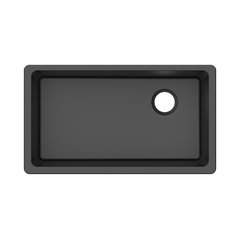 Melrose Granite Quartz Single Undermount Sink, Black, 33"
Kitchen Sinks
Show stopper: Love how big and beautiful this sink is. The black is a different spin than a lot of other sinks. It matches my faucet and drawer pulls and adds an edgy touch to the kitchen. The only drawback is that the water doesn't seem to flow quickly to the drain, but it's easily resolved by just rinsing the sink.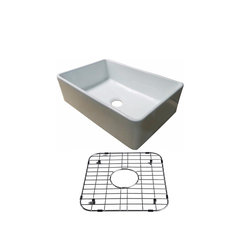 Fireclay Glossy White Farmhouse Kitchen Sink With Stainless Sink Protective Grid
Kitchen Sinks
Even better than expected!: I researched this company a little bit and discovered that it was a family owned business (which is why I bought it over the competitors.) it came very well protected/packaged, and had the presidents business card right on top! It was easy for our friend to install and support and is my favorite part of our new kitchen!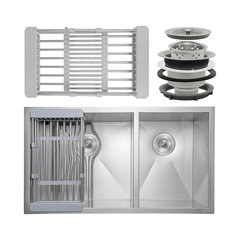 AKDY 32"x18"x9" Undermount Handmade Stainless Steel Double Bowl Kitchen Sink
Kitchen Sinks
Seems sturdy: Just received the sink haven't installed yet, But sink feels very sturdy and looks great. It has some weight to it. Can not feel any soft spots on the sink walls or basin. All in all feels like a solid product that looks good.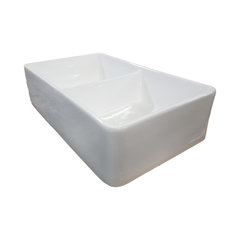 32" White Fireclay Farmhouse Kitchen Sink
Kitchen Sinks
Very durable!: I was concerned about this sink when we first got it. But we clean cast iron skillets and pots in it all the time and it takes a beating here and there, but still looks great.