Office Chairs
Task chairs are heavy duty office chairs designed to keep you comfortable for hours on end. Buying one may seem like a simple purchase, but everyone has a unique body shape, resulting in one chair does not fit all search. To find the right one for you, pay attention to the ergonomics of the chair and be sure it fits the contours of your body for maximum comfort.


What do I need to consider when picking out the right office chair?

Most likely, you occasionally work from home and you'll be spending ample time in your chair. For that reason, it's vital that it's comfortable and ergonomically correct to your unique body. When testing chairs, look for the following:
Backrest: An inadequate backrest can put stress on your spine while you're seated, so look for a chair that supports both your upper and lower back appropriately. The lower portion of the chair should also be slightly curved to follow the natural contour of your spine. Consider finding a chair with an adjustable backrest so you can be sure to fine-tune it to your comfort level.
Seat: The foam density in your seat should be high enough to keep you sitting comfortably for a full workday; be sure to test your chairs out to guarantee personal comfort. Analyze how your body fits into the seat: is there room around your hips and thighs? What about between the waterfall of the seat cushion and the back of your knee? Overall, does the seat feel adequately supportive? If not, you may want to continue shopping.
Armrests: Not all chairs come with armrests, nor do you necessarily need them if you feel they get in the way of pulling in closely to your desk. However, if you prefer them, seek out a chair that comes with adjustable padded rests at least two inches wide for maximum comfort. Be sure the armrests are placed correctly in proportion to your body: armrests that are too high can cause tension in your shoulders, while those spaced too widely will cause you to extend your elbows in an uncomfortable fashion.
Chair base: Look for chairs with casters or a five point base so you can move around your office workspace with stability and ease.
Height: Be sure you can adjust your chair so that your thighs are horizontal and feet flat on the floor when you're sitting. This will minimize strain on your spine.


What type of material should I consider?

In general, leather or vinyl chairs prove to be the most durable and are comfortable, yet they may not let your skin breathe as easily as cloth. Cloth, however, while less expensive, is tougher to clean.


What styles are available?

A range of styles is offered; choose one depending on comfort, preference and whether it works with your current office décor. Traditional office chairs tend to be comfortable and oversized, often tufted and commonly made from leather. You can also find a chair without wheels, if that's what you prefer. Modern chairs tend to be more sleek, innovative, functional and ergonomic, and will add a contemporary quality to your office as you work from home.

Start your search here to see what chairs are available.
1 - 36 of 10,344 products
Sponsored Products
Featured Reviews of Office Chairs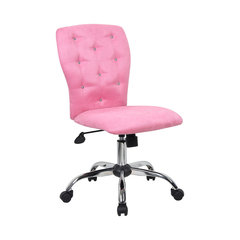 Loma Microfiber Rolling Office Chair, Pink
Office Chairs
love this chair!: I ordered this for my desk at home station. My husband has no issues putting it together and it took about 5 minutes. The chair is soft and comfortable. It doesn't seem that that sturdy but if you don't abuse it, should be fine. I would recommend this chair and am contemplating purchasing another one.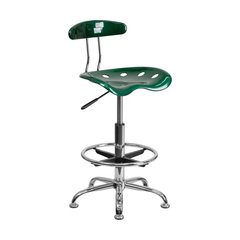 Vibrant Green and Chrome Drafting Stool with Tractor Seat
Office Chairs
Bought two...: We bought one of these for our home office - liked it so much that we now bought a second, as we're expanding the office with a second desk. At this price, you won't find anything similar. Sturdy and comfortable.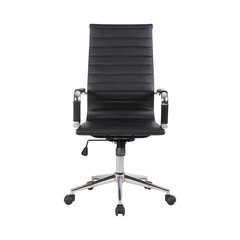 Executive Ergonomic High-Back Office Chair, Black
Office Chairs
Good buy for the price: Exactly as in the picture, it looks great, its for a home office and I dont work from home every day, so as far as comfort its ok for the short amount of time I'll be in it. very easy to put together following the instructions, I had previously seen a similar product at a retail store for twice as much, so I'm very satisfied with the purchase.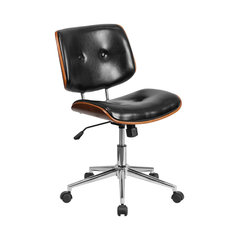 Flash Furniture Mid-Back Black Leather Wood Swivel Task Chair
Office Chairs
Looks Like Vintage: This chair was perfect for my mid-century modern vintage desk, because the opening for a chair on my desk is only 20 inches wide. This chair fits the space perfectly so I can push it all the way in and the walnut shade on the back matches the wood on the desk nice. The chair was a cinch to put together (the allen wrench is included; only 5 screws), the padding is comfortable, and it rolls nicely.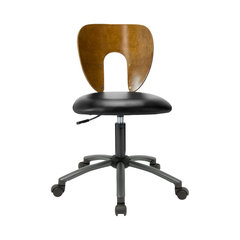 Aymeric Adjustable Office Chair
Office Chairs
Styley: I love this chair. The curved wood back is gorgeous. Easy to assemble. Super comfy. I had hoped for a darker brown seat cushion, but it is indeed black. Gotta say it again, I love this chair.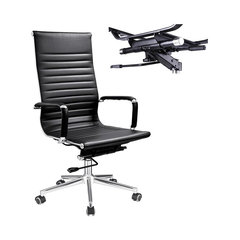 Executive High Back Ribbed PU Leather Swivel Desk Chair, Black, Chair
Office Chairs
Thrilled with the chair!: I bought this chair for my new home office and I couldn't be more thrilled with it! Excellent quality - it looks sleek and modern with leather wraps on the arms. It tilts back and very comfortable too!
Designer Executive Ergonomic Mid Back Office Chair Ribbed For Conference, Black
Office Chairs
Unbeatable quality with this price!: I am a designer and will look for different chairs from vendors. I have tried similar chairs from 5 different vendors, this chair seat with tilt angle is the most comfortable one, and the assembly is easier, another vendor took me double of time or more. Also, the stitching is more unite, looks more high quality.
Baxley Office Chair, Gray, 33"
Office Chairs
Beautiful, Comfortable Chair: I love the look and feel of this chair. It was relatively straightforward to assemble, feels very secure, and of course has the look. The wood accents aren't fooling anyone up close, but you can't beat it for the price. It adjusts and rolls great, and feels like it can support a good amount of weight. I'm about 115lbs and feel very secure, but if you are a larger person (200+lbs) I can guarantee it wouldn't be comfortable, as the sides slope up. It could support the weight of my 6' 1" father, but he felt too wide for it.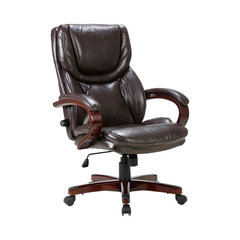 Executive Office Chair, Adjustable Lumbar Support, Swivel, Wood Armrest, Brown
Office Chairs
Got the item and put it together: The chair is beautiful. The directions are just pictures and as you go through and connect the parts, leave the screws loose until the arms are on. I love my chair. The seller and Houz were exceptional. I am so happy with the chair.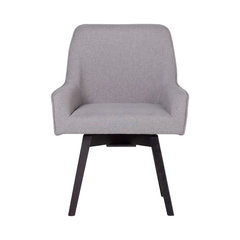 Evander Swivel Office Chair, Gray
Office Chairs
Cool chair: Love the swivel in the chair. Very comfortable. I asked about the color and thought it would be more grayish blue,I would explain it as greenish blue. Still goes with my decor though. Was super easy to put together.