Office Chairs
Task chairs are heavy duty office chairs designed to keep you comfortable for hours on end. Buying one may seem like a simple purchase, but everyone has a unique body shape, resulting in one chair does not fit all search. To find the right one for you, pay attention to the ergonomics of the chair and be sure it fits the contours of your body for maximum comfort.


What do I need to consider when picking out the right office chair?

Most likely, you occasionally work from home and you'll be spending ample time in your chair. For that reason, it's vital that it's comfortable and ergonomically correct to your unique body. When testing chairs, look for the following:
Backrest: An inadequate backrest can put stress on your spine while you're seated, so look for a chair that supports both your upper and lower back appropriately. The lower portion of the chair should also be slightly curved to follow the natural contour of your spine. Consider finding a chair with an adjustable backrest so you can be sure to fine-tune it to your comfort level.
Seat: The foam density in your seat should be high enough to keep you sitting comfortably for a full workday; be sure to test your chairs out to guarantee personal comfort. Analyze how your body fits into the seat: is there room around your hips and thighs? What about between the waterfall of the seat cushion and the back of your knee? Overall, does the seat feel adequately supportive? If not, you may want to continue shopping.
Armrests: Not all chairs come with armrests, nor do you necessarily need them if you feel they get in the way of pulling in closely to your desk. However, if you prefer them, seek out a chair that comes with adjustable padded rests at least two inches wide for maximum comfort. Be sure the armrests are placed correctly in proportion to your body: armrests that are too high can cause tension in your shoulders, while those spaced too widely will cause you to extend your elbows in an uncomfortable fashion.
Chair base: Look for chairs with casters or a five point base so you can move around your office workspace with stability and ease.
Height: Be sure you can adjust your chair so that your thighs are horizontal and feet flat on the floor when you're sitting. This will minimize strain on your spine.


What type of material should I consider?

In general, leather or vinyl chairs prove to be the most durable and are comfortable, yet they may not let your skin breathe as easily as cloth. Cloth, however, while less expensive, is tougher to clean.


What styles are available?

A range of styles is offered; choose one depending on comfort, preference and whether it works with your current office décor. Traditional office chairs tend to be comfortable and oversized, often tufted and commonly made from leather. You can also find a chair without wheels, if that's what you prefer. Modern chairs tend to be more sleek, innovative, functional and ergonomic, and will add a contemporary quality to your office as you work from home.

Start your search here to see what chairs are available.
1 - 36 of 10,272 products
Sponsored Products
Featured Reviews of Office Chairs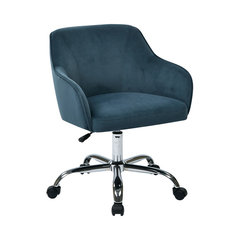 Barnet Comfy Office Chair, Petrol Blue Velvet
Office Chairs
Excellent Chair: I just renovated my media room and was looking for a quality desk chair that would blend with the retro vibe of the room's decor. This chair arrived extremely well packaged and I had it put together in less than 10 minutes. The seat is a bit hard, but the back is incredibly supportive and comfortable for long photo editing sessions. The upholstery fabric is a rich suede - like texture, and the color is a beautiful teal blue. The seat of the chair is fully assembled and I gave it a coat of ScotchGuard spray before I put the seat on the base. The wheels glide smoothly and the chair is hefty and sturdy without being heavy and cumbersome to move. I am 5' 9" tall, and the back of the chair comes to just below my shoulder blades, and it is well padded and supportive; very similar to a tub chair. I was anxious about buying furniture without having tried it out first, but I could not be more thrilled with my purchase! I will certainly be a repeat houzz customer.
Modern L Ribbed Mid Back Armless Management Office Chair, White
Office Chairs
Nice for my back: This chair is very comfortable for a desk. Usually when working at a desk, a person doesn't sit back and lounge in a chair so a big squishy chair want my choice. Although this could have a tad more cushion, I am still very happy with my choice. It also looks very clean and sleek at my writing desk.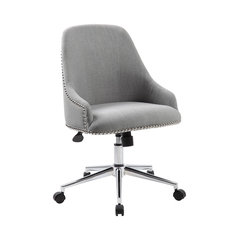 Boss Office Products Carnegie Desk Chair, Gray
Office Chairs
Chair Review: This chair is really nice with the cushion making it really comfortable for you to sit for a long period of time. The only thing that is making me from giving this chair a full five star rating is that there is no arm rest for the chair. Overall, it's a decent chair.
Executive Ergonomic High Back Office Chair Ribbed PU Leather, Brown
Office Chairs
Good buy for the price: Exactly as in the picture, it looks great, its for a home office and I dont work from home every day, so as far as comfort its ok for the short amount of time I'll be in it. very easy to put together following the instructions, I had previously seen a similar product at a retail store for twice as much, so I'm very satisfied with the purchase.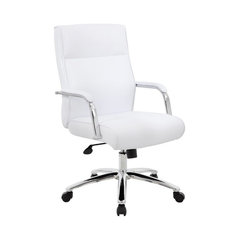 Boss Mid Century Mod Executive Conference Chair, White
Office Chairs
Great value: considering the quality and the price paid, this chair is a great value. The only drawback, and this is being very nit picky, is one of the arms is screwed in further than the other. I probably over tightened it during assembly. I doubt anyone would ever notice it. I'm planning to buy another for my office.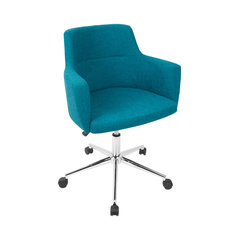 Andrew Contemporary Adjustable Office Chair, Citrus Green, Teal
Office Chairs
Beautiful!: We absolutely love these chairs! We purchased for our new, not quite done yet conference room, and they look and feel amazing. Easy to put together, smooth casters, just enough cushion for a couple of hours, fast deliver, great price. Several people have commented that it looks very "Mad Men" which I think means "mid-century modern looking" and I agree. Good purchase. Highly recommend.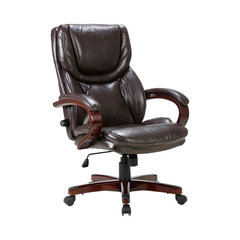 Executive Office Chair, Adjustable Lumbar Support, Swivel, Wood Armrest, Brown
Office Chairs
Got the item and put it together: The chair is beautiful. The directions are just pictures and as you go through and connect the parts, leave the screws loose until the arms are on. I love my chair. The seller and Houz were exceptional. I am so happy with the chair.
Designer Executive Ergonomic Mid Back Office Chair Ribbed For Conference, Beige
Office Chairs
Unbeatable quality with this price!: I am a designer and will look for different chairs from vendors. I have tried similar chairs from 5 different vendors, this chair seat with tilt angle is the most comfortable one, and the assembly is easier, another vendor took me double of time or more. Also, the stitching is more unite, looks more high quality.
Ergonomic Designer Mid-Back Armless Office Chair Ribbed For Conference, Beige
Office Chairs
One of my best purchase: Returned similar chair from another seller, beacause their chair is uneven, and possible the problem from tilt angle, I really hate to sit on that chair. This chair is more strong, solid, and comfortable to sit for a whole day.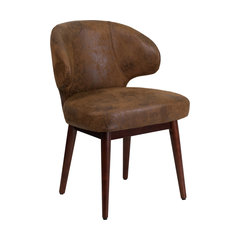 Leather Chair With Walnut Legs, Bomber Jacket Brown
Office Chairs
Nice Occasional Chair: I bought this for a small space in a vacation rental and it is the right porportion for the space. The seat height is a little high for me, although I am 5'4" so taller people will appreciate it. It can be moved easily which is what I wanted. The low (ish) back lets you see past the chair, out the window, to the crashing waves in front of the beach house. My only complaint is that the leather was a little wrinkled right at the very back center of the chair. Otherwise it seems sturdy enough and I screwed the legs on easily.