Table Lamps
As both a practical and decorative element, table lamps are an essential accessory for any living space, from the bedroom to the entryway. In a room with a high ceiling fixture, they can provide extra light while you read or work. In a space lacking direction, a decorative table lamp can add a pop of color and style. While you search for the right fixture for your space, consider the following guidelines:
Where should my table lamp go and what should it be used for?
When considering what sort of fixture you want, you should first think about its function. Do you want something that will provide light to read by in bed? If so, you might want to consider bedside lamps with an easy to use drawstring. Consider the ideal size as well by thinking about how much light you need and how much space you have. Small table lamps might fit better on a nightstand and provide a simple, clean look for the bedroom. On the other hand, if you're looking for table lamps for the living room or an accent piece to spruce up a hallway, you might look at bold, modern fixtures. Before you buy, you should also identify which features you'd like as you choose among touch-operated, adjustable or
battery-operated table lamps
. In particular, a
dimmable table lamp
could provide excellent ambiance in an entryway or living room.
What table lamp styles will work best for me?
Bringing in a stylish lighting fixture is a great opportunity to add color and character to your space. Sleek,
modern table lamps
can bring a fresh look to a living room with otherwise basic furniture. Simply choose one in a clean white color or with a minimalist design that will work with your other pieces. Or, if you're going for a farmhouse look, choose among
rustic table lamps
with a reclaimed wood finish. Consider both the shade color and the base finish you'd like. For example, in a calming, all-white bedroom, white-washed wood nightstand lamps with white shades could work especially well. But if you're going for an elegant transitional look, consider incorporating
brass table lamps
with richly colored fabric shades. Not all shades come in fabric either -- you may want something in glass or crystal. For example,
vintage table lamps
with turn-of-the-century Tiffany style stained glass can give your home a cozy feeling. While
contemporary table lamps
with chic crystal designs will create a striking focal point.
What materials are best for table lamps?
When choosing a new lighting fixture, you have several choices for the base and shade material, each of which will give off a different look and feel. To make a decision, think about the mood you want to create and how bright a light you want in your space.
Glass table lamps
will look more formal and can serve as a striking accent piece almost like a vase. Lighting fixtures with a ceramic base can look equally decorative. These sorts of pieces work well as hallway or living room table lamps, where you want to make an impression. For example,
ceramic table lamps
in a soft blue finish or with a geometric design can effortlessly bring a room together. For something less fragile and more versatile, a wood base is a great option. Whether you want to go for a mid-century, rustic or traditional look, a
wood table lamp
can go in any of these directions and add to a comforting, homey feeling. For bedside table lamps, pair a wood base with a simple fabric shade to get more muted, golden light to read and relax by. For entryways or formal living rooms, try incorporating less expected materials. A
crystal table lamp
will create a dazzling show of light, while a copper table lamp will make light seem even brighter.
1 - 36 of 35,885 products
Sponsored Products
Featured Reviews of Table Lamps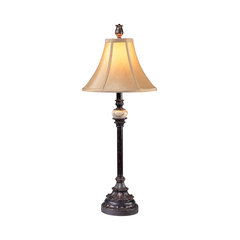 Antique Black Buffet Lamp
Table Lamps
Inexpensive Buffet Lamp: The look of this lamp is quality - from a distance. If you examine it close up, it is entirely made of metal. The piece that looks like marble is a painted faux marble over metal. However, the lampshade is very nice, the price is right, and the overall look is perfect for my needs. I ordered a second one for myself. If you want a quality piece with an accent of real marble, this lamp is NOT for you.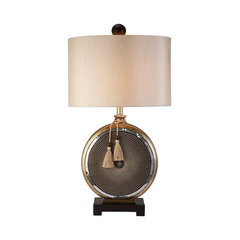 Ira Contemporary Table Lamp
Table Lamps
VERY CLASSY: Both lamps arrived together & in great condition. They will go on oval wrought & wood night stands. Thus the oval shade will tie in with the tables. I like that they stand tall (31"). Since our bed is high the tables & lamps will be in proportion & look really nice in our new retirement home. First time user of houzz. I've also ordered a chandelier for the master bedroom closet. It'll come this week. Thank you.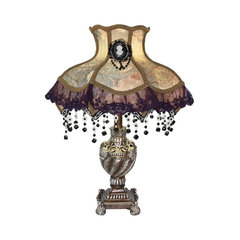 22" Laced Jewel Victorian Style Table Lamp, Purple
Table Lamps
Beautiful Table Lamp: Beautiful piece. Wish it were a little taller, but best we could find for where we wanted to put it. Can't always find everything you want and sometimes have to compromise. We opted for beauty over desired height. Made a good choice.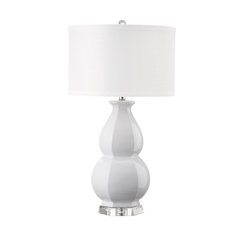 Safavieh Juniper 30-Inch High White Table Lamp
Table Lamps
GREAT LAMPS!: These lamps are of solid weight and quality. The multi faceted base makes such a pretty twist on the typical rounded gourd style lamp. The crystal bottom and finial are even prettier in person and the first thing people comment on when they see the lamps for the first time. This may sound odd but the on/off switch is metal and much bigger than on any lamp I have ever had. It is one of my favorite things about this lamp. It is so easy to find in the dark and turn-no funky plastic ridges that turn both ways. Even my kids commented on how awesome the on/off switch is and how they wish their bedroom lamps had on like it. I bought these of go with a navy and white duvet from Pottery Barn. These lamps really complete a stunning navy and white bedroom.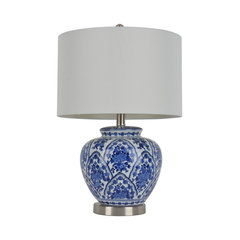 Blue and White Ceramic Table Lamp
Table Lamps
Lamp Love...: This beautiful lamp is perfect... exactly as described. I love it so much I'm going to order another one. Great quality and arrived earlier than expected. Highly Recommend !!!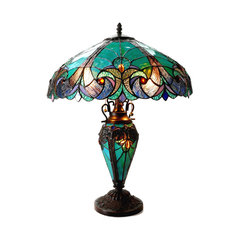 Romilly Victorian Table Lamp
Table Lamps
Very Victorian.: It came in good condition. It was easy to assemble and looks very elegant. It has a subtle green cast with the light on which looks really nice in the evening. I'm very happy with the purchase.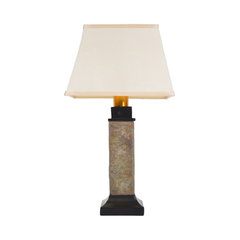 Torch Light Wireless All-Weather Table Lamp Natural Slate
Table Lamps
Love my lamp!: I needed some light on my sofa table in the family room highlighting our family portraits; well this cordless lamp fits in beautifully with our decor and puts light on what's important in our lives, FAMILY!❤️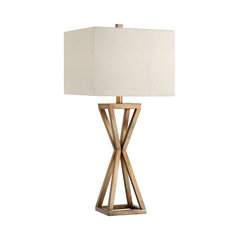 Catalina Ezra 31" 3-Way Gold Open Caged Metal Table Lamp, Bulb Included
Table Lamps
Modern geometric lamp: On-trend metallic geometric lamp - the color is a little more shaded than appears in photos (looks more of a nuanced gold in person) which adds to the appeal. Ordered two total and both lampshades don't sit exactly right unless you fuss with the harp and bend them into place. Also, I should have measured better, but these are actually pretty large! Packaging was frustrating - separate pieces of styrofoam and cardboard all taped together, which meant tiny polystyrene bubbles everywhere.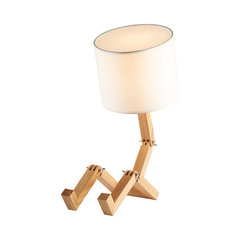 Louie the Lamp - Wooden Man-Shaped Light Fixture
Table Lamps
Love these guys: Ordered two -- love them. The only way they could be better is if you could get them with different colored cords vs. only black. Arrived on time, in great condition (I did have to tighten one screw in one of them), and were a breeze to set up.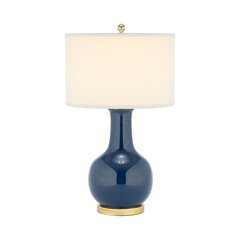 Safavieh White Ceramic Paris Lamp, Navy
Table Lamps
Beautiful color!: Gorgeous color lamps. Bought 2 for bedroom. Not crazy about the shade so I will buy new ones. Item was well packed. My only issue and why I took off a star is that each lamp has a minor defect. The base on one is slightly wobbly. The other base is slightly crooked. Made in China so there you go. The defects weren't enough to go through the hassle of repacking and shipping back.