Curtains and Drapes
Curtains can be a great way to change the look of your interiors, while also helping to filter natural light. They add extra dimension and texture to any space, and are great for softening harsh window edges. If you're considering new window treatments and feel that drapes or curtains would be a good fit, brush up on the different types, styles and size requirements below to ensure you make the best curtain purchase possible.
Why might window curtains be the right choice for my home?
In terms of window treatments, they offer a great marriage of style and function. If you're looking to control the amount of light in your space as well as add decorative appeal, new window drapes may do just the trick. They absorb sound to create a quieter room, and are ideal for glass doors, and large adjoining windows.
What types of curtains and drapes are available?
There are many window curtain types to choose from, so be sure to review all your options before making a decision. Here are some of your many options:
Sash:
The most common modern style, these are unlined and designed only to filter light.
Sheer:
Otherwise known as privacy drapes, sheers block the view from the outside in without obstructing the view from inside out. However, they are very thin and don't block light.
Rod Pocket:
Made with a casing at the top that slips over the rod, rod pocket drapes often create a soft, ruffled effect and hide most of the rod.
Tab top:
Tab top drapes are hung with a rod that slips through flat loops spaced along the top edge. Casual in appearance, they don't require pull cords or hardware for opening or closing.
Ring top:
Hung from decorative rings attached at intervals across the top, ring tops are similar to tab-tops in that they don't require pull cords or hardware to open and close.
Grommet top:
These curtain panels are outfitted with grommet rings across the top, which house the rod. Grommet tops create a modern, pleated look when hung.
Thermal or blackout:
Through extra lining and insulation, thermal drapes block significant light while protecting from heat and cold. These are ideal for privacy and saving money on electric bills.
What accessories should I consider for my drapes and curtains?
The hardware you choose will often complete the look of your curtains. Here are the usual options:
Rods:
The most common tool for hanging window treatments, rods are available in many different widths to fit varying window sizes. Use rod spaces to create depth by extending the rods away from the wall. Also, remember that the rod will be visible through sheer and ring-top drapes, so be sure its style matches your choice.
Finials:
Finials are the decorative pieces that you find at the end of a rod. These come in many styles including scrolls, leaves, fleur-de-lis and balls. They also come in different finishes, like copper and brushed silver, allowing you to completely customize the look of your window treatment.
Rings:
Generally decorative in nature, rings attach to the rod and allow your window curtains to easily open and close.
Tiebacks or holdbacks:
Tiebacks are usually made of loops of fabric, braided ropes or tassels, and tie drapes at the center or back to the sides. Holdbacks are made of metal and are mounted to the walls beside the windows to hold back the fabric.
How do I determine the correct size window curtain?
Be sure to get the length and width right for curtains and drapes. First determine length by measuring 6 to 8 inches above your window frame (where the rod will sit) down to your desired floor length (usually about 2 to 3 inches from the floor). In terms of width, they should extend 2 to 3 inches on each side of your window. For more details about curtain sizes, check out our
Guide to Curtain Measurements
that will have you styling like a pro in no time.
Sponsored Products
Featured Reviews of Curtains and Drapes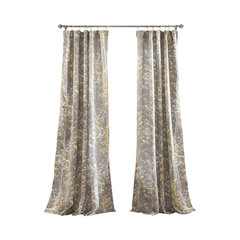 Forest Window Panel Gray and Yellow Set
Curtains and Drapes
Beautiful drapes: Ordered two sets for my bedroom to coordinate with a grey and yellow quilt. These curtains make the room pop and look great against the light grey walls. Print enhances any room decor. Definitely would recommend. Price and delivery can't be beat.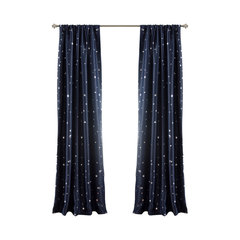 Star Blackout Navy Window Panel, 84"
Curtains and Drapes
Such nice curtains!: I love the fabric, feel and weight. Very nice quality for the price. Arrived in timely manner. The stars are silver, which was a surprise to me because I thought they were golden. But they work perfect for my room, which is a boys nursery!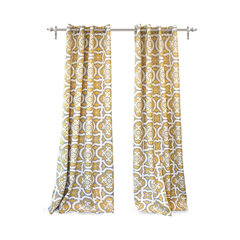 DriftAway Floral Trellis Room Blackout Window Curtains, Set Of 2, Yellow
Curtains and Drapes
I'm in love with these curtains!!: These are the prettiest curtains I've ever purchased. They look exactly as they do online. I haven't hung them yet due to them going in our beach condo but so far I'm very happy with my purchase.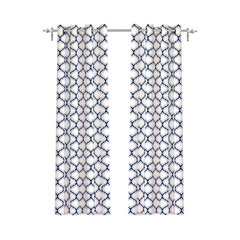 DriftAway Geo Trellis Room Darkening Blackout Window Curtains, Navy, 52"x84"
Curtains and Drapes
Beautiful: The curtains are beautiful, very slight sheen, very soft. The white portion is a true white and the grey is a medium grey. The grommets are chrome. They were well packaged in a zipper bag and then in a box. Arrived promptly. I would definitely order them again.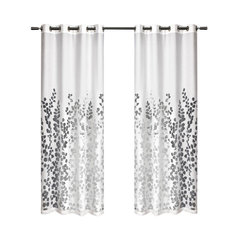 Exclusive Home Wilshire Sheer Window Curtain Panel Pair, White, 52x108
Curtains and Drapes
Throwing perfect shade: We have these beautiful 100+ year old crosshatch windows that I wanted to have some privacy but still be able to see them. These sheers are perfect and the gradation is just what I wanted! One window takes four panels so I'm now ordering 2 more pairs. ❤️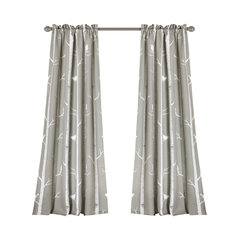 Bird on the Tree Room Darkening Window Curtain Set, Gray
Curtains and Drapes
Love These Curtains!: I was in doubt. I thought the birds on trees would be too much. But they are absolutely perfect! Great look. Great quality. Not sure they are truly room darkening, but that's not why I bought them. It gives the room depth with great style. Excellent purchase.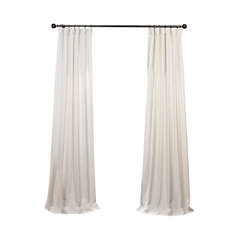 St. Barts Linen Panel, Ivory, 50"x120"
Curtains and Drapes
Great bang for the buck!: These have heavy texture (which is what I wanted) and are the perfect neutral color and 120" length. They are not lined (I was aware of this before ordering), but for the price what, can you say?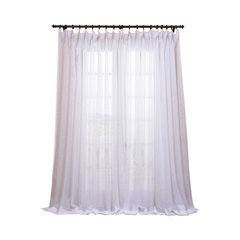 Bianco Double Wide Sheer SIngle Curtain Panel, 100"x96"
Curtains and Drapes
Doublewide Sheer White Curtains: These sheer curtains are beautiful! They are exactly what they are described to be. White, soft and great quality. We like them so much that we ordered two more panels for another window.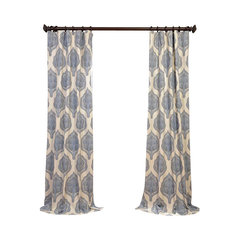 Arabesque Blue Printed Cotton Twill Curtain Single Panel, 50"x96"
Curtains and Drapes
Good Quality Heavy Duty Fabric: Lovely design, only reason I have to return and took off a star is because the picture is misleading for the background of the curtain. It is pale yellow in the background not white. It doesn't go well with grey blue theme I have going on.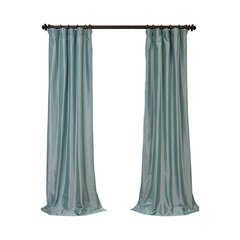 Robin's Egg Blackout FauxSilk Taffeta Curtain Single Panel, 50"x96"
Curtains and Drapes
Beautifully lined and light blocking drapery panels.: I am waffling between keeping them or returning them. I can't seem to find the pinch pleated size I want without custom ordering. With that being said, if I keep these I will have to alter the width and the length. The color is a very close match to some bedding I purchased, so I am trying to make up my mind. I might take them to have alterations done. Still undecided. I do like the look and the color and fabric. Sorry I could not be of more help.