Toilets
Choosing a toilet is an integral part of every bathroom remodel. Even though it might seem like a straightforward decision, there are several different factors that go into choosing the best toilet for your home — height, shape and mount type are just a few considerations. But before you start debating the nuances of bowl shapes, or pondering the pros and cons of one-piece toilets, get familiar with all your options below!


What toilet size works best for my bathroom?

Measure the rough-in distance: the distance from the wall behind the bowl to the center of the floor drain. Use this measurement to determine the size of your new toilet — it must fit into the space between the drainpipe and the wall to work in your space. Also, keep in mind that bathroom guidelines recommend a minimum of 18 inches of clear space between toilets and any other fixture or walls. If you don't have much room to spare, a wall-hung toilet is a great alternative because it eliminates the need for a base, and mounts the water tank and drain behind the wall. If you can't afford this upgrade, try a tankless toilet or a corner toilet; at the very least, ensure that you choose a unit with a round bowl, as elongated and oval-shaped bowls take up more space (though they do tend to be more comfortable).


Should I buy a two-piece or one-piece toilet?

One-piece units are a complete piece that are easier to clean and won't leak between the bowl and the tank. They're sleek, stylish and compact, but they're generally more expensive than two-piece toilets, which come with a separate tank and bowl. Be sure you purchase all the necessary parts with the two-piece models, as the seat is not usually included with the bowl.


What is the optimal toilet height?

When making this decision, consider the needs of your family. Standard height is 14 to 15 inches, but a comfort height toilet, measuring 16 to 17 inches, may be more practical depending on your preferences; people prefer the "comfort height" as it can make it easier to get on and off the toilet. Tall toilets are also more accessible for elderly or physically challenged individuals, and often are ADA compliant. On the other hand, small toilets work well in a child's bathroom, especially while potty training.


What is a dual-flush toilet, and do I need one?

As you consider your options, you will likely come across a lot of new features, including dual-flush. It might sound fancy, but simply put, it gives you the ability to flush with two different levels of water as needed. This feature is aligned with the movement to be more conscious about water usage, which in turn can lower your monthly water bill. Although this is a nice feature to have, dual-flush designs do come in at a higher price than other low-flow toilets, so you will have to weigh the initial cost with future savings to figure out if it makes sense for you and your family.
Sponsored Products
Featured Reviews of Toilets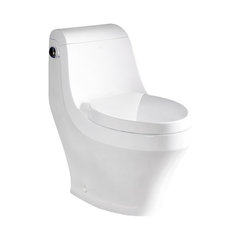 Ariel Platinum "Adonis" Contemporary One Piece White Toilet 29x15.7x28.3
Toilets
Easy install, good looking, very happy: Install was easy- though I need to modify it a bit- weird plastic adapter. Very good looking- clean bright white. Smooth lines- as if you need all this in a toilet but it's nice Comfortable, soft close seat is nice. Quiet. Could use dual flush but I'll add that later Overall very happy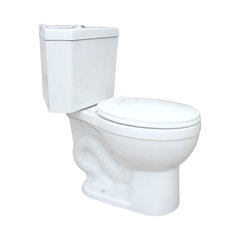 Dual Flush Round Two Piece Corner Toilet White Grade A Porcelain
Toilets
Exactly as described: This toilet is exactly as escrowed and came by UPS very quickly. Packing material was excellent,with no damage to item. This is a great choice for a corner toilet in a very small bathroom. Be sure that your rough opening for drain is 10" off the corner walls, centered.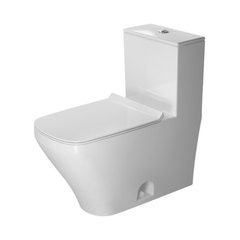 Toilets
Looks great, need to move the water supply wider before installing toilet:): Came in time, packaged very well, without any cracks, chips or anything else:) Modern one piece style, white. Love it, but we needed more space in the back of toilet to be able to install. There's not enough space at the back to use the water supply which comes from the wall. You need to either cut a small piece of the porcelain or move the knob/water supply wider in the wall, so it has space from the toilet back:( Make sure you measure the width at the back of this toilet before trying to install. Otherwise I do recommend it, it has clean lines and great style!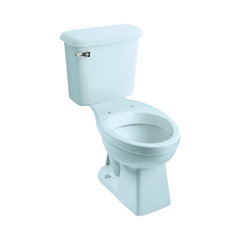 Peerless Pottery McKinley Elongated Toilet Kit, Dresden Blue, 20.06"x29.88"x33"
Toilets
So very cool!: This toilet makes my bathroom fun and is just nice to look at. The comfort height is great. The tank shape is attractive. The only thing I'd change would be to make the tank cover flat.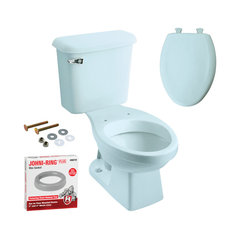 Peerless Pottery Hancock Toilet Kit With Seat, Dresden Blue, 20.06"x29.75"
Toilets
Nice Toilet: Toilet is nice , only problem was the color of the toilet seat was a shade darker than toilet. Otherwise that was the only problem. Was packed well an shipped fast with no chip in product.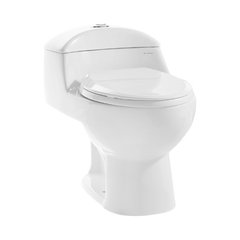 Chateau 1-Piece Elongated Toilet, Dual Flush, 0.8/1.28 gpf
Toilets
Looks great. Installs quick. Water saver. Quiet.: Uses half the water than traditional toilets. Flushes and fills quick. Much less noisy. To new to know reliability of flushing equipment. But very very satisfied for 1 day of use.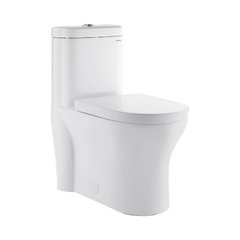 Monaco 1-Piece Elongated Toilet Dual Flush 0.8/1.28 GPF
Toilets
beautiful toilet, had to adjust the seat correctly (but this was easy to do): no problems receiving three of these toilets, the packaging seemed adequate (and obviously no issues with broken pieces / whatnot upon arrival). after our local plumbers installed the toilets, i had to do a small adjustment to each of the toilet seats to have the toilet seat (the piece you sit on) sit flush against the edge of the bowl. as it was originally installed, there would have been contact from the back of your thighs on the toilet bowl, which is not cool. but this adjustment was easy to do (and on that note, it's a pretty clever design which allows you to easily take the toilet seats off for cleaning underneath.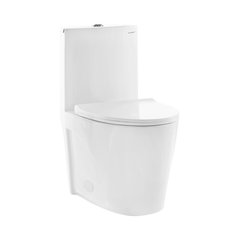 St. Tropez 1-Piece Elongated Toilet, Dual Flush, 0.8/1.28 GPF
Toilets
Bathroom remodel: While remodeling our bathroom, I decided to order this model of toilet for its sleekness and dual-flush operation. It looks great, a little difficult to install with small port access secure base. Works great, the right choice for our bathroom. Very quick shipping too.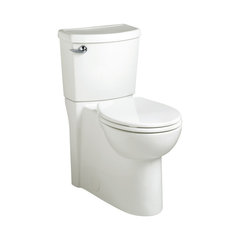 American Standard Cadet 3 Flowise Round Front, Concealed Trapway 1.28 GPF Toilet
Toilets
toilet review: I love the sleek look of this toilet, I bought two. The tops and bottoms did arrive separately and a week to 10 days apart. When installed we realized one had a hairline crack that can't be seen, but can be felt and does leak. I have contacted Houzz and am sure this will be taken care of in a timely manner. Even so, these toilets are really smart looking. I love them. They give me so much more room around the bottom to clean and no nooks and crannies to collect dust. The installer liked them so much, he wants to replace his with this type of toilet.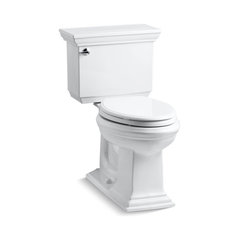 Memoirs Stately Comfort Height 2-Piece Elongated 1.6 GPF Toilet, White
Toilets
Perfect: I have a mid-century modern home built in 1951 and I broke the vintage toilet tank when I was trying to change the handle... this is a perfect fit... it was easy to fix. I am thoroughly pleased with my purchase.