Media Storage
As the home of DVDs, video game consoles and other home electronics, your media storage needs to be plentiful. It should be able to house all your favorite movies and keep cords in check, as well as add a nice design element to your living room or home theater. Whether you need a small television stand, credenza or a full-blown home entertainment center with media towers, there are thousands of media storage options to choose from.


How big should my media console be?

The size of your media center is dictated by both the size of the space and your storage needs. If you are a movie buff with a large DVD collection, you will need a large home entertainment center with media storage towers and a tv console for DVD players and video game consoles. If you're working with a small space, you might only have room for a TV cart.

Regardless of space constraints and size preferences, you want to make sure that the total width of your television stand is greater than the total width of your TV. After all, if a television is hanging off the media console, someone might easily knock it over as they walk by. You'll also need to measure the space and find a unit that doesn't overwhelm the room or block doorways or walking paths.


What media stand material works for my space?

As you pick out your material, be sure to consider the style of the space and your overall durability requirements. Wood tends to be the reigning champion in terms of media storage material. It is sturdy and comes in many finishes — including walnut, ash, oak and cherry — to accommodate many styles. Veneered plywood is always a popular choice since it's more affordable, though the quality might not be up to par. Glass and plastic are sleeker options, while metal finishes look trendy while also ensuring durability. In the end, the material is also dictated by your family's needs; for example, glass and metal media consoles with sharp edges aren't ideal for small children.


Where should I place my TV stand?

The layout of your room and the placement of other furniture often determines where your entertainment center will go. Your sofa or sectional should ideally face your TV stand; after all, you want to be able to relax while watching television. As you're figuring out your space, measure all your furniture and create a mock layout to determine what goes where. If you have a more flexible floor plan, avoid placing your TV in an area with bad glare. During the day, try different parts of the room to determine optimal placement.
Sponsored Products
Featured Reviews of Media Storage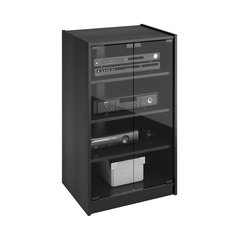 Kingsley Ravenwood Black Component Stand
Media Storage
I highly recommend this cabinet for price and functionality.: I highly recommend this cabinet for price and functionality. I ordered it in the late evening it shipped for free and it arrived three days later in perfect condition. My only suggestion is eliminate the back behind any components. The shelves are not deep enough if anything is plugged into a standard sized amplifier. This will also create better airflow for all of the components.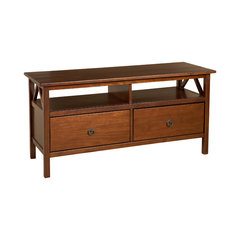 Cristo Media Table, Tobacco
Media Storage
perfect for the space: Product is just as advertised in the listing and photo. It is very sturdy. I was able to put it together myself in about 90 minutes. I had to redo a part so go carefully and follow the directions. it's an attractive product, perfect for the space.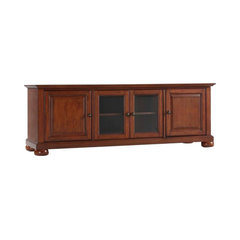 Alexandria 60" Low Profile TV Stand, Classic Cherry Finish
Media Storage
Alexandria low profile TV stand works great with our 55" flat screen - we're very pleased: I was concerned about quality because the price was lower than I would expect. But the quality is excellent - the cabinet appearance is as good or better than furniture 3 times the price. Assembly was straightforward. The low profile works great for a large flat screen TV - we could not find this in any of the furniture stores we shopped. There was a minor chip on the top piece which was unfortunately very visible. I called the manufacturer's 800 number on the instructions - they returned my call within an hour, had my order pulled up, and is shipping a replacement part. Product quality and support: A+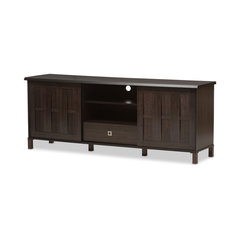 Unna Wood TV Cabinet With 2 Sliding Doors and Drawer, Dark Brown, 70"
Media Storage
great piece for the price!: Quality is what you'd expect from a particleboard cabinet but it looks really nice for the price. The instructions could have been a little easier to understand (not IKEA quality instructions by far) but passable to put it together. The cabinets looks more expensive then it was once assembled. I recommend it.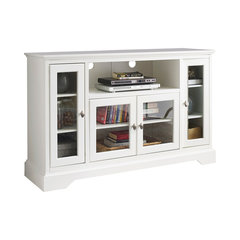 Magnolia Media Console, White
Media Storage
Good Product: Very nice tv stand with good space. I just wish they had more pre-made holes in the back to put the wires through. The stand only has 2 and they are not located in an ideal location.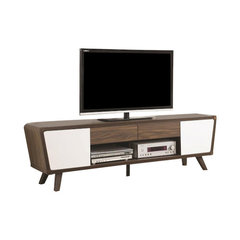 2-Tone Midcentury Modern TV Console
Media Storage
Very nice: For the price it's pretty decent quality (of course not real hard wood). It's sturdy and looks nice I can't complain. Only reason I didn't give it 5 stars is because one of the white doors didn't have the pre drilled holes for the door hinge screws. Nothing 5 mins of measuring couldn't fix. Not too hard to put together either. Would definitely recommend.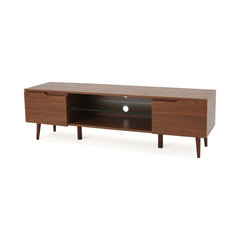 Reginald Mid Century Design TV Stand, Walnut
Media Storage
Gorgeous piece!: Very solid, well made piece and it looks beautiful. Color is true to picture. Cubbies are pretty roomy. Simple to assemble. I had slight trouble adjusting the hinges, but I think that was mostly user error. Would buy again!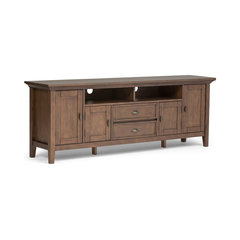 Redmond 72" TV Media Stand, Rustic Natural Aged Brown
Media Storage
Great and Stylish product: I'm so happy with this product! I wanted something that matched my rustic farmhouse table and the color is almost identical. Installation took some time, but it was well worth it! More of a walnut color rather than espresso which is what I was looking for.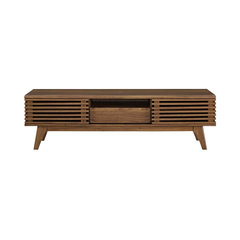 Render 59 TV Stand, Walnut
Media Storage
Easy Assembly: Assembly was very easy and the instructions were detailed. Solid piece for the price. Although, the back panel did arrive damaged but it isn't essential to the piece. We decided to not put the back on.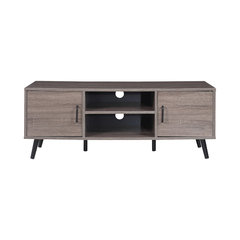 Mid-Century Modern TV Stand Console Entertainment Center, Ash
Media Storage
Great outcome, just a bit annoying to setup.: The product came in perfect condition and looked great when it was finally set up! I am very happy with it, but the instructions were very vague and it took quite some time to put it together. With a little patience it'll be well worth it.