Media Storage
As the home of DVDs, video game consoles and other home electronics, your media storage needs to be plentiful. It should be able to house all your favorite movies and keep cords in check, as well as add a nice design element to your living room or home theater. Whether you need a small television stand, credenza or a full-blown home entertainment center with media towers, there are thousands of media storage options to choose from.


How big should my media console be?

The size of your media center is dictated by both the size of the space and your storage needs. If you are a movie buff with a large DVD collection, you will need a large home entertainment center with media storage towers and a tv console for DVD players and video game consoles. If you're working with a small space, you might only have room for a TV cart.

Regardless of space constraints and size preferences, you want to make sure that the total width of your television stand is greater than the total width of your TV. After all, if a television is hanging off the media console, someone might easily knock it over as they walk by. You'll also need to measure the space and find a unit that doesn't overwhelm the room or block doorways or walking paths.


What media stand material works for my space?

As you pick out your material, be sure to consider the style of the space and your overall durability requirements. Wood tends to be the reigning champion in terms of media storage material. It is sturdy and comes in many finishes — including walnut, ash, oak and cherry — to accommodate many styles. Veneered plywood is always a popular choice since it's more affordable, though the quality might not be up to par. Glass and plastic are sleeker options, while metal finishes look trendy while also ensuring durability. In the end, the material is also dictated by your family's needs; for example, glass and metal media consoles with sharp edges aren't ideal for small children.


Where should I place my TV stand?

The layout of your room and the placement of other furniture often determines where your entertainment center will go. Your sofa or sectional should ideally face your TV stand; after all, you want to be able to relax while watching television. As you're figuring out your space, measure all your furniture and create a mock layout to determine what goes where. If you have a more flexible floor plan, avoid placing your TV in an area with bad glare. During the day, try different parts of the room to determine optimal placement.
Sponsored Products
Featured Reviews of Media Storage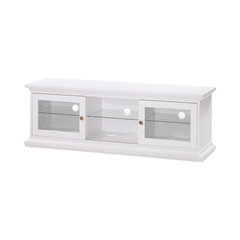 Media Storage
Sonoma TV Stand Works Great in Our Room: Very easy process. The unit looks great in our room. It arrived right on time. The quality was good and it looks and functions exactly as expected. Assembly was straightforward although some additional identification of the pieces with some kind of marking would have made it easier. An exploded view would be useful. Overall the experience was very good. No interaction with the seller after delivery was required.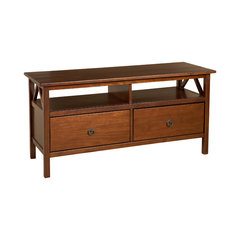 Cristo Media Table, Tobacco
Media Storage
perfect for the space: Product is just as advertised in the listing and photo. It is very sturdy. I was able to put it together myself in about 90 minutes. I had to redo a part so go carefully and follow the directions. it's an attractive product, perfect for the space.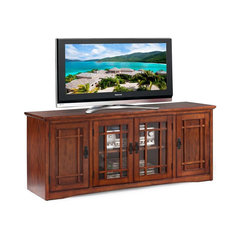 Media Storage
Better than expected: Received this item in just a couple of days from request. Easy to put together and that's coming from a 71 year old. Color is on the darker side which was exactly what I was looking for. Good quality.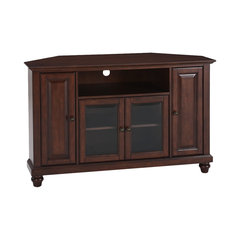 Cambridge 48" Corner TV Stand, Vintage Mahogany Finish
Media Storage
Excellent Corner TV Stand!: We looked for years for the perfect corner TV stand for our 55 inch TV. And we found it finally with this TV stand. The color of the TV stand is true to the color depicted online. It's classy looking and well made. Easy to follow instructions. We are extremely happy with our purchase. The shipping was timely and customer service excellent! Thank you Houzz!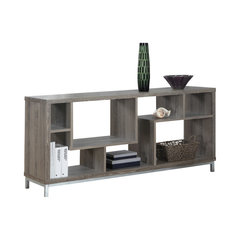 Media Storage
Love it: I was worried about how much space my tv would take up but it was perfect for my 55 inch I brought two baskets to put on the bottom selves for my son's toys and its a beautiful finish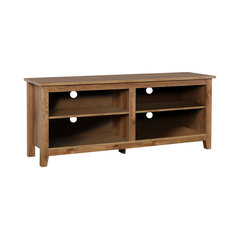 Media Storage
58 " Barnwood Wood TV Console: We love the tv console and it has exceeded our expectations for the price. It is solid, attractive and with a little bit of focus we were able to get the pieces together in fairly short order. We did have to undo a piece that we put on backwards but that was our error. All in all, we are very happy with the product and actually ordered an additional one for another bedroom!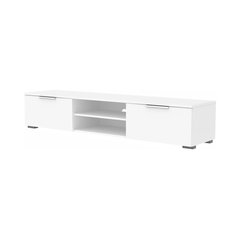 Media Storage
Match tv stand: Excellent product for the price point. While it is made of particle board, the high gloss finish is nice. The feet are silver colored plastic but not noticeable under the stand. The shelf is adjustable and the drawers allow ample storage. Overall a very good product.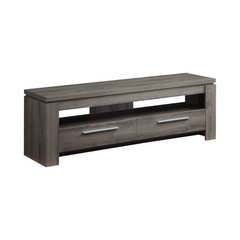 Bowery Hill 59" TV Stand, Dark Gray
Media Storage
Amazing for the price: Considering the relatively low cost, this piece looks and feels like high quality furniture. It took time to assemble but each screw and peg is reinforced so I am confident that this piece will last me a while and was worth the effort.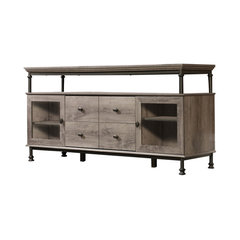 Canal Street Entertainment Credenza
Media Storage
Very pretty: It's a very sturdy and attractive piece. It arrived quickly and my husband and I immediately started the assembly. The instructions are very clear but it still is a long process to assemble. It took us 4 & 1/2 hours. I can't figure out how it only took some people 2 hours, but nevertheless, it is finished and we are pleased with the result. It looks exactly like it does online. I would definitely recommend this. We are using this in our grandkids playroom so no worries about it tipping over!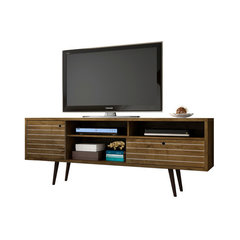 Libby TV Stand, Weathered Brown, 70.86"
Media Storage
great: I like this piece a lot. I put it together on my own (although the poor UPS guy did have to help bring it inside!! ). It took just over 2 hours.. there are a few little chips in the white laminate, but not big or in obvious places. My only issue is the drawer-it works great but the drawer face is a little off center, it doesn't quite sit perfectly when it's shut. I've tried a few adjustments, but it seems like I cannot fix it.