Medicine Cabinets
In a room where space is sparse but accessories are plentiful, a medicine cabinet is a much-needed bathroom storage addition. This hidden cabinet functions as both a mirror and extra storage, which makes it the ideal double-duty purchase. Besides being above all practical, a medicine cabinet can also function as part of your decor, if you pick the right look. As you get ready to make your purchase, be sure to consider all the tips below.


What kind of medicine cabinet should I buy?

Surprisingly, there are a wide variety of cabinet types available, and the one you pick depends on your space and overall style. Here are the most popular options:
Surface-Mount: Probably the easiest style of medicine cabinet to install, this type hangs on the wall like a picture frame. Although it is available in a variety of depths, most tend to average around 4 inches or so, which leaves plenty of space for all your bath accessories.
Recessed: This style requires a little extra work. It's installed by cutting a hole into the bathroom wall, which allows the mirror to sit almost flush against the wall and take up less space. It leads to a cleaner, custom look, but if you're cutting a new hole, be careful — check behind the drywall to make sure no ductwork or plumbing block the space.
Corner: If your space is truly small, or if you happen to have a corner sink, a corner medicine cabinet might be your best option. This style takes up less wall space, but its depth allows for just as much storage.
Tri-View: For the ultimate family storage space, these multiple mirrored panels will do the trick. Most units include three usable cabinets, though for some, the center is just a decorative mirror while the others slide or swing open.


What style medicine cabinet should I purchase?

Stylistically, they range from simple rectangular or oval-shaped mirrors to vintage or lighted medicine cabinets. While the mirror itself is important, also think about the frame. Most come in a wide variety of wood finishes, but more contemporary options are made of metal. In the end, think about the style you're going for in the bathroom and be sure your purchase reflects that.


What kind of features can a medicine cabinet have?

Your unit can be as decked out or a simple as you want it to be, depending on your budget and style preferences. Basic models are usually mirrored and have stationary shelves, while more complex models also come lighted or with adjustable shelving. When it comes to the doors, a single-paned cabinet will usually include a hinged door, while a larger tri-view might have either a hinged or sliding door. For ultimate luxury, install or find a unit with a fog-proof mirror.
Sponsored Products
Featured Reviews of Medicine Cabinets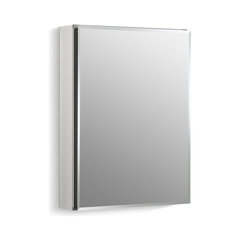 Kohler Aluminum Single-Door Cabinet Door, Beveled Edges, 20"x26"
Medicine Cabinets
Worth buying: I have this, got it at the big box store and husband installed it. It wasn't difficult for him at all. I love all the mirrors, I can get a "back view" of hair in the big mirror over the sink vanity. It has a little invisible space below where I can put hooks to hang my blow dryer, hand mirror, etc. I've had it probably 8 years now and it's still looks new, except the top glass shelf fell (with everything on it), broke, and I'm having problems replacing it. Be sure the "shelf support thingies" are in tight. If you like lots of light and brightness in your bathroom, this is good because it reflects light and does make the space brighter due to mirrors. It's pretty big and holds a ton of items you don't want lying loose. I like it, I will eventually get a matching one for husband's vanity, as well.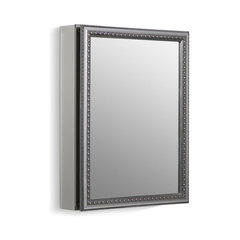 Kohler 1-Door Aluminum Cabinet/Decorative Silver Framed Door, 20"x26"x4.83"
Medicine Cabinets
Beautiful cabinet: I have to say I was a bit surprised when I received this cabinet - it is really beautiful! I was so happy to put this in the new bathroom. We surface mounted it and it looks great. With glass shelves and a mirrored interior - this is a really good piece - very sturdy.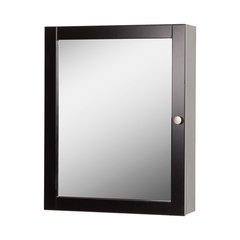 Columbia 19" Espresso Medicine Cabinet
Medicine Cabinets
This is a very nice cabinet..: This is a very nice cabinet.. The color is perfect to go with the new build, Came fully assembled except for the door knob and 2 movable shelves but they were easy to install.. Easy installation.. Will definitely be purchasing other items.. Thanks!!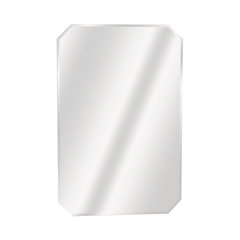 Zenith Frameless Octagonal Medicine Cabinet
Medicine Cabinets
Very nice.: Love the frameless beveled edge. The body of the cabinet is plastic which isn't fantastic but the price is definitely right and the outer appearance is very nice. Pretty easy to install and did not have to be assembled.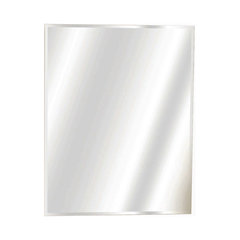 Zenith Frameless Medicine Cabinet
Medicine Cabinets
Very Pleased: This item was a great find for the price. Looks great. I ordered two to put them side by side and the effect was a really nice surprise. Am returning one for replacement after noticing one of the mirrors has a flaw.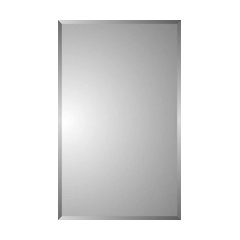 Nunki Beveled Edge Medicine Cabinet, 16"x26"
Medicine Cabinets
Excellent: Product came extremely quickly, was a great value, and we are extremely pleased with packaging. Interior of cabinets is clean and easily adjustable to your own organizational needs.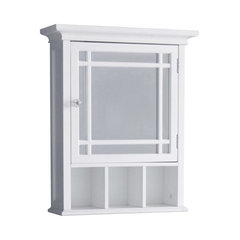 Elegant Home Fashions Neal 1-Door Medicine Cabinet in White
Medicine Cabinets
MEDICINE CABINET: This was easy to put together. Instructions were very clear and concise. Took a little strength for me to hold it up while putting it on the wall, but I got it done. Looks great and just what I needed in my guest bathroom.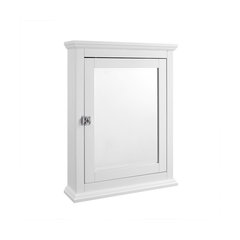 MDF and Mirror Cabinet, White
Medicine Cabinets
The medicine cabinet arrived within 48 hours after I ordered it. 1) It was incredibly time consuming to assemble and I'm a veteran IKEA assembler. 2) Just when we finally had it assembled, the block inside the cabinet that holds the door hinge split in two.: The medicine cabinet arrived within 48 hours after I ordered it. I like the way it looks but there were two issues. 1) It was incredibly time consuming to assemble and I'm a veteran IKEA assembler. It took my husband and I over an hour. 2) Just when we finally had it assembled, the block inside the cabinet that holds the door hinge split in two. At that point, we used wood glue and a c-clamp to fix it. We'd invested too much time to return it and fortunately have a full shop so we had the materials to make the repairs. But we shouldn't have had to.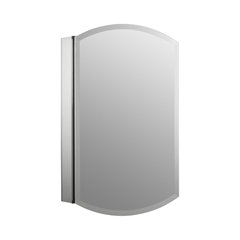 Kohler Archer Single-Door Aluminum Medicine Cabinet, 20"x31"
Medicine Cabinets
Absolutely perfect!: I bought 2 of these for our new lake house - they will be installed against a wall of ledgestone - they are so well made and arrived well packaged and timely. Can't wait to see them installed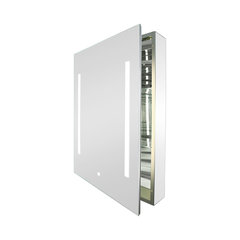 Canalles LED Mirrored Bathroom Medicine Cabinet
Medicine Cabinets
Kent Canalles LED Mirrored Bathroom Medicine Cabinet: This medicine cabinet is awesome. Is has a light in the front and there's even an outlet on the inside which is perfect for using hair tools and razors. I like that the shelving is adjustable. Super modern and sleek design! To assemble you just attach the wall hanger onto the wall, connect the wire and clip the cabinet on the wall.