Kitchen Storage and Organization
Kitchen storage solutions can make your time spent cooking a million times more enjoyable. The intimidating part is organizing your current mess. Make this task less daunting by creating a system for how things will be organized — try grouping items by purpose or type, and put the things you use most often in convenient spots. Once you have a solid plan, put the following kitchen storage ideas and tips into action to be more efficient in no time.
Kitchen organization starts with drawers.
Kitchen drawers seem to become jumbled and disorganized before you've even filled them up. Spoons mix with forks and knives, so finding your cake server can easily turn into a treasure hunt. Your best tools for fighting off these messes are drawer liners and organizers. Kitchen drawer organizers will give each piece of flatware and serveware a designated home and keep them contained. For storing odd-shaped gadgets and utensils in drawers, use a slip-resistant drawer liner so your items won't slide around. Once you've tackled this section, move on to the more complicated alternative: cabinets.
Have a sensible system for pantry storage.
Most kitchen organizers are designed to be used in pantry cabinets, as they can fit the most stuff (but are also the most chaotic). Durable food storage containers and cabinet organizers will be your best friends when tackling this project. Sliding shelves are smart for getting to the things stored at the back of deep shelving; you can also keep your storage shallow with an over-the-door organizer for quick snacks and small seasoning packets. Spice racks and lazy Susans will make a world of difference when trying to find the oregano or chili powder in a sea of spices. If you find you're running low on space, invest in a moveable kitchen island or cart that can be wheeled out of the way when not in use.
Countertops are for prep, not kitchen storage.
Any homeowner (cook or not) knows that counter space is precious. It's also the hardest area to keep clear of clutter. Try keeping only your most used items out in the open for easy access. Utensil holders are a perfect way to make sure your wooden spoons and spatulas are always within reach but neatly organized. For those that simply must have sugar and flour out on display, make sure they are in labeled canisters and tucked in spots that won't get in the way of food prep. If you can't find room for your pots and pans, make use of your ceiling or wall space by mounting a pot rack. Dish racks also have a way of using up precious space, so do your best to remember to stash them under your sink when not in use. Enjoy cooking with (or sipping on) wine? It's easy to let unopened bottles add up and slowly take over — get a freestanding wine rack or fasten one to a wall for storage and decor.
More:
Check out our Kitchen Cabinet Size Guide to nail your storage needs
1 - 36 of 44,006 products
Sponsored Products
Featured Reviews of Kitchen Storage and Organization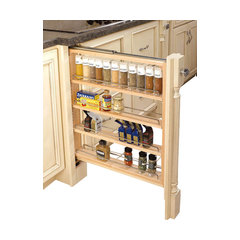 3-Inch Wood Base Cabinet Pullout Filler With Adjustable Shelves
Kitchen Storage and Organization
Perfect way to maximize cabinet storage: I have purchased two of these 3" pullout fillers, one I use for my spices and the second one to store my vitamins and supplements. The quality is superb and glides in and out with ease. It does not come with a cabinet front but when I ordered my new cabinets, I order two 3" filler boards and it fit perfectly on the 3" pullout filler. And I saved quite a bit of money doing it this way!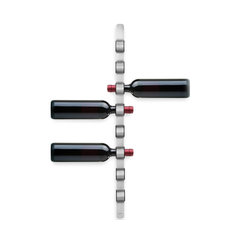 Cioso 8-Bottle Wall-Mount Wine Rack
Kitchen Storage and Organization
wine rack: this wine rack is perfect, great quality, easy to put up, love the modern look, would definitely recommend to others, planning to purchase another one for a gift, excellent overall service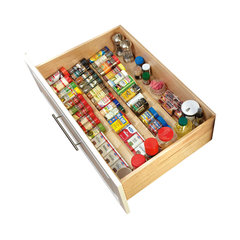 Wood Spice Drawer Insert, Natural, 22"
Kitchen Storage and Organization
What a beautiful product!: This Rev-A-Shelf Spice Drawer Insert is really well made and looks beautiful. It sad to me that it is hidden inside a drawer. I love that it can be cut to whatever size your drawer requires. My last spice drawer insert did not go all the way across and then the drawer became a catch all because of the extra space.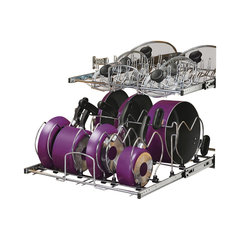 2-Tier Cookware Organizer, Chrome, 20.75"
Kitchen Storage and Organization
Very good structured to install: I have bought similar things from other brands and fully knew the difference in price. Rev-a-shelve is pretty good structured and you will not be able to install in a wrong way. You got everything ready before fasten it into the cabinet, so you can try everything before drilling hole in wood. Thus no measurement or incorrect installation to fail it. Pretty good quality and easy installation!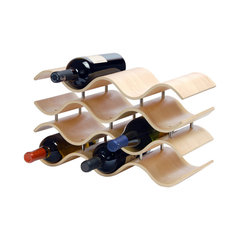 Ebony Bali 10-Wine Rack, Wood
Kitchen Storage and Organization
Great wine rack design, but made in Thailand out of simple inexpensive materials, this should cost 1/3rd what it does. Houzz made sure this was shipped super quick, and are good to deal with.: Great wine rack design, but made in Thailand out of simple inexpensive materials, this should cost 1/3rd what it does. But since Oenophilia is the only game in town for this design, it is what it is. It's a nice rack, the wife wanted one, and I didn't have the time to make one. Houzz made sure this was shipped super quick, and are good to deal with. Even though most, if not all, of what they do is affiliate selling and don't warehouse anything.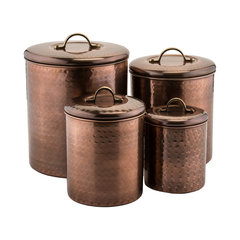 4-Piece Hammered Copper Canisters
Kitchen Storage and Organization
Great Product: Easy purchase process and arrived in a few days. Quality is good and looks better than expected. Sizes are perfect. Inside is steel and it;s just "copper" plated, which is good for holding a variety of materials.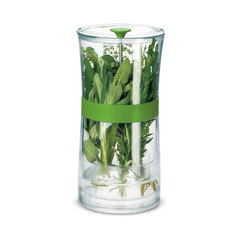 Kitchen Storage and Organization
unsure but appears good: I bought this for a present so I actually didn't use it. BUT, looking at the product, it looks like it would work perfect. The water is only at the bottom so the herbs bottom half is submerged. The handle to lift the herbs is perfect in raising all the herbs to cut any amount of herbs needed. It's small enough to fit on a door of a fridge. It's made of acrylic and it's light, easy to clean, and with the herbs inside it would like nice and fresh.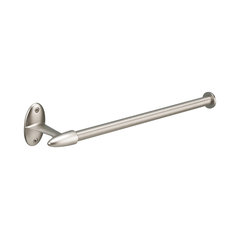 Stream Wall Mounted Paper Towel Holder, Nickel
Kitchen Storage and Organization
Sleek and simple: This product suits me to a tee. Undermounted on the right side kitchen cabinets, I can grab, pull and tear without the roll flowing behind. It is one-handed and that is the perfection of this tool. Thanks so much! Mrs. Curry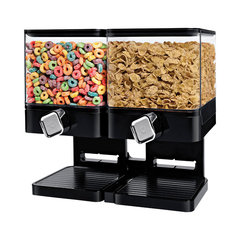 Compact Edition Dispenser Double, Black
Kitchen Storage and Organization
Love it!: Received the product in a reasonable amount of time. It looks great in my kitchen and along with my breakfast bar toppings it has my family eating healthier! I can't say enough how great it has been but the design is as pleasing as it's convenience.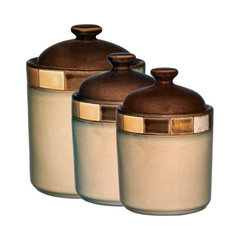 Casa Estebana 3-Piece Canister Set
Kitchen Storage and Organization
Canister Set: The first delivery of my Canister Set was delivered with cracked and chipped canisters in the box. Notified Customer Service whom was very helpful and assisted with the issue very quickly. Instructed to take and send pictures of the damaged Canister Set. Within a few days later I received a email stating that a replacement of the 3-Piece Canister Set would be shipped to my home. Very pleased with Customer Service and my 3-Piece Canister Set.