Sponsored Products
Featured Reviews of Sofas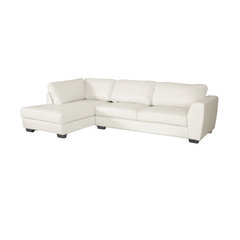 Baxton Studio Orland Leather Modern Sectional Sofa, White, Left
Sofas
TV room sofa: I purchased this sofa so my shih Tzu could sit with me in the TV room. It worked out perfect but it does sit a little low if you need to sit 17 inch or above this is the wrong sofa for you. It cleans up easy with baby wipes. It is perfect for movie nights. I would give it 5 stars but it sit kinda low!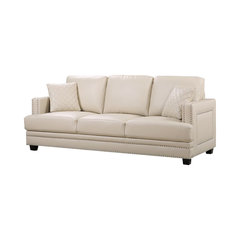 Ferrara Remy Leather Sofa, Beige
Sofas
Excellent customer service: I received this sofa damaged due to the shipping company 's fault. I refused acceptance of the item, contacted Houzz and they immediately addressed the problem with the shipping company and promptly refunded my money. A totally painless process. Thanks Houzz. Your organization is fantastic!!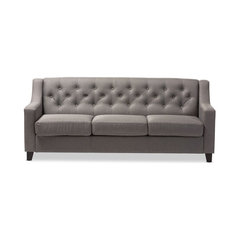 Arcadia Fabric Upholstered Button-Tufted Living Room 3-Seater Sofa, Gray
Sofas
Its a very pretty sofa. I bought it to look asthetically pleasing not for comfort.: Its a very pretty sofa. It's not comfortable, it's a very hard seat. I'm using it for staging homes. I bought it to look asthetically pleasing not for comfort. Color is as described. I'm happy with it.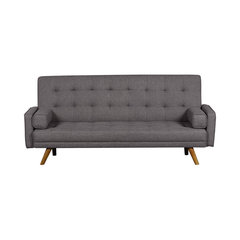 Rivas Click-Clack Sofa With Bolster Pillows
Sofas
It's good!: The color is as advertised, and it's pretty comfortable for the price. It seems well-made, but the material is definitely less substantial that a higher priced sofa. Conversion to a bed is easy. I think it's a good buy for the price!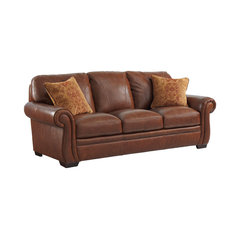 Halston Leather Sofa with 2 pillows
Sofas
Love my new sofas!: Great purchase! I would highly recommend these to anyone! Kind of worried buying these without seeing/sitting on them but they are awesome. Very comfy sitting or laying on. Delivered on time and without any issues!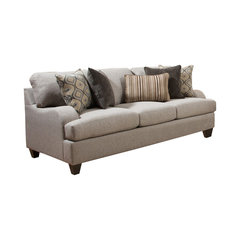 Sofas
I'm pleased with this sofa!: I'm very pleased with this sofa! The sofa arrived in about 2 weeks after ordering and in excellent condition. The seats are firm but comfortable for us. You will not sink into the cushions but they are comfortable. It's possible they may soften up a little over time, but when I sit down at this time it feels like we purchased a quality product. The fabric is a silvery grey with a secondary color with a hint of black undertone. More on the warmer tone than cooler even with this being silvery grey. I painted a cooler deep grey on the wall I planned to put this sofa on and I feel now I should have maybe went a tad warmer on my paint choice. I wanted a deep seated sofa, this is exactly that and long in length. We are tallish folks, 5'8'' and 6'3'' the cushions and height of sofa fit us comfortably in sitting position and we're able to stretch out with room to spare. This sofa fit through out 35'' wide doorway without any issue. I do not care for the pillows, they had no bearing on my purchase decision though, it was about the color, fabric, style, size of sofa and not the pillows. I will use the pillows as insert bases because they seem to be firm and of decent quality. However if the pillows are important to you be aware that the two pillows in photo at either end of sofa had frayed fabric at sewn seams. They are shoddy in appearance, quality control was lacking on those. I would have made a complaint to get them replaced if the pillows were important for me and I would have lowered my rating, but otherwise I still stand by my rating because overall I'm happy with my purchase.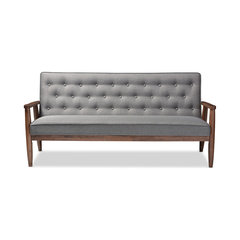 Sorrento Retro Upholstered Wooden 3-Seater Sofa, Gray Fabric
Sofas
Beautiful design hard comfort: I really enjoy the overall look of this couch. The instructions to put the couch together were a little confusing but ultimately not difficult. The couch itself feels sturdy. The cushioning for this couch is very hard so you may need to purchase extra comfy throw pillows for it. The couch looks just as it does in the picture, a great value but hard comfort.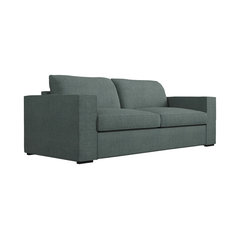 Sofas
Ambre Gray Sofa: This sofa is perfect for pretty much any style. The chunky arms and overall minimimalism give it a contemporary vibe, but it could also easily work in a farmhouse or industrial space. It's very versatile. Also it has a loose cover with a relaxed feel, which is great since you can easily clean it.