Featured Reviews of Sofas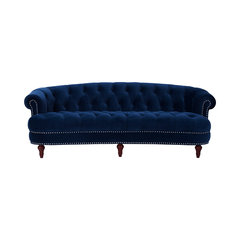 La Rosa Tufted Sofa, Navy Blue
Sofas
So Amazing!: I normally don't post reviews, but this one needs 5 stars! It's even more beautiful in person and a fantastic deal! It took me months to find what I wanted... Then, to top everything off, I got a phone call telling me that the product had gone on sale and that they'd credit me the $200 difference. Awesome service, amazing couch! Definitely recommend!!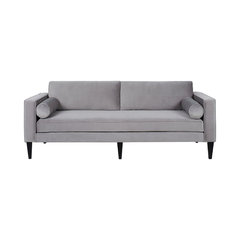 Sofas
Very pleased: Beautiful tailored sofa, arrived quickly and easy to assemble - just screw the legs in the bottom. I scotchgarded mine just to be safe but it is a beautiful medium gray color. Highly recommend!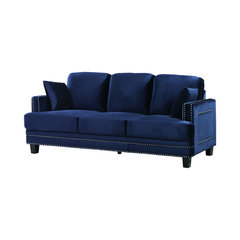 Ferrara Velvet Sofa, Navy
Sofas
J'adore!!: I love my sofa!!! It came a little later than expected, but other than that, I'm completely satisfied. The sofa was complete wrapped inside the box and arrived without any damage though it had gone through multiple carriers prior to delivery. It was a cinch to put together (screw on the legs and place the back pillows), and it comes with pads on the feet for ease in moving it without scratching up my floors. Not only is it beautiful, it's super comfortable (to me at least). The seat cushions are a bit firm, but not hard which tells me it will last a long time. The dimensions are spot on, so it fits in my space perfectly. All in all I'm completely satisfied with my purchase!!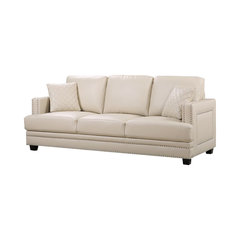 Ferrara Leather Sofa, Beige
Sofas
Excellent customer service: I received this sofa damaged due to the shipping company 's fault. I refused acceptance of the item, contacted Houzz and they immediately addressed the problem with the shipping company and promptly refunded my money. A totally painless process. Thanks Houzz. Your organization is fantastic!!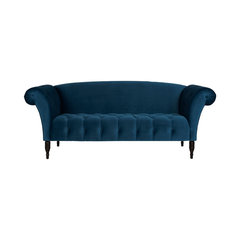 Samantha Tufted Camelback Sofa, Dark Teal
Sofas
Dreamy sofa!: For years I have wanted to change out my LR upholstered furniture to something more in keeping with my home's Victorian style. I dreamed of blue velvet, rolled arms and button tufting but never saw anything that clicked, until now. It is literally a dream come true, only better. Not only is this sofa stunningly beautiful with its elegant lines, dainty turned legs and luxurious blue velvet, it is firm, supportive and very comfortable. It goes perfectly with my new ivory velvet tufted armchairs (from another retailer, sorry Houzz!) and has certainly caused a lot of jaws to drop. Thank you, Houzz!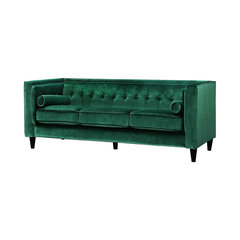 Taylor Velvet Sofa, Green
Sofas
Velvet sofa: I really like the sofa especially the color which is almost exact to the color online. The only thing that is disappointing to me are the roll pillows. They do not compliment the couch at all. They seem inferior and are too small for the couch. No biggie because I will buy new pillows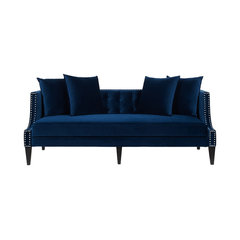 Sofas
Beautiful and Comfortable: We love this couch! It gets a lot of oohs and ahs from our friends. The navy color is rich and interesting. The cushion is deep and a little on the firm side, but quite comfortable. It comes with the pillows shown in the picture, in case it's too deep for your liking.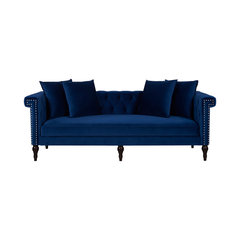 Jasmine Chesterfield Sofa, Navy Blue
Sofas
Gorgeous: I reviewed the couch - these are very expensive looking and unique - I bought the Virgil chair and ottoman all in the same blue and they match perfectly - you'll need to put a sheet down if you're a pet owner like me-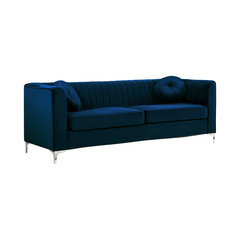 Isabelle Velvet Sofa, Navy
Sofas
Beautiful High-Quality Sofa: This is a beautiful product, which actually exceeded my expectations when it arrived. Would definitely recommend buying this sofa - the color as well as the fabric make it look very classy and upscale. The fact that the sofa was on sale when I bought it is an added bonus - would have paid the full price without a thinking twice.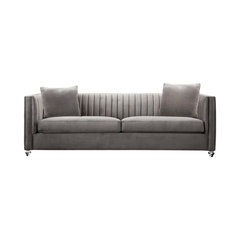 Emperor Sofa With Acrylic Finish, Beige Fabric and Pillows
Sofas
The color is exactly what I was looking fore: Was very well packaged. Product as pictured color is just what I was looking fore The seats are on the harder side. One thing that I don't like is that the seat area is slightly angled down towards the back it was comfortable when you sitting down button when you're lying down not too much but other then that no complaints. This sofa is for my master so it will not be used to much