Gardening and Lawn Care Products
A well-tended yard can make or break the curb appeal of your home. Whether you're a beginning gardener or an experienced landscaper, yardwork requires proper equipment and supplies. Not to mention that various additions, like landscaping rocks, pavers and fencing, can add layers of interest and functionality. Depending on your plan to upgrade or maintain your yard, you'll need lots of lawn and gardening supplies to keep it going.

Landscaping typically begins with planting, which quickly turns to maintenance and care. To take care of installing new shrubs, flowers and trees you'll need an arsenal of essential garden tools at hand. These should include a few hand tools as well as larger pieces of equipment. Outdoor power equipment can round out your selection and is useful when you take on larger projects such as tilling a garden or mowing the lawn.

Once your greenery is planted and in place, an irrigation or sprinkler system is a necessary next step. This will keep your landscape green and healthy. If you need more control over the amount of water you dispense or if you have a smaller garden, a watering can is a less expensive yet just as effective alternative.

While you can purchase fertilizer from the store, it may make more sense for you to create your own. A compost bin will also help reduce the amount of organic waste you send to the landfill, and once everything is fully composted you can use it to provide your plants with nutrients.

You can complement your flowers, shrubs and trees with landscaping rocks. These come in various sizes — you can use smaller, gravel-sized rocks in place of mulch or on pathways. Larger boulders can become a garden centerpiece or be used as stepping stones through your garden. Pavers can also be used to accentuate your landscape by creating a unique pathway or patio.

If your landscaping runs along a sidewalk or your driveway, you may enjoy separating it from foot and car traffic with decorative and functional fencing. A fence can also be used to separate your garden into sections, and is a great place for climbing plants to spread their flowers and leaves. Adding a gate to your garden can also create a sense of mystique and solitude.

Lastly, outdoor structures can provide shade for you to lounge under or accents for your landscaping. An awning will shield you from the hot sun during the summer, and also provides a spot for shade-hungry plants to thrive. If your family is in need of an outdoor gathering spot, a gazebo provides shade while still connecting you with the outdoors. It can become a clubhouse for children or a dining area for enjoying barbecue. Sheds are another functional structure where you can store tools and equipment, work on projects and pot plants.

From tools and equipment to garden supplies, outdoor structures to fences, you'll find a wide variety of lawn and garden products to transform your yard into a haven right here on Houzz.
1 - 36 of 16,698 products
Sponsored Products
Featured Reviews of Gardening and Lawn Care Products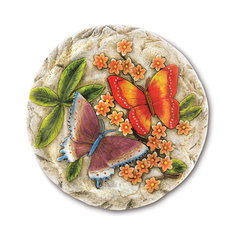 Gardening and Lawn Care Products
Beautiful stepping stone!: I could not have been more pleased with the beauty and quality of this stepping stone. I plan on putting it on our fence for the summer so I can enjoy it each time I walk from our home to our garage.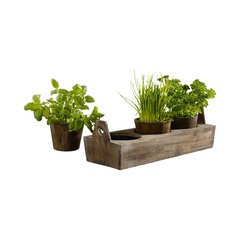 Wooden Garden Plant Tray, 3-Sectioned Tray for Herbs and Flowers
Gardening and Lawn Care Products
3 Herb Holder: I would rate my overall experience with purchasing this product as 5 star. The Garden Plant Tray arrived when promised, the product was packaged well, it is constructed well, and it was described perfectly on-line. I use it for three herb plants & love the protective plastic on the bottom of each plant holder. I will definitely recommend this rustic looking Wooden 3-Sectioned Garden Plant Tray.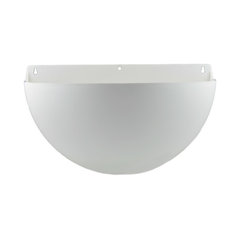 American Essence Topeka, White
Gardening and Lawn Care Products
Simple!!: I love the no fuss, durable, simple and clean line design of this wall plant container. There is a tiny hole in the back, center bottom of the container for water drainage...tiny enough that, I might plug the hole and use it indoors.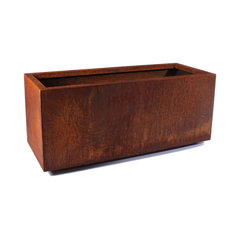 Haviland Rectangular Planter, Large
Gardening and Lawn Care Products
I read the reviews before buying this steel planter so I knew to expect a dull gray one and not the one in the picture. Within 24 hrs after spraying, it looked like the photo and after 48 hours and three treatments, it is an outrageous bright orange and beautiful just as I wanted.: I read the reviews before buying this steel planter so I knew to expect a dull gray one and not the one in the picture. I also went online and found a household ingredient recipe to speed up the rusting process and some instructions on cleaning and rusting it. Within 24 hrs after spraying, it looked like the photo and after 48 hours and three treatments, it is an outrageous bright orange and beautiful just as I wanted. The recipe is 4 parts white vinegar, 1 part 3% hydrogen peroxide, and 1/2 part table salt, mixed well and sprayed on the metal after cleaning it with a degreaser or household ammonia. The more it is sprayed the rustier and brighter it gets and heat from the sun or hair dryer speeds it the process a lot. It was a fun job.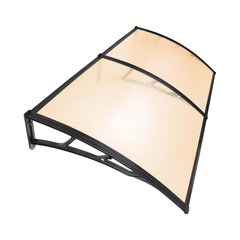 Polycarbonate Hollow Sheets Door Canopy, 40"x80", Brown/Black Trim, 1 -Piece
Gardening and Lawn Care Products
Looks better than I thought: When the builder began to design a roof over our new entry, I could see the time and expense increasing by the minute. We decided to give this option a try and it looks really good. It is not obvious that it is made of plastic. Only drawback will be if wind sends a branch onto it. But a very reasonable price and solution.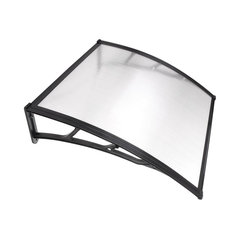 Polycarbonate Hollow Sheet Window Awing, Clear With Black Trim, 1 -Piece
Gardening and Lawn Care Products
Good Cheap Awning: Bought this awning to go over my porch entry to stop rain. Put it up temporarily and wife didn't like it. So put it up at my shed entrance. Looks good and I might buy the other longer one. Great price! Won't be able to tell if the plastic supports will hold up for a couple of years. Definitely not for high wind locations ( like tornado country)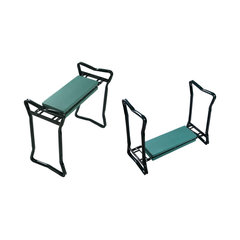 Garden Kneeler and Seat, 23"Lx11"Wx19"H
Gardening and Lawn Care Products
This is fantastic.: This is fantastic. It's a great sitting height & comfortable for kneeling. The handles help me up after a long session of gardening. Best of all it folds flat for easy storage. Love it!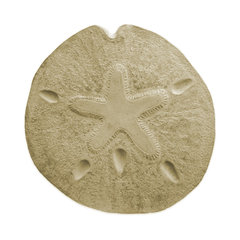 Sand Dollar Stepping Stone Mold
Gardening and Lawn Care Products
Love the design!: Haven't used it yet, but comes with clear instructions and is made of a heavier material than most molds. Described exactly as in description, would definitely recommend to others. Will keep an eye out for and other beachy designs of these : )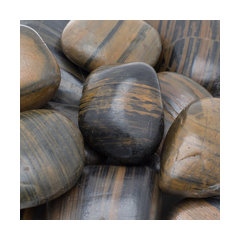 Striped Grade A Polished Pebbles, Brown, 1" to 2", 30 Lb.
Gardening and Lawn Care Products
Polished Striped Rocks: I have have placed two orders for these rocks and have been very pleased. They are exactly as described in color and size. They are beautiful around the planting of decorative grasses. I have received many compliments. Both orders came very quickly. Packaged in 30 lb. boxes they were easy to move to the planting area. I plan to expand the planting and will be ordering more of the same rocks.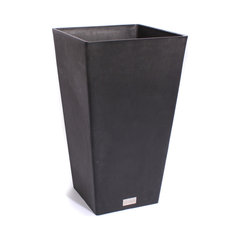 Ramona Square Planter Box, Black, 24"
Gardening and Lawn Care Products
Nice planter: I ordered two of these large planters to go on each side of my front door at my new home. Love the simple elegance. Very tall. Waist high on me. Lightweight. We filled them with rocks for stability before planting.