Wall Mirrors
Wall mirrors are hardworking pieces of decor. They enlarge small spaces, brighten dark rooms and add personality to blank walls. Not to mention their basic function of framing our reflection. Read our answers to two helpful questions to narrow our wide selection of wall mirrors for sale:
What type of wall mirrors do I need?
A wall-mounted mirror can serve many purposes. If you'll use it to spot fly-aways on your way out the door, make sure it's a substantial size so you can see your entire face and upper torso. A
lighted wall mirror
or a
magnifying wall mirror
might make applying makeup or shaving a little easier too. If you want to evaluate your entire outfit head to toe, look for a full-length wall mirror. The great thing about wall mirrors is that they don't take away any precious floor space.
If your walls are in need of a little pizazz, browse decorative wall mirrors. You'll find a variety of shapes, styles, finishes and sizes available on Houzz. A
round wall mirror
might be the missing piece to your gallery wall while a
sunburst wall mirror
could serve as a statement-making focal point.
Where is the best place to hang a wall mirror?
If you want to actually use your wall mirror, the middle of the mirror should be at eye level. That way you won't have to crouch or jump to get a good look at yourself. Full-length wall mirrors are especially helpful in closets and bedrooms — wherever you get dressed in the morning.
Install large wall mirrors near windows, exterior doors and light fixtures to carry light throughout your home making each room feel bigger. Tip: Use a
white wall mirror
for a dramatically luminous effect.
A
frameless wall mirror
would look sharp and weightless in a living room that's already elaborately decorated or in a hallway, like the light at the end of the tunnel. Or if you're hanging your mirror among more wall art, try mixing or matching frames and finishes for a colorful or coordinated look.
Exploring different heights, orientations and sizes is important too. For example, a
vertical wall mirror
could enhance a vaulted ceiling while small wall mirrors might look disproportionate in a great room.
An entryway mirror can also act as a catch-all. Look for a wall mirror with a shelf or drawers to stash essentials, like coats, keys and sunglasses. Strategically placing your new wall mirror can really streamline your daily routine in addition to elevating your decor.
1 - 36 of 23,240 products
Sponsored Products
Featured Reviews of Wall Mirrors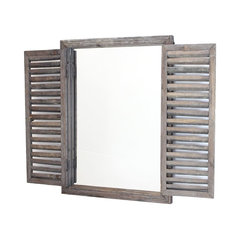 Rusic Shuttered Mirror With Wooden Frame
Wall Mirrors
Just as described: Beautiful mirror. Perfect for mounting over the vanity in a 'farmhouse' bathroom. Quality materials and finishing. I just wish it was about 1" wider and about 2" taller. Otherwise, it's perfect.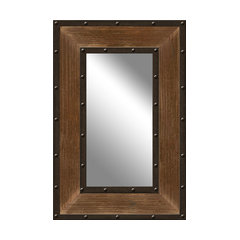 Industrial Metal and Wood Mirror
Wall Mirrors
Beatiful mirros for the price!: These two mirrors are just perfect for our new industrial look dinning room. The wood surrounding the mirror is quite a bit lighter than shown but, a little Scratch Cover made them match perfect. Great items for the price!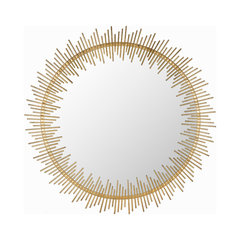 Safavieh Sunray Circle Mirror
Wall Mirrors
Lovely, though very heavy, mirror: order arrived on time and securely packaged. Mirror is very heavy, so takes so time to hang as you need to be sure you are securing it properly, but is exactly what I wanted for my front hall.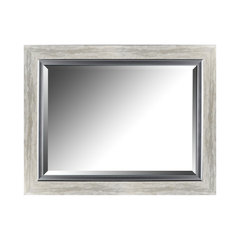 Hobbitholeco 27.25"x35.25" Silver Leaf Gradient Frame With Liner Beveled Mirror
Wall Mirrors
Better than the photos!: Very pleased and pleasantly surprised that this is even nicer than I was expecting! Looks fabulous in the room! Quality is great, good value too, and arrived on time! Yes I would definitely recommend this mirror.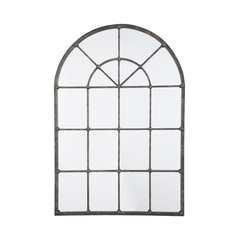 Ashley Oengus Accent Mirror, Bronze Finish
Wall Mirrors
Perfect deco mirror: This mirror fits beautifully for the space between two windows in my living room. This corner was neglected before but now head turning spot because of this elegant, well crafted and functioning mirror. And of course it adds brightness in my living room as well.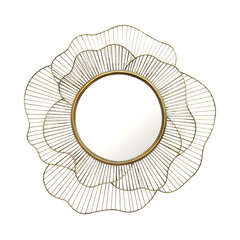 Decorative Flower Wall Mirror, 28.25"x28.25"
Wall Mirrors
A Must Purchase Mirror: While dimensions were available to me prior to placing the order I had concerns the overall size of the mirror would be smaller. I was overjoyed with the mirror size and design. The design has a softness to it due to the metal structure, but it's also very classic and modern at the same time. I am remodeling a 1939 bungalow and the mirror will be placed over an entry cabinet.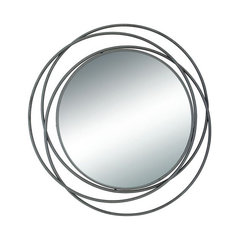 GwG Outlet Metal Wall Mirror 41"
Wall Mirrors
Love the look: The mirror looks just as the photo appears and I love it on the wall. There is something on the mirror that I am struggling to get off - some kind of a film that is taking a lot of elbow grease and strong glass cleaner to get off. If I can't get it clean, I will have to return the mirror, which will be very disappointing as I love the look!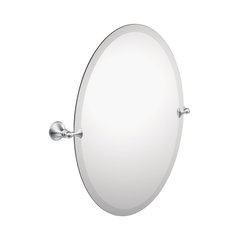 Wall Mirrors
Quick delivery, good condition: I ordered two of these mirrors for our master bath. They arrived quickly and in good condition. We haven't had a chance to install them yet but I think they'll complement our space nicely.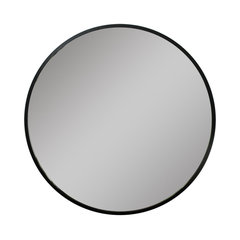 Radian Wall Mirror, Black, 37"
Wall Mirrors
Great Mirror: Terrific mirror over fireplace. Easy to hang as hardware is on the back, not too heavy, clean, modern look. Received many compliments and it has only just arrived. Good quality for the great price.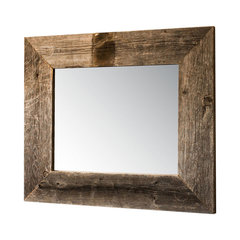 Mirror With Barnwood Frame, 22"x26", Natural
Wall Mirrors
Beautiful Mirror: This is a beautiful, well made mirror. I was pleasantly surprised when I received them as they are a quarter of the price of all the other barnwood mirrors I was looking at. They are more white then they are in the pictures, but match our bathroom perfectly.