Outdoor Rugs
If you're looking to define your outdoor space or add decorative warmth to your patio or deck, an outdoor rug can help. Indoor-outdoor rugs provide a soft cushion for your feet and barrier against dirt and insects. They can also add a splash of color or texture to your outdoor oasis that mimics the vibrancy of exotic plants and flowers that may not grow in your area. Here are some handy tips to consider while you search for the perfect outdoor carpet:
What materials can I choose for my outdoor rugs?
When purchasing your indoor-outdoor carpet, it's important to select materials that are durable and will hold up against the weather. Here are some of the more popular choices you can choose from:
• Natural fibers:
Jute, sisal, seagrass and hemp are all wonderful choices for outdoor rugs. They tend to be sound-absorbent and strong, not to mention eco-friendly. Already brimming with texture, these materials are often woven, which will add wonderful visual interest to your outdoor living area.
• Synthetic materials:
If you're looking for a brightly colored outdoor rug that can easily be cleaned with a hose, then polypropylene, nylon, acrylic and polyester are the way to go. These materials are lightweight, dry quickly and usually more affordable than natural fiber indoor-outdoor rugs.
• Backing:
While your outdoor carpet should look aesthetically pleasing, you'll want to make sure it's functional, too. While patio rugs with no backing are nice to have thanks to their reversible design, you should consider a style with backing if your outdoor rug will be in a high traffic or typically slippery area. Polypropylene and other synthetics tend to be a more durable, long-lasting and mildew-resistant choice than natural fibers.
What size should my outdoor carpet be?
To get a better idea of the size you need, carefully measure the length and width of your outdoor area. Don't forget one of the purposes of your outdoor area rugs is to define your space. If you're planning on sitting furniture on top of your outdoor rug, remember it's more visually pleasing to have either all legs or just the front legs of your furniture resting on top.
What about indoor-outdoor rugs?
You don't have to limit the use of outdoor rugs strictly to your outdoor spaces. The designs, patterns and textures of an indoor-outdoor carpet are so beautiful that you should be able to enjoy them not just on your patio, but in your living room as well. If you have young kids, pets or just a lot of foot traffic in the house, a rug designed to go outside may be the perfect solution. If your home is carpeted, the firm texture of outdoor rug material is a great remedy for a lack of wood flooring inside.
More:
Rug Size Guide — Find the Perfect Fit
1 - 36 of 23,255 products
Featured Reviews of Outdoor Rugs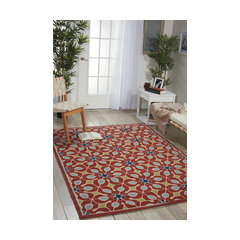 Nourison Caribbean Indoor/Outdoor Area Rug, Rust, 5'3"x7'5"
Outdoor Rugs
Looks great: This rug is really pretty and has held up well to the excessive rain we've had over the last month. Love that it can be hosed off to clean and that the colors are not bleeding into the deck.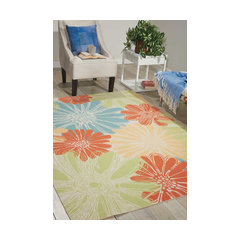 Home & Garden Multicolor Floral Indoor/Outdoor Area Rug, Ivory, 7'9"x10'10"
Outdoor Rugs
Perfect Addition: I purchased this rug to put in front of the pool stairs so when my grandsons get out from swimming it provides no slipping and soaks up some of their wetness from the pool. Love the addition it has added to the environment and the color is brings out in the area! Easy to dry and keep clean.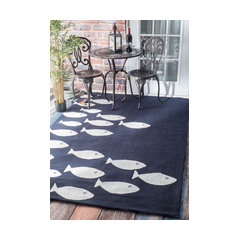 Novelty Indoor/Outdoor Hand Hooked Area Rug Fish, Navy, 5'x8'
Outdoor Rugs
Very cute rug: It arrived faster then expected and looks real great on the floor. It's nice enough, that we are actually using it inside to stop our puppy's paw prints on the hardwood floor. Being an outdoor rug, clean up should be easy.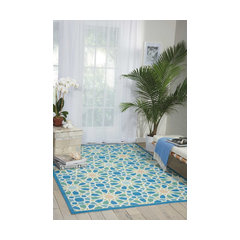 Waverly Sun and Shade Starry Eyed Indoor Outdoor Area Rug, Porcelain, 5'3"x7'5"
Outdoor Rugs
Cleans up easily: We put this rug in our glass enclosed porch to add color and softness to the terra cotta tile flooring. Last evening I spilled my glass of pomegranate juice on it. It wiped up perfectly and I am beyond pleased that it truly didn't leave even a hint that something spilled on it. It is also a soft rug- not scratchy underfoot.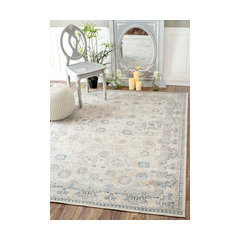 Nuloom Vintage Lucienne Rug, Beige, 7'10"x10'10"
Outdoor Rugs
Beautiful Rug: This rug is gorgeous! Very soft and the colors are muted and light. Just what I wanted. I only wish that it was 5' x 8' (close but about 7'6"). Still a good deal for the money! I would definitely recommend.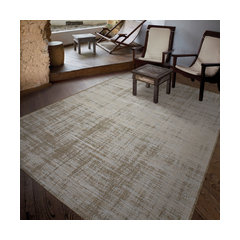 Indoor/Outdoor Breeze Distressed Perfection Rug, Light Blue/Brown, 7'7"x10'10"
Outdoor Rugs
The PERFECT patio rug!!: The perfect patio rug!! The flat weave detailing is SO intricate and high quality. It has the perfect neutral tones but then the most gorgeous, bright blue woven throughout! Plus, I absolutely love purchasing from Orian Rugs! The shipping is extremely fast and their customer service is amazing! 5 stars all around!!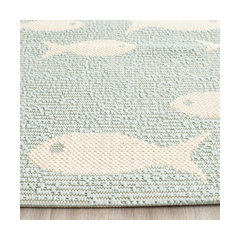 Preston Indoor/Outdoor Rug, Aqua/Beige, 5'3"x7'7"
Outdoor Rugs
Exactly What we were looking for: Great outdoor rug! We have 2 young children, so we wanted a durable, easy to clean outdoor rug that also has some charm. This rug definitely meets those requirements. Love it.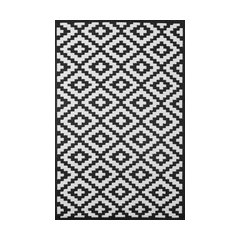 Nirvana Lightweight Indoor/Outdoor Reversible Rug, Black and White, 6'x9'
Outdoor Rugs
Nice, but thin: Beautiful graphic indoor/outdoor black and white. I think it will work out well out in my kitchen dining area. Otherwise, far too thin to thin compared to other outdoor rugs I've used in the house, or outdoors.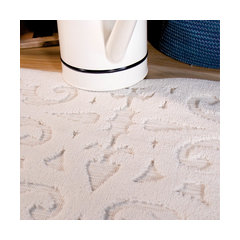 Indoor/Outdoor Sculpted Seaborn High-Low Area Rug, Ivory, 9'x13'
Outdoor Rugs
BEST RUG EVER!!!!: I buy this rug and the runner and I love it SO much that I'm gonna buy another for my room too. Only one question, hopefully someone help me or this company see my question... about clean it , how do I clean it? Can someone give me suggestions or should I just hired a cleaning carpet person? Not sure how do I suppose to clean it. I love it so much that I don't want to messed up. I will appreciate your help please!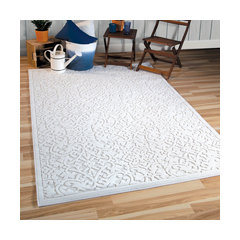 Indoor/Outdoor Sculpted Biscay High-Low Area Rug, Ivory, 5'2"x7'6"
Outdoor Rugs
Beautiful area rug!: This area rug is beautiful! It's truly a bright ivory. The pattern is so pretty and it's soft. I ordered it one day and it arrived the very next day!! Very pleased with this purchase!!!