Outdoor Wall Lights and Sconces
A perfect way to frame your front door or garden area and create an inviting exterior is to install outdoor wall lights. These typically come in the form of sconces, but you might be surprised to find dozens of design styles, including mission, traditional and modern. This variety of choices, including dozens of weatherproof finishes, means you can get just the look you want for your outdoor wall lighting.

Keep size in mind; you don't want your lighting to be overpowered by your front door or architectural elements in your garden. Choose fixtures that are at least 25 percent as tall as your door to ensure they'll provide ample lighting and be a strong design element. When selecting your outside wall lights, don't forget to take into consideration how easy it will be to replace bulbs once they've burned out. Some designs require you to dismantle the light to access the bulb inside, which can be an ordeal.

Once you've chosen your exterior wall lights, make sure to install them according to the included instructions. As a general rule, the ideal height for each outdoor wall light is around eye level, or 66 inches above the floor. You'll find dozens of ways to upgrade your entryway with our selection of outdoor wall lights here on Houzz.
1 - 36 of 33,213 products
Sponsored Products
Featured Reviews of Outdoor Wall Lights and Sconces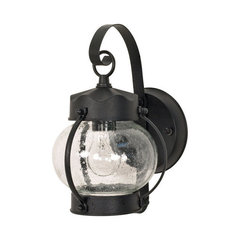 Nuvo Lighting 60/632 1 Light Down Lighting Outdoor Wall Sconce
Outdoor Wall Lights and Sconces
Looks awesome!: We love these, they go perfectly with our cottage/farmhouse look. Only thing I would change is I wish they were a bit bigger. But that's our fault for not looking more closely at the dimensions. Overall very cute lights. Also very easy to install.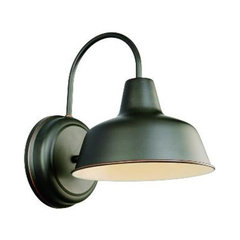 Allenby Outdoor Downlight
Outdoor Wall Lights and Sconces
Adds Character: It has a small profile and ideal for my 1,800 sq ft, 2 story, 1940 restored home two entryways. Although it accommodates a 60 watt bulb, using a 15 watt bulb since I enjoy dark skies. Lightweight and easy to install. So light, a little worried about how it will withstand snow belt winds and heavy snow later this season.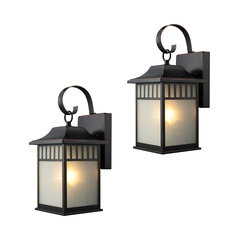 Oil Rubbed Bronze Outdoor Patio/Porch Exterior Light Fixtures, Set of 2
Outdoor Wall Lights and Sconces
SuprisIngle Great Looks: These lights look great. 13 inches tall. Lots of style. I have not installed yet but looked them over good. Well built. Look forward to seeing them on the house. But not until after paint.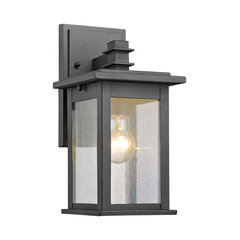 Saratoga Outdoor Wall Sconce, Textured Black
Outdoor Wall Lights and Sconces
Solid Looking Transitional Sconces: I bought 12 of these for the exterior of my home (front and back). The quality is good for the price and they fit perfectly with our transitional decor. Would recommend these if you're looking to update the exterior of your house.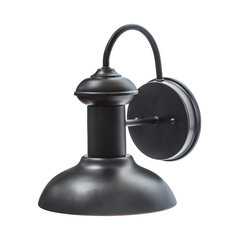 Martes 10" Oil Rubbed Bronze Downward Indoor/Outdoor Wall Sconce Light
Outdoor Wall Lights and Sconces
Very Pretty: Overall, I thought the quality of these lights were good. I ordered 4 for around my house. The only downfall that I had was that these lights were supposed to be black.. when they arrived they were brown. I had to return them for that reason but other than that, I love the overall look of the light.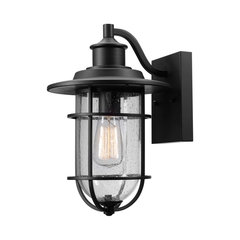 Porter 1-Light Outdoor Sconce
Outdoor Wall Lights and Sconces
Ourdoor Wall Scounce: Love this light. I looked at a lot of lights and I'm so happy with this selection. It looks great on our patio and front of our house. It casts a nice shaddow on the side of the house. Installation was a breeze.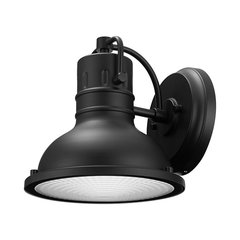 Outdoor Wall Lights and Sconces
These were bought for new house in progress.: These were bought for new house in progress. Using them on my garage doors for a slightly more on trend look (home on the lake). I liked the black color to contrast with my charcoal exterior. Have not installed yet but have inspected them and they are nice looking and I think will be perfect!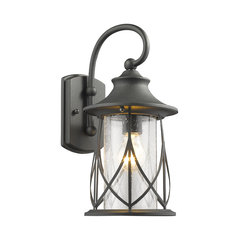 Chloe Lighting Marhaus 1-Light Black Outdoor Wall Sconce, 15"
Outdoor Wall Lights and Sconces
Unique & Elegant: Appreciated finding a unique look that is not on any house in the neighborhood. Relatively easy to install and very pleased! Highly recommend! (...as long as you don't live in my neighborhood...) :)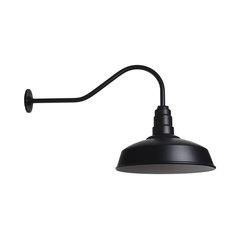 Barn Lighting Gooseneck Fixture - The Gardena Barn Light, Matte Black, Standard
Outdoor Wall Lights and Sconces
Gooseneck Barn Light: We love our Barn lights. We purchased 3 for our wedding barn @Rosie Creek Farms in Panama City Florida. They are the perfect touch to our vintage style board and batten barn. LOVE THEM!!!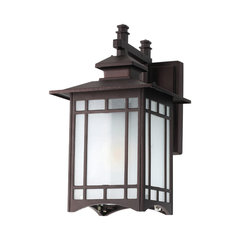 Louise Outdoor Wall Lantern, Oiled Bronze
Outdoor Wall Lights and Sconces
Outdoor Light: Love the new outdoor light for my backyard. It replaces the old, rusted "prison yard" spotlight that's probably been out there for the past 40 years. It's the right size and the subtle light adds an attractive ambience to the yard.