Bathroom Storage
As one of the smallest spaces in the house, the bathroom can easily become inundated with stuff, especially since we tend to accumulate more than enough towels, makeup and toiletries over the years. Instead of leaving a cluttered mess on your countertop, circumvent it with a large vanity and plenty of bathroom storage, including trays, baskets and shelves. Here are some quick, easy ways to ensure all your bathroom storage needs are met.


Implement a storage-filled vanity (or two).

One of the easiest ways to bring organization to your bathroom is by investing in a vanity with plenty of cabinets and drawers. Oftentimes a bathroom is too small to hold a freestanding cabinet or even a wall unit, so having a good sink console is key.


Add baskets and bins so small items aren't lost.

Once you pick out your vanity, use cabinet and drawer organizers or baskets, bins and trays and if space is tight, store only frequently used items in the bathroom itself; all the rest, including extra towels and less-used accessories, can be placed in a linen closet or guest bathroom. If you still don't have enough space, you can use your countertop, but add trays, baskets, canisters and jars to keep products organized yet accessible.


Invest in extra storage for larger families.

If you need more storage and have the space, a double vanity is always a popular choice, especially since two sinks are now preferred. Wall shelves are a great way to add storage without using up valuable floor space, and rolling carts and cabinets can be moved out when it gets tight. Makeup vanities are often popular for storing beauty products, and tall bathroom cabinets are great for extra linens, medications and hair accessories like hair dryers and straighteners.
1 - 36 of 48,884 products
Sponsored Products
Featured Reviews of Bathroom Storage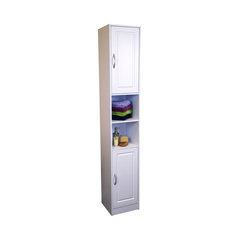 Chenoa Slim Storage Tower
Bathroom Storage
Perfect for small spaces: Great quality, exactly as I hoped it would be. Easy assembly. Feels solid, not flimsy like some cheap ones I've seen. Sizing was accurate. It looks great! My daughter uses it to divide her toiletry needs with her roomate - a shelf and a cabinet for each of them! Very pleased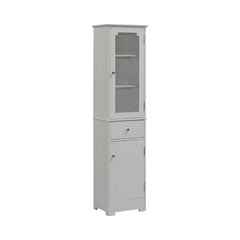 Leigh Wooden Linen Cabinet
Bathroom Storage
White All Wood Linen Tower: Cute little linen cabinet. No trouble putting it together at all. When put together though, the drawer sticks a little. Perhaps a user problem. Will be working on it some more today. Cabinet doors open just fine. Just enough extra space to keep the counter free from clutter. Like the glass door - adds a little light to an otherwise smallish bathroom. Overall, it's a nice piece. I had expected to be able to pain this cabinet; but, it appears that there is a thermafoil covering that I did not see in the description and wasn't expecting. A little disappointing in that aspect.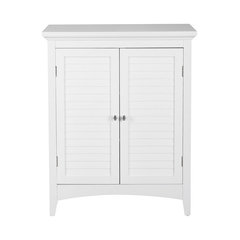 Riverhead Wide Cabinet, White
Bathroom Storage
Perfect fit: Assembly only took a half an hour, and it works perfectly in my bathroom it wasn't too big and it wasn't too small. And the color fit just right with my existing furniture in my bedroom.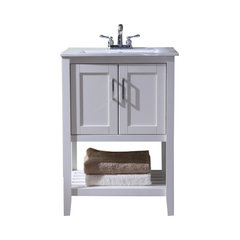 Atticus Single-Sink Vanity, White, 24"
Bathroom Storage
Great quality: The top is solid and looks great. The wood framing is well constructed and finished. The soft close doors are a great touch. There's even a pre cut sliding insert in the shelf for the drain if your drain pipe and water lines are below the shelf line.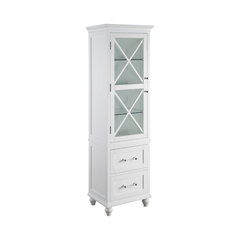 Bathroom Storage
Very cute mut not highest quality: I really like this cabinet. It is very cute, but it is not the highest quality. My whole bathroom smells of glue. Also, one thing to note is that it's not super easy to put together. My husband did it, but I wouldn't have had a clue. Overall it's great value, and looks great.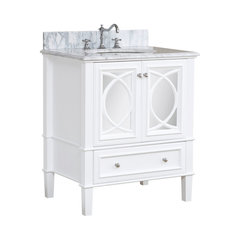 Olivia Bathroom Vanity, White, 30", Top: Carrara Marble
Bathroom Storage
Everything we wanted and more: Got two for the master bath. Packed with extreme care. Not a scratch. Beautiful workmanship. Stunning marble. Stylish faucets. (Was easy to find pop up drains at hardware store). Love, love, love.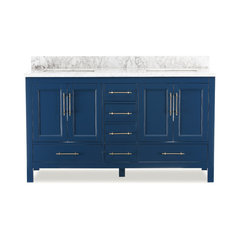 Kendall Blue Bathroom Vanity, 60"
Bathroom Storage
Love it: So happy with our vanity. The hardware is more of a brushed gold and I purchased a brushed champagne faucet to go with it and it is stunning. The blue is perfect for my kids bath. Keeps things fun and elegant at the same time.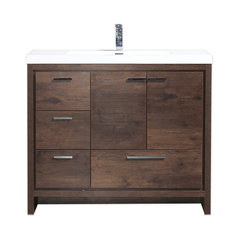 Clarno Vanity, Rosewood, Left Drawer
Bathroom Storage
Modern Vanity: Debated a long time on which vanity to order from Houzz. Couldn't be more pleased with my modern vanity with the rectangular sink. My bathroom has a whole new feel and love the quality of it. Trying to decide which one to buy now for my other bathroom.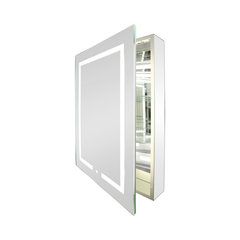 Kent LED Mirrored Bathroom Medicine Cabinet
Bathroom Storage
Kent LED Mirrored Bathroom Medicine Cabinet: This medicine cabinet is cool! Is has a light in the front which can easily be switched on and off. The light goes all the way around the perimeter of the mirror. To assemble you just attach the wall hanger onto the wall, connect the wire and clip the cabinet on the wall. Perfect for modern bathrooms with its sleek design!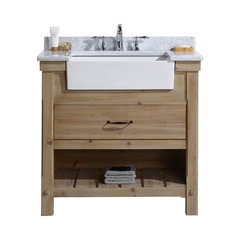 Marina 36" Bathroom Vanity, Driftwood Finish
Bathroom Storage
Unique and beautiful!: Love these vanities! Great quality and beautiful. Keep in mind the wood is unfinished so this may not be for everyone but we love them! So unique and surprisingly practical with lots of space.