Dining Room Sets
As the primary furniture piece in your dining room, your dining table set should properly fill the space, enhance comfort and reflect your personality. Surprisingly, there are a lot of decisions that go into making a dining set purchase: Overall style, price tag, material type and size. If you consider all these elements, you should easily find dining tables and chairs to last you decades.


What size dining set should I purchase?

The overall size is often dictated by your personal preference, family size and overall usage. Are you planning on hosting frequent family events? A larger 7-piece set or 9-piece set will fit you best — you might even want to consider an expanding dining table. Are you just looking for something to fit your family of four? In that case, a 5-piece set will more than suffice. Also keep in mind what fits in your space. A small breakfast nook only needs a small table, while a formal dining room requires something more substantial.


Should I buy a wood, metal or glass dining table set?

There are many material options for dining tables. Wood is often the go-to choice, since it's readily available, durable and affordable. A metal tabletop or dining table frame is also a popular, trendy choice, while glass is usually seen as more elegant and formal. When making a final decision, consider your family's needs; if you have kids, avoid metal, since it often has sharp edges. And if you want to minimize clean-up time, avoid glass, since fingerprints and spills often require a full wipe down.


Should I buy metal, plastic, upholstered or wood seating?

As with table material, go with your family's comfort zone. Plastic is great for kids since it's softer and easier to clean if things go wrong. Upholstered and slipcovered chairs add some much-needed color, though they are less forgiving when it comes to spills. Wood is a common choice, though a wood chair without a seat cushion is often uncomfortable for long periods of time. In the end, style is important, but comfort should rise above all else.
Sponsored Products
Featured Reviews of Dining Room Sets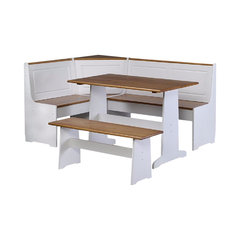 Dining Nook Set With Table and Seating
Dining Room Sets
Great value for price: Very satisfied with the price, size, and colors. Fits very nicely into any corner. Only issue was the weight capacity of the bench (250lbs) which can easily fit 2 adults but apparently cannot support 2 adults.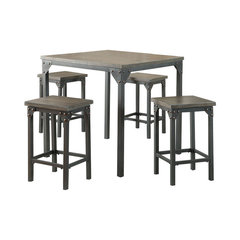 Almada 5-Piece Counter Table Set, Dark Oak
Dining Room Sets
We will shop Houzz again!: Not only was this 111 lbs solid wood and iron table beautifully crafted, but Houzz shipped it for free ! We were thrilled with the quality and it is perfect for our space. Thank you Houzz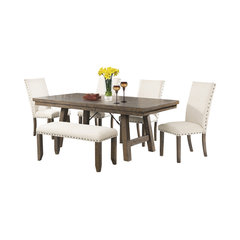 Dana 6-Piece Dining Set With Table, Chairs and Bench
Dining Room Sets
This is a beautiful dining set! A couple things to be aware of... Despite these things, we're pretty happy with it!: This is a beautiful dining set! The chairs are actually more of a sand color than light cream as appears in the photo. It's a textured linen type fabric. Less likely to show stains than I expected. The table has a distressed look to the wood, so nicks and scratches shouldn't be obvious. A couple things to be aware of... 1) The strip of wood that wraps around the underside of the table is annoyingly low and leaves very little room above the seats (forget crossing your legs). We are adding some furniture risers to the legs to help with this. 2) It's not worth using without the leaf. Without it, there's only room enough for 1 chair between the legs, and there's barely any room to sit on the ends, because the legs get in the way there too. Adding the leaf creates more space in both these areas. Despite these things, we're pretty happy with it!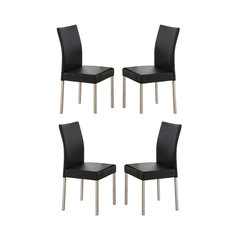 San Francisco Parsons Dining Chairs, Chrome and Black, Set of 4
Dining Room Sets
These chairs are perfect!: I already had four and needed four more due to my thanksgiving get together. These arrived just in time I was able to put them together in less than 30 minutes with the help of my 14 year old son.
Wallasey 5-Piece Dining Set, White
Dining Room Sets
Brilliantly cozy and functional: This set is great for an intimate setting, whether for 2, 4 or a solo meal. It compliments the small dining space with brilliance. It's casual and inviting, surprisingly comfy yet sturdy. Highly recommended for that classic elegant look and formal function.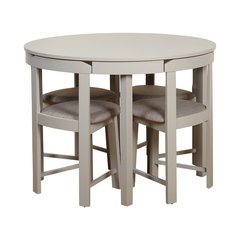 Dining Room Sets
Everything that I expected.: The chairs may seem small, however; I found them to be comparable to other chairs with a lower back. The whole idea of the set is to have the chairs slid out of the way when not in use. That would be impossible with a tall back chair. My set arrived on time, but one chair had a flaw. Houzz assisted in replacing the piece. A good value.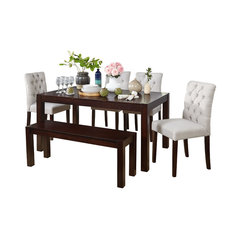 Annie 6 Piece Dining Set With Bench, Gray/Espresso
Dining Room Sets
Great Quality: This table was a gift to my daughter, who has people over for "game night" She needed the extra seating and this worked out to be exactly what she needed. Good quality and easy to put together. Looks exactly like pictured. She is very happy with it.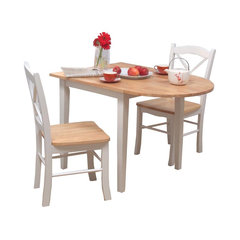 Tiffany 3 Piece Dining Set, White/Natural
Dining Room Sets
Kitchen table: Product arrived on time .Looks great , and wasn't too hard to put together. The only tough spot was the drop leaf portion of the table - the direction weren't very clear. Overall not too bad. Table and chairs are sturdy and pair well with the kitchen cart we purchased.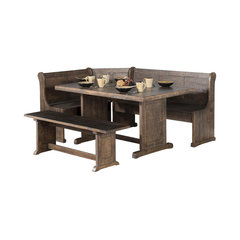 Sunny Design Homestead Breakfast Nook With Side Bench
Dining Room Sets
Awesome: I did a lot of research online because it was the only option in finding the exact set I wanted. Many companies were selling the same product. However all were coming from the same comping Naders Furniture. Needless to say I was quite nervous about the outcome of this endeavor however I cound not be more please. Houzz promised on everything they said and the furniture is amazing. I also preorder a piece of customize glass from Dulles glass and mirror before my table arrived it was also perfect. My new set is amazing.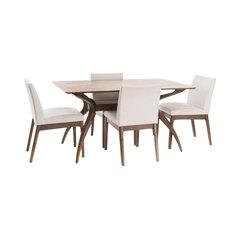 Katherine Natural Wood Finish Curved Leg Rectangular 5 Piece Dining Set, Walnut
Dining Room Sets
Love my new table!: I really love this table and chairs. I was looking for something in the gray area, more contemporary and light without looking fluffy or cheap. This table is beautiful. It seems much higher quality than what I paid for it. It went together quite easily, maybe about 45 minutes all together. The only reason I didn't give it 5 stars was that the chairs, although nice looking seem a bit flimsy. They are very light and sink down when you sit in them, so I can't imagine they will last forever; but they are easily replaceable, so no complaints. Very happy with my purchase. Looks great in my new condo. I would recommend you have two people to put it together. I am just one, but I managed to leverage the top against the box when I was turning it upright so did manage to get it together on its own. It just wasn't easy. It's heavy.