Sponsored Products
Featured Reviews of Lamps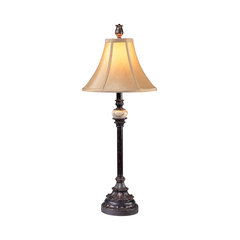 Antique Black Buffet Lamp
Lamps
Inexpensive Buffet Lamp: The look of this lamp is quality - from a distance. If you examine it close up, it is entirely made of metal. The piece that looks like marble is a painted faux marble over metal. However, the lampshade is very nice, the price is right, and the overall look is perfect for my needs. I ordered a second one for myself. If you want a quality piece with an accent of real marble, this lamp is NOT for you.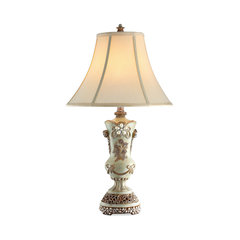 Lamps
Very Satisfied: These are well made, sturdy, and beautiful. My wife loved them. The color is subtle green, not too bright not too dark. The shade is a warm off white, so if you are looking for white shades I would not get this. These pictures are a little dark.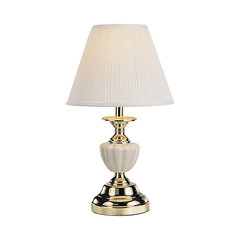 Verdigris Mini Table Lamp With Touch-On Switch, Ivory
Lamps
Good as before: Love this lamp and that's why it's my second time ordering it. It's classy a perfect size for a dresser/chest of drawers. It is quite lightweight, but in my case, I'm not using it in a place where little hands can experiment of anywhere high traffic so it can be knocked over. Most impressive is that it uses a plain (I use clear) 40 watt bulb. Does not require tough lamp bulb. Hooray!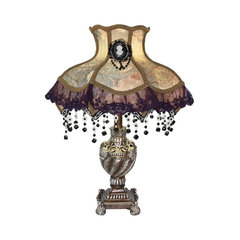 22" Laced Jewel Victorian Style Table Lamp, Purple
Lamps
Beautiful Table Lamp: Beautiful piece. Wish it were a little taller, but best we could find for where we wanted to put it. Can't always find everything you want and sometimes have to compromise. We opted for beauty over desired height. Made a good choice.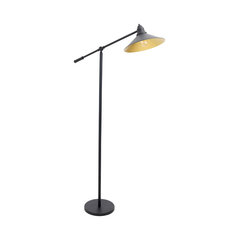 Lumisource Indy Floor Lamp, Black and Gold
Lamps
Nice lamp: I like the lamp, as does my wife. It was part of a Christmas gift for her. The lamp is attractive, sturdy and works well. My only criticism is that the shade is a bit larger than I envisioned.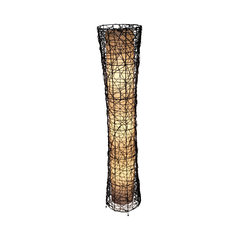 Handmade Modern Floor Lamp
Lamps
Beautifully designed and well-made lantern. Looks just like the pictures.: I love this lantern. I ended up putting it on a stand to give it more height. In hindsight, I would've paid more for the taller one as the search for a suitable stand was took some effort. But I still love this one and highly recommend it.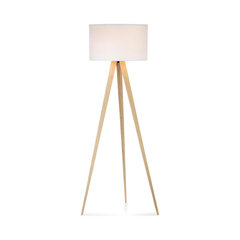 Maya Tripod Floor Lamp, White and Light Oak
Lamps
Spotted shades: The lamps are exactly as pictured. However, the lamp shades had a few colored spots on them. I thought that I stained it as I was putting it together, but when I took the second lamp shade straight out from the box upon examination, it had a few stains as well.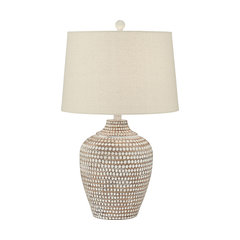 Resin Hammered Lamp, Brown
Lamps
Very nice!: I bought a pair of these for night stands. They're pretty big, but lighter in weight than they appear. I like the rustic painted finish that makes them look almost like carved wood. As modern as they seem, they still look great on my old Japanese furniture.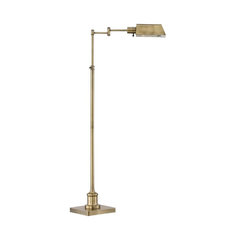 Traditional Aged Brass Pharmacy Floor Lamp With Adjustable Swing Arm
Lamps
Great floor lamp: This floor lamp is exactly what I was looking for - adjustable height and swivel head. The lamp's "footprint" is 9" and it fits perfectly in the small corner behind my husband's reading chair. The construction and materials are sturdy and the lamp has an upscale appearance.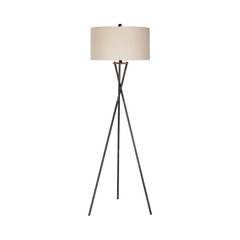 Fangio Lighting 63.5" Tripod Metal Floor Lamp, Rust Black
Lamps
Very pleased: Easy to put together. I was really happy to see that the cord is hidden in a leg. I was concerned that the photo didn't accurately reflect where the cord was attached. Perfect corner lamp - purchased to use at my office - it looks great. The quality was much better than expected at the price point.