Entertainment Centers and TV Stands
As televisions become bigger, flatter and smarter, different TV stands and entertainment centers are needed to display not only the big screen, but to also house all of its components and accessories too. You may want a
modern TV stand
to complement your brand new HD TV. If your kids are hooked on the latest gaming system, you'll need an entertainment center to store their console, remote controls and games. On the other hand, a
corner TV stand
may come in handy as you rearrange furniture. Whatever your channel-surfing habits demand, keep the following ideas in mind when browsing entertainment centers and TV stands for sale:
What's the difference between entertainment centers and TV stands?
Although they serve the same basic function, entertainment centers and TV stands have distinct differences that make each one suited for different needs and spaces.
Entertainment Centers: These are large pieces of TV furniture that frame the TV on both sides and often on top. Media centers always include ample storage, whether it be drawers and cabinets or just plenty of open shelving to hold receivers, DVD players and other multimedia.


TV Stands: Also known as TV consoles, you'll set the TV directly on top of these much simpler pieces. A TV table usually include some storage below, so they're great for those who want something stylish and functional, yet doesn't call too much attention to their media collection.
What size TV stand do I need?
The size of the media console really depends on how large your TV is. You'll want the stand to be larger than the television itself, but not so big that it looks disproportionate. A TV console should be at least three inches wider that the TV. That leaves just one and a half inches on either side of the screen, which isn't much. If you can spare a few extra inches, a slightly wider entertainment stand is a safer option. That way, you'll be less likely to knock the TV in passing. Make sure you measure the
actual
width of the TV too. The size on the box reflects its
diagonal
width without the frame.
Which features should I look for in a TV console?
First, think about the type of television you own and your room's constraints. Look for
TV stands with a mount
to elevate a flat screen off the console's surface. If you're working with an awkwardly shaped room, you might want a corner entertainment center or one with a
swivel base
. A
floating TV stand
can also make a small space feel bigger.
Next, consider how your family uses your TV. Does the storage space meet the dimensions of media components you currently own? If you want to hide all audio/visual equipment, make sure the TV cabinet has doors. Are there holes in the back to run cords and cables to an outlet? Does the entertainment stand in question have adjustable shelves so you can customize the fit for DVDs, cable boxes and speakers of various sizes?
Don't miss out on extras, like a
lighted display
to showcase decor or a fireplace entertainment center for cozy movie nights in the basement. Once you've considered all of the options, you're ready to make your TV entertainment center or media stand purchase!
Sponsored Products
Featured Reviews of Entertainment Centers and TV Stands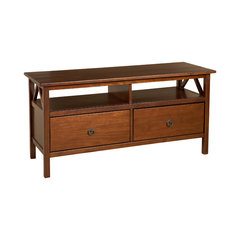 Cristo Media Table, Tobacco
Entertainment Centers and TV Stands
perfect for the space: Product is just as advertised in the listing and photo. It is very sturdy. I was able to put it together myself in about 90 minutes. I had to redo a part so go carefully and follow the directions. it's an attractive product, perfect for the space.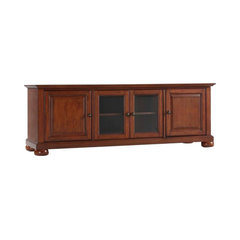 Alexandria 60" Low Profile TV Stand, Classic Cherry Finish
Entertainment Centers and TV Stands
Alexandria low profile TV stand works great with our 55" flat screen - we're very pleased: I was concerned about quality because the price was lower than I would expect. But the quality is excellent - the cabinet appearance is as good or better than furniture 3 times the price. Assembly was straightforward. The low profile works great for a large flat screen TV - we could not find this in any of the furniture stores we shopped. There was a minor chip on the top piece which was unfortunately very visible. I called the manufacturer's 800 number on the instructions - they returned my call within an hour, had my order pulled up, and is shipping a replacement part. Product quality and support: A+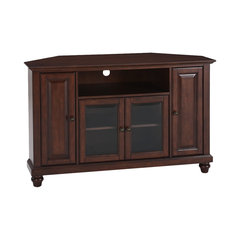 Cambridge 48" Corner TV Stand, Vintage Mahogany Finish
Entertainment Centers and TV Stands
Excellent Corner TV Stand!: We looked for years for the perfect corner TV stand for our 55 inch TV. And we found it finally with this TV stand. The color of the TV stand is true to the color depicted online. It's classy looking and well made. Easy to follow instructions. We are extremely happy with our purchase. The shipping was timely and customer service excellent! Thank you Houzz!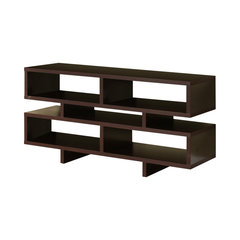 Dexter TV Stand, Espresso
Entertainment Centers and TV Stands
Very good quality/solid wood: It's exactly what I wanted, and I was able to easily assemble it by myself. It's is dark brown real wood, and is very sturdy and strong. It's also heavy. Instructions were easy to understand. It took me an hour to assemble.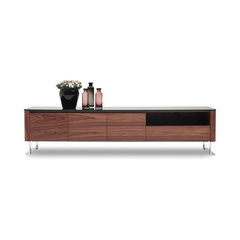 Entertainment Centers and TV Stands
Beautiful!: We have been wanting a walnut concol for a while, and finally but the bullet on this one. It looks Exactly like the photo. Great quality, packed very well. It took about 5m to put the legs on and lay glass on top. 1 door still needs slight adjustment, but the piece is exactly what I wanted. Now for tv and art work!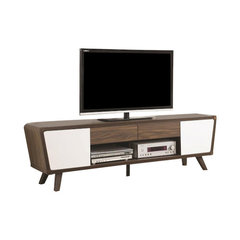 2-Tone Midcentury Modern TV Console
Entertainment Centers and TV Stands
Very nice: For the price it's pretty decent quality (of course not real hard wood). It's sturdy and looks nice I can't complain. Only reason I didn't give it 5 stars is because one of the white doors didn't have the pre drilled holes for the door hinge screws. Nothing 5 mins of measuring couldn't fix. Not too hard to put together either. Would definitely recommend.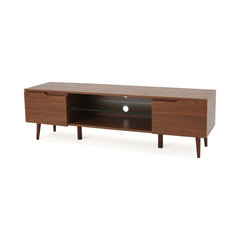 Reginald Mid Century Design TV Stand, Walnut
Entertainment Centers and TV Stands
Gorgeous piece!: Very solid, well made piece and it looks beautiful. Color is true to picture. Cubbies are pretty roomy. Simple to assemble. I had slight trouble adjusting the hinges, but I think that was mostly user error. Would buy again!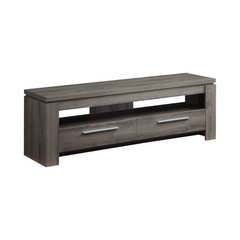 Bowery Hill 59" TV Stand, Dark Gray
Entertainment Centers and TV Stands
Amazing for the price: Considering the relatively low cost, this piece looks and feels like high quality furniture. It took time to assemble but each screw and peg is reinforced so I am confident that this piece will last me a while and was worth the effort.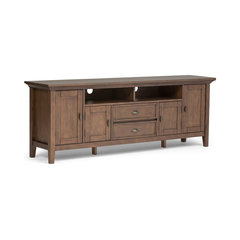 Redmond 72" TV Media Stand, Rustic Natural Aged Brown
Entertainment Centers and TV Stands
Great and Stylish product: I'm so happy with this product! I wanted something that matched my rustic farmhouse table and the color is almost identical. Installation took some time, but it was well worth it! More of a walnut color rather than espresso which is what I was looking for.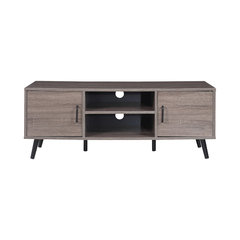 Mid-Century Modern TV Stand Console Entertainment Center, Ash
Entertainment Centers and TV Stands
Great outcome, just a bit annoying to setup.: The product came in perfect condition and looked great when it was finally set up! I am very happy with it, but the instructions were very vague and it took quite some time to put it together. With a little patience it'll be well worth it.