Doormats
Not only are they the first line of defense in preventing dirt and debris from entering your home, but setting out a doormat is a nifty way to greet your guests and family with style and color before they even enter your home. You can purchase a welcome mat in many different materials, colors, shapes and designs, so it's important to know what you need before you go shopping. Here are a few tips to help you select the perfect outdoor mats for your home:
What type of material is best for my doormat?
Naturally, you'll want your welcome mat to be made of a heavy-duty material that wicks up dirt, mud and possibly even snow. Certain materials work better than others, depending on how you plan to use them, so here's a quick guide to help you decide:
• Coir:
This material is easily identifiable, thanks to its stiff, scratchy surface. It's perfect for scraping off mud and dirt and can be easy to maintain, though the rough surface can cause animal fur and other light debris to get stuck. If you choose a coir doormat, look for one with a rubber backing to prevent it from slipping.
• Wood:
Wood doormats feature a smoother surface that isn't as useful for scraping off mud, but their durability and great looks make up for it. If you opt for a teak or wood welcome mat, you can always add a stand-alone scraper to complement it.
• Rubber:
Highly durable and easy to clean, rubber welcome mats are a popular choice. Though they tend to be lacking in color options, they often feature elegant designs and patterns. It's worth noting that extreme cold may cause your rubber doormat to crack, so it might be best to tuck it away during the winter.
• Natural fibers:
Weather-resistant sea grass or coconut fibers are durable doormat materials that are perfect for high-traffic areas. Their rough surface also helps clean footwear, and they look great to boot.
What size welcome mat should I purchase?
There's a perfect measurement based on your door width. Look for a doormat that covers at least three-quarters of your entryway so you can be sure it will catch as much dirt and debris as possible. A longer mat may also be a good choice, as it will provide more surface area for catching muck. Don't forget to check the height of your mat. If your door catches on it when you open or close it, it may be best to move that welcome mat outside or trade it in for a shorter model.
What styles do doormats come in?
You can pretty much find any style of doormat under the sun. Monogrammed entrance mats can add a certain elegant appeal, while funny doormats will have your guests chuckling as they enter and leave. Coir mats come in a variety of colors and patterns, some even with quotations, greetings or quirky sayings. Rubber welcome mats can add artistic visual appeal with scrollwork, patterns and intricate designs. Whatever you choose, be sure it complements your personal preferences and the style of your home.
More:
Rug Size Guide — Find the Perfect Fit
1 - 36 of 14,538 products
Sponsored Products
Featured Reviews of Doormats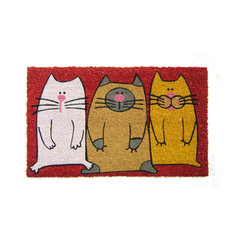 Doormats
Cat Dormat: I just love this colorful doormat of 3 cute cats with a red background. I just put it outside in front of my red door - it's adorable. The mat is well-made of thick coir material; very colorful and this doormat will stay put, even with high winds! My porch is covered, and I am hoping that the bright colors will continue to stand out over time. This is the nicest and cutest cat mat I've ever seen!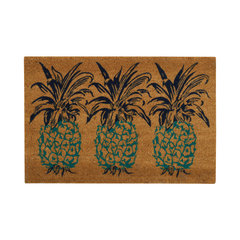 Waverly Greetings Collection Pineapple Accent Rug, Aqua, 2'x3'
Doormats
I love them!: Purchased two -- one for each patio door -- and they're perfect. I love the color scheme and the nice, large size, and they do a great job of keeping us and our dogs from tracking leaves and flower petals into the house.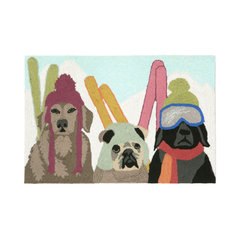 Liora Manne Frontporch Ski Patrol Rug, 1'8'x2'6'
Doormats
Quality Cuteness: I was afraid that the actual mat would look slightly frayed and less defined with the artwork, but it looks even better in person! My dog already enjoys wiping her dirty paws all over this.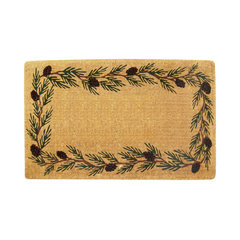 Heavy Duty Coco Evergreen Mat, Plain
Doormats
I am so happy with my new doormat!: I am so happy with my new doormat! It is better than expected. It arrived earlier than expected too. This doormat is well-made and seems very durable but if/when I ever need another one I will certainly order again.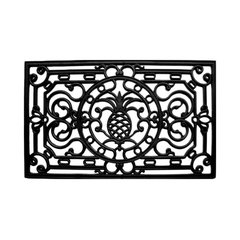 Pineapple Heritage Rubber Doormat
Doormats
Just what I was looking for!: Like everything else I have purchased through Houzz, this doormat is terrific. I didn't want anything colorful that would compete with my front door, nor did I want the coir look. This doormat is perfect.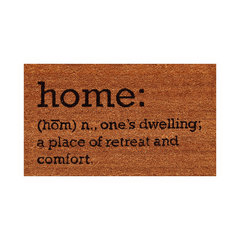 Doormats
Great quality: I was impressed by the quality of this doormat. It appears that it is well made and will stand up to daily "wear and tear". I would recommend this item to a friend. The only suggestion I have is to package the item so that it is not so clearly visible. I had planned this item as a gift, it was delivered to my front porch and the receiver of the gift viewed it before I arrived home.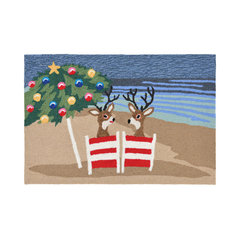 Frontporch Coastal Christmas Rug, Multi, 20"x30"
Doormats
Cute: It's very cute, two Raindeers sitting on a beach... I love it! It's not typical Holiday design but it's festive design it is. Every body coming to my house also love it! Ps, I had my Red Hello rug outside the door and inside I have this Raindeers rug placed ...I'm ready for holiday season!!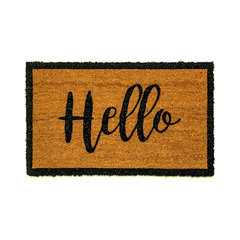 Doormats
Very cool!: My wife and I love the way this looks. It came slightly damaged with some of the material on the top clumped together but we do not mind much since we mostly liked the colors and the font and t still looks very nice.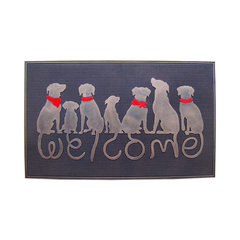 Dog Tail Designer "Welcome" Rubber DoorMat
Doormats
Dog Lovers: In the past two weeks two of my grown children and their families have each gotten a new puppy to add to the one and two they already have. So I thought these doormats would be the perfect welcome to the family gift. The doormat is well designed and looks quite durable. Can't wait to give them.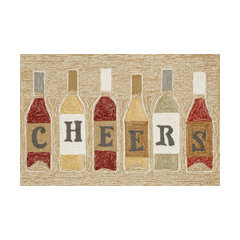 Liora Manne Frontporch Cheers Natural Indoor/Outdoor Rug, 1'8'x2'6'
Doormats
Looks even better in person: Seems to be very well made, with high quality fibers. There is a little glitter effect in the 'wine' portion of the bottles, which gives it a 3-D effect! Comes with cleaning instructions which are helpful.