Nightstands and Bedside Tables
Despite being small and compact, bedside tables can make a big difference in your nighttime or morning routine, by adding a spot to place a lamp, plug in your phone or keep reading material handy. Besides offering storage, they also offer the chance to anchor your bedroom's style. Whether a collection of modern nightstands has caught your eye, or you're simply deciding between a
black nightstand
and a
white nightstand
, here are few tips to help you through your search.
What size should my bedside table be?
Consider the height of your bed as well as how much space you have on either side when choosing a night table. Ideally, you should be about level with it while laying in bed so that you can easily reach a lamp or your phone. Tall nightstands elegantly complement more raised beds, while a short and small bedside table could be the perfect pair for a low, modern bed. In terms of width, you want the table to complement your bed, not overpower it or feel too small. In a compact apartment, a narrow nightstand can be just the right fit. Similarly, a floating or wall-mounted nightstand can save even more space by not touching the floor.
What style nightstand is best for my bedroom?
Although your bedside tables don't need to perfectly match the rest of your bedroom furniture, they should be a part of the same design family. Use a
midcentury nightstand
set to add some character to an otherwise simple bedroom. While a more traditional look would include a table on either side of the bed, feel free to pair different vintage nightstands together to make your bedroom feel more natural and collected. Just don't mix too many different wood types, as they can easily clash. Finally, think about how simple or stately you want your bedside table to be; while some simply function as a surface to put a glass of water, a
three-drawer nightstand
will attract more attention and provide more storage.
What material do I want my bedside table to be made of?
Bedside tables come in a variety of materials, each of which can contribute to a particular mood and feeling in your bedroom. If you're going for a modern or industrial look, a metal nightstand is an excellent option, as it will create an interesting contrast with a soft, plush bed. For a warmer, more traditional look, opt for a wood nightstand. Consider the finish as well; while a white bedside table will channel a clean, minimalist look, a
cherry nightstand
would nicely complement deep, rich colors in your bedding.
Sponsored Products
Featured Reviews of Nightstands and Bedside Tables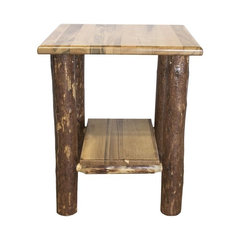 Adler Nightstand With Shelf
Nightstands and Bedside Tables
Searched the internet for three days before I decided on this table.: Searched the internet for three days before I decided on this table. I live in a log cabin in the mountains of NC and I am adding a new master bedroom. I want the rustic look of my log cabin to carry over to the new bedroom and the night tables accomplish that. They match my log bed and dresser very nicely.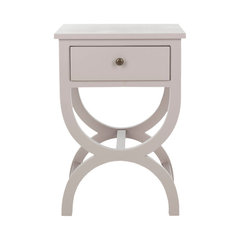 Nightstands and Bedside Tables
Great little table: Ordered two as bedside tables and love them. Came packaged very well- No damage. They were a perfect size for my tight space. Color is not Snow White, but rather an off white and went with the headboard I had perfectly. No assembly was required. Great value for the price.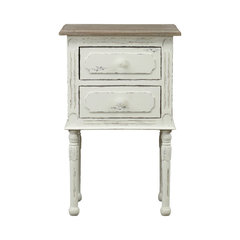 Anjou Traditional French Accent Nightstand
Nightstands and Bedside Tables
Nightstand for a Guest Bedroom: This was my first purchase from Houzz. The customer service representative was knowledgable and extremely helpful. The room was just painted a light grey tone with white trim and has hard wood floors. We purchased two Anjou Traditional French nightstands for both sides of the queen size bed. I would have liked them a couple inches taller but will compensate with a set of tall crystal lamps I just found on this site. The nightstands were packed extremely well and the only assembly required was to attach the legs; well constructed too! Perfect for a guest room and has room on the top for a lamp and small vase of flowers.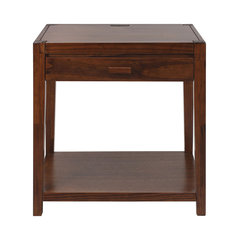 Notre Dame Night Stand With USB Port
Nightstands and Bedside Tables
Functional: This item is functional, but not super stylish or attractive. It was the height I needed for my guest room, and I wanted somewhere for guests to be able to charge their devices.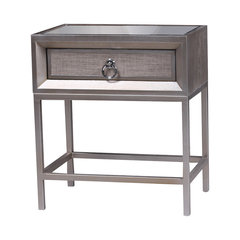 Cassidy 1 Drawer Nightstand
Nightstands and Bedside Tables
Love this table!!: This night table is perfect in my guest bedroom. It's well made and well finished. It arrived quickly. I am always pleased with the quality and service from Houzz vendors. Also love Houzz for decorating advice and ideas. Shop with them regularly.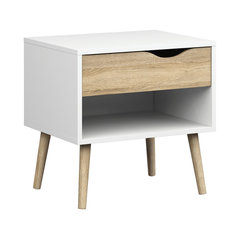 Diana 1-Drawer Nightstand
Nightstands and Bedside Tables
Very nice but small: It looks too small for a night stand unless you have a very tiny bed. For a king size one, it's too small. But quality is good overall. Also it was not hard to put it together, good instruction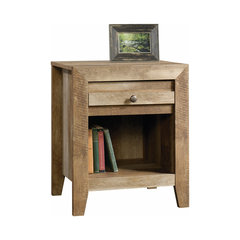 Mollison Nightstand, Craftsman Oak
Nightstands and Bedside Tables
Good value: Solid piece, easy to assemble, looks as pictured. A bit more laminate than expected, but overall, doesn't look cheap. No notion of how well it would hold up with constant use, but as a largely ornamental end table, which is how I'll use it, should work just fine.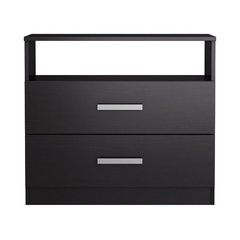 Brooklyn 2-Drawer Nightstand, Espresso
Nightstands and Bedside Tables
Great quality! very spacious!: This nightstand is pretty big and has very spacious drawers. The quality of material is is also very good. Of course it is not a real wood, but look at the price. I would say many nightstands with the prices above $250-$300 have a worse quality.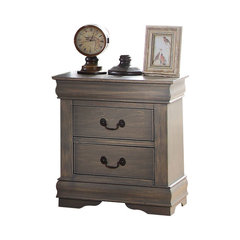 Acme Louis Philippe Nightstand, Antique Gray
Nightstands and Bedside Tables
Love!: These nightstands are beautiful. Love the finish and looks great with the dresser in our bedroom. They came already put together so there was no building involved and they are very sturdy and seem well made. Overall, super happy with my purchase!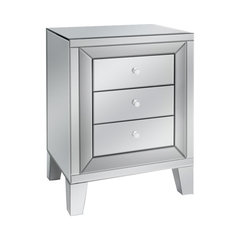 Eltham 3-Drawer Mirrored Side Table
Nightstands and Bedside Tables
COMPLETELLY HAPPY: I RECEIVED MY MIRROW TABLE, AMAZING THE SIZE, WONDERFUL DESIGN, IT IS REALLY ESPECTACULAR, IS MORE THAN THE PHOTO. THE DELIVERY WAS ON TIME, I JUST HAD A PROBLEM BUT HOUZZ HELP ME A LOT. I RECOMMEND THE PRODUCT, IT IS SIMPLY INCREDIBLE