Artwork
Nothing makes a house feel more like a home than an enticing display of art. Not only can carefully selected artwork add personality to your decor, it can enhance your home's interior design by adding layers and visual interest. With such a huge selection of paintings, fine art prints, and sculptures available, it can be overwhelming trying to find that perfect piece. Check out these tips to help you narrow down your artwork search:


Choose wall art you love.

The number one rule for selecting artwork is that it should speak to you. If it isn't meaningful in any way, it's best to keep searching. If you've themed your furniture and décor around a certain color or idea, that can get you started in your search. Many paintings and other artwork have a cultural theme, such as aboriginal art or Japanese art. On the other hand, black and white photography goes great with anything. Whatever style you choose, just make sure it represents your tastes, interests or history.


Check out every type of wall art out there.

If you're looking for paintings that fit perfectly with your traditional décor, consider fine art prints. These are a great alternative if you can't afford genuine Picasso paintings or works by other famous artists. Pencil art and some sculptures can also fit in well with a traditional scheme. If you're in the mood for some modern artwork, illustrations and mixed media are a great place to start. Sculptures made from metal or glass can also have a modern tone. Try going bold with abstract paintings, urban art or pop art, which tend to incorporate more modern influences like graffiti and celebrities, plus bright colors. Photographs work well with any décor as they can cross between modern and traditional easily depending on the subject matter. Don't be afraid to mix and match, either. A modern piece can go amazingly well with a traditional home, and vice versa.


Arrange your new artwork for optimal viewing.

Once you've found those perfect, meaningful pieces, you'll want to place them in a spot that allows everyone who passes by to admire them. Common locations for artwork include above a seating area or, better yet, facing your seating arrangement. Proper lighting and visibility is also important, as is hanging your new pieces at the correct height. Aim for eye level or the gallery standard, which says the center of your paintings should be approximately 60 inches from the floor.
1 - 36 of 86,211 products
Featured Reviews of Artwork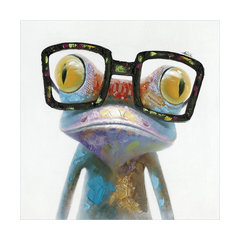 "Hipster Froggy" Decor Original Painting, 40"x40"
Artwork
Cutest frog ever!: The colors are very vibrant. Stretched canvas over wood frame. Comes ready to hang. I have black and white Frog wallpaper up in my craft room and this is the perfect accent. Reminds me of my cutest ever grand daughters that all wear glasses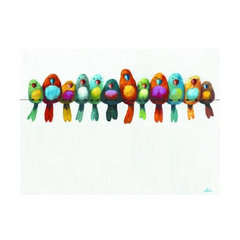 Yosemite Home D'cor Original Painting: Birds on a Wire III, ARTAC0436C-REV1
Artwork
This is Perfect: I have had so many compliments on this picture, and I have not had a chance to get it hung up yet. LOL! It catches everyone's eye the minute they walk in the door. Thank you Houzz!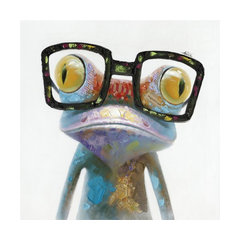 "Hipster Froggy II" Original Acrylic Painting on Canvas, 20"x20"
Artwork
LOVE!!: I am a first time buyer off the app and I wasn't sure of the quality of the painting. The delivery was fast and the picture is outstanding. My kids absolutely love it. The quality of the photo is top notch. The details put into the artwork is very original. It's quite sturdy with the structure. Definitely going to purchase more in the future. Highly recommended!!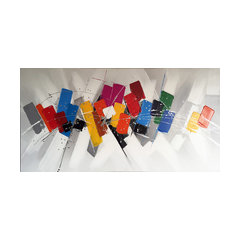 Wall Decor Painting Saturday Morning Abstract
Artwork
perfect decor: I looked around for other abstract paintings but was not able to get the price range I needed and the design I was looking for. The Saturday Morning Abstract was the perfect design and price range I needed. Looks great on our wall.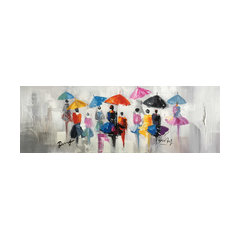 Wall Decor Painting Crosswalk in Seattle I
Artwork
Simply Beautiful: I never submit reviews but I have to this time. What a wonderful surprise receiving this painting and finding it was even more beautiful than the picture can show on the website. I would definitely recommend this artwork. It came in perfect condition ordering through Houzz!!!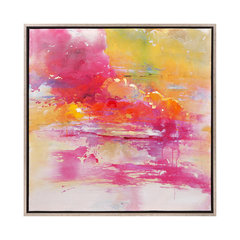 Alexa Wall Art With Frame 11503
Artwork
Great purchase: Very happy with my purchase. Better than expected. I was looking for art with these colors. When I opened yet package it looked like an original work. And with the frame included. Great purchase.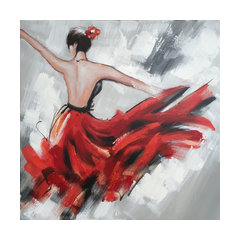 Abstract Hand Painted Dancing Girl in Red Dress I Oil Painting
Artwork
Dancing girl oil painting: Delivery expedient, product was excellently packaged. Appears as a high quality painting, I expected the red to be a deeper red less orange red, regardless it is a quality piece and arrived ready to hang. I would recommend this product.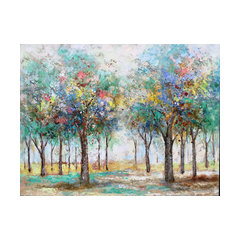 "Colorful Trees I" Hand Painted Oil Canvas Artwork; Modern Art; Fine Art
Artwork
A beautiful addition: i him this in my foyer and it brought life to a very bland wall. the colors are not overwhelming and the size of this piece is perfect in addition to my other are work. great addition to my home!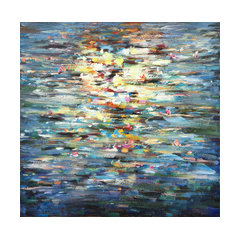 "Abstract Water Reflection" Oil Painting
Artwork
I was very impressed by the prompt shipment two days after placing the order.: I was very impressed by the prompt shipment two days after placing the order. Also the paint fits perfectly in my newly added guest quarter and so far the visiting guests just love it!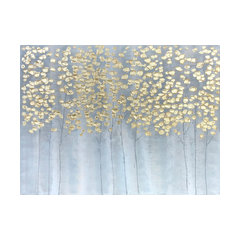 "Golden Forest" Hand Painted Oil Canvas Art
Artwork
Simple, but big impact!: I ordered this canvas for my mostly monochromatic dining room. I love that it's simple and neutral, so I can easily add seasonal pops of color to the centerpiece. We've already had a lot of compliments on this piece!