Outdoor Cushions and Pillows
After you have purchased your patio furniture, outdoor rugs and patio umbrellas, outdoor pillows and cushions are the critical accessories that help to soften a space and create an inviting and lounge-worthy outside seating area. They primarily serve a decorative role, but outdoor conditions mean that they must also stand up to the challenge of the harsh outdoor elements by balancing beauty and function. When thinking about buying new accessories for your patio, consider the following:


Do I need outdoor cushions or outdoor pillows?
While this may seem like an obvious and unnecessary question, knowing what you plan to use them for will only expedite the process and aid you in making necessary decisions faster. With cushions, you will need to be more precise with size and style as this will need to fit on a chair or chaise base more precisely. With outdoor pillows, have fun with size, style and pattern. They're decorative accents and can be treated as such.

What style of padding do I want?
If you are buying outdoor chair cushions, consider the different options and styles available. For chaises or other patio loungers, one with a full back and seat would be the most comfortable to spend hours in, while a garden bench only needs a flat seat pad. Outdoor furniture should be comfortable, so if you need to constantly readjust your seat cushion back in order to make it comfortable, something isn't right.

Are the pillows covered in outdoor fabric?
Another important tip is that you confirm that the materials you are buying in fact are intended for outdoor use. Pillows made of Sunbrella fabric, or other UV and weather resistant materials are perfect for protecting against the harsh rays of the sun, as well as for preventing mold and mildew that may build up in damper conditions.
1 - 36 of 36,649 products
Sponsored Products
Featured Reviews of Outdoor Cushions and Pillows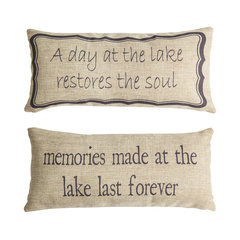 Lake House Memories Double Sided Tan Pillow Indoor Outdoor Lake Gifts and Decor
Outdoor Cushions and Pillows
Perfect gift: This was a Christmas gift. They were really surprised and excited to show it off in their lake house. The seller was really great, they handled a last minute shipment issue remarkably well. The owner Kirsten is terrific. I highly recommend!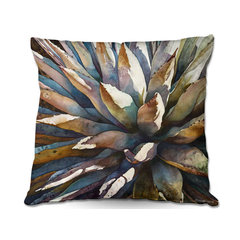 Sun-Struck Yucca Plant Outdoor Pillow by Anne Gifford, 18"x18"
Outdoor Cushions and Pillows
Nice pillows: Love these pillows. Beautiful design even though slightly different than picture. The fabric does not seem like outdoor fabric so I am using them indoor. They are firm and provide good back support. Definitely recommend.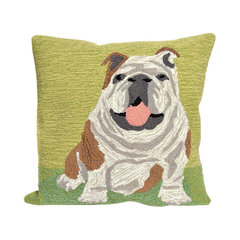 Frontporch Wet Kiss Pillow, Green, 18"x18"
Outdoor Cushions and Pillows
Happy accent pillow!: I just received this pillow and it is just as nice as I had hoped. It is a gift for a dear co-worker who has 2 Bulldogs. It is a nice big size has good coloration and I am sure she will love it. I received it within 2 days.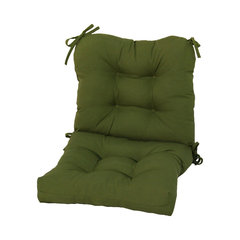 Seat and Back Combo Cushion, Summerside Green
Outdoor Cushions and Pillows
Very Happy: I shopped around and was very happy to find this combo cushion on sale. I was hesitant to order without knowing anything about the company, but the product is very well made and fits perfectly! So glad I found Houzz, because they have some amazing things.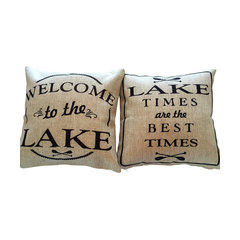 "Lake Times" Lake House Gift Tan Indoor Outdoor Reversible Pillow
Outdoor Cushions and Pillows
The pillow will be a gift for my sister who lives on a lake.: The pillow will be a gift for my sister who lives on a lake. It is neutral in color, so it should work in a variety of rooms. Its packaging in a transparent cloth bag tied with ribbon was a welcome surprise.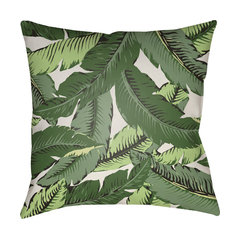 Banana Leaf, Green, White, 18x18x4
Outdoor Cushions and Pillows
Colorful and comfortable: My wife loves the pillow as she longs on our swing set...one for her head, and one for her legs. Ahhh...so relaxing as she slumbers off...and I leave her there to play golf! It adds some color to our patio. Both great price and quick delivery.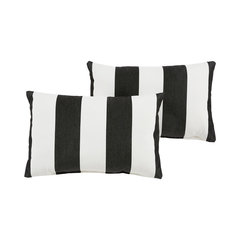 Cabana Sunbrella Outdoor Lumbar Pillow Set of 2, Black and White, 6x20
Outdoor Cushions and Pillows
Lumbar pillows outdoor: Very nice quality. Fits snug into the chair for lumbar support. May order the larger, square pillows by Sunbrella to compliment the lumbar pillows . Black and white bold stripes. Nice.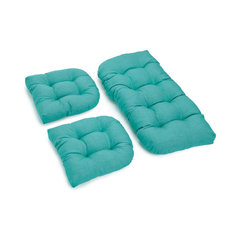 Emmerson 3-Piece Outdoor Cushion Set, Aqua
Outdoor Cushions and Pillows
Excellent quality: I ordered cushions for my outdoor furniture. It arrived quickly and I was impressed with the quality. The color was beautiful and it's made extremely well. I'm very satisfied with my purchase.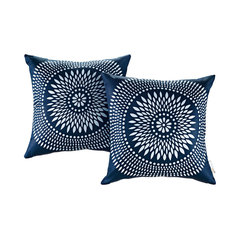 Modway Outdoor Throw Pillows, Set of 2, Cartouche
Outdoor Cushions and Pillows
Nice Touch: I purchased these to go on a garden bench outside my front entry. They really make the entry pop! The pillows are a bit thin but since they are mainly decorative, they're fine. I don't know how well they will hold up with the elements but mine are protected from the sun and rain so I'm hopeful they will last.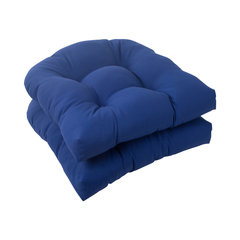 Fresco Wicker Seat Cushion, Set of 2, Navy
Outdoor Cushions and Pillows
Excellent: I have looked long and hard for cushions that were good quality as well as looking good. These cushions exceeded my expectations! I will be ordering more of these..I highly recommend these!!