Sponsored Products
Featured Reviews of Bed Frames and Trundle Units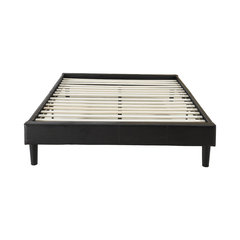 Modern Espresso Brown Bonded Leather Platform Bed with Wooden Slats, Queen
Bed Frames and Trundle Units
Easy set up no problems: Used a memory foam mattress with this platform bed and it is so comfortable...the quality of the bed is excellent, sturdy and true to size...it certainly looks as if we paid a lot more money than we did. Strongly recommend.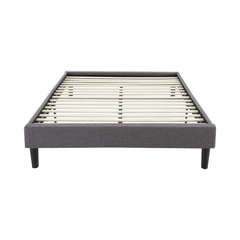 Modern Gray Linen Fabric Platform Bed with Wooden Slats, Queen
Bed Frames and Trundle Units
Impressed: The instructions may be abysmal, but if you have common sense you'll get through this lego set just fine. I'm very impressed with the frame for the price. Zero squeaks, feels sturdy, looks good with everything. Only downside is the large gap behind the mattress (the mattress rests on the slats but not the fabric edges) that pillows will fall into. All-in-all: Would recommend.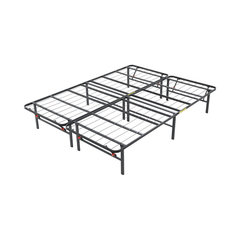 Classic Brands Hercules Platform 14" Heavy Duty Metal Bed Frame, Full
Bed Frames and Trundle Units
Very sturdy: It is very easy setup and sturdy piece. I later ordered a metal headboard which the frame already had the place for it to be attached with a bracket. Very happy with the purchase and the price.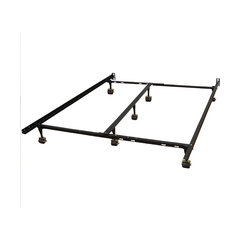 Zora Adjustable Metal Bed Frame
Bed Frames and Trundle Units
Good economical frame: The product itself is good, sturdy and economical for our purpose (guest room). Only drawback was that the packaging did not protect the ends of the frame and it was bent badly on the end where the headboard bolts into the frame. Had to improvise.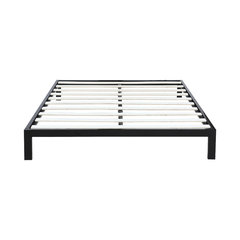 Modern 8" Low Black Metal Platform Bed Frame / Mattress Foundation, Black, Queen
Bed Frames and Trundle Units
A great bedframe: I choose this frame because there aren't any visible extra legs (there are two in the center that you can't see), it's a heavier metal than others in this price range, and it has wood slats for the mattress support. It came in a timely manner and was easy to put together, except that two of the holes didn't line up. We bought two of these frames, one in black and one in silver, and the hole problem was the case for both. For the first one, my husband filed the hole so that we could fit in the screw, and for the second one, we were able to force the screw in by holding the frame apart a bit until the screw caught and then forcing the two pieces together when tightening the screw. Now that they are assembled, the frames are great! Simple visually, sturdy, slats are good, and they look just as pictured and as we hoped. For the price, this is an excellent product - just make sure you have someone handy to help in case the holes aren't lined up perfect.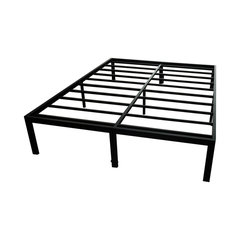 14" Steel Slat Bed Frame, Queen
Bed Frames and Trundle Units
Excellent: Instructions were not bad, but not good. Once I laid all the pieces out it got a lot clearer as to what goers where. I think it took me about an hour and all the tools were provided. I would and will buy this frame again.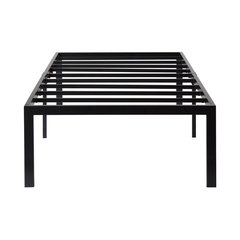 Magers Steel Slat Bed Frame, Full
Bed Frames and Trundle Units
This one's a keeper-small spaces: It's not stunning to look at, but to store those big tall bins and you can choose your own headboard..works well with our memory foam, a great deal. So far no shifting (there is not much of "ledge" to hold the mattress within the frame) easy to assemble, includes tools and hardware needed. Must for small spaces.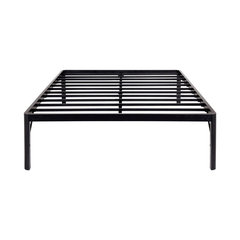 Stave 18" High Heavy Duty Steel Slat Bed Frame With Round Corners, King
Bed Frames and Trundle Units
We love it!: We love it! The quality is amazing and sturdiness impressive. We only wish we would have realized how high it is off the ground first. Either way we plan to keep and love it for a long time. ❤️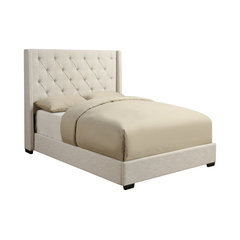 Shelter Upholstered Bed, Linen, King
Bed Frames and Trundle Units
Beautiful in person!: We just received our bed a couple of days ago and my husband put it together last night. I had been looking at Pottery Barn beds but decided to try and find an upholstered bed with a taller head board on-line for less and 'see' if it was possible to get the same look for less. This bed is beautiful! The fabric looks like a light/thin linen and I'm satisfied. This is a good way to try an upholstered bed without breaking the bank. It feels sturdy. As compared to the Pottery Barn beds the fabric 'looks' good but it's not as heavy of a fabric (not the same weight quality...fabric costs more by the weight) but as far as the 'look' it looks beautiful and I think it will hold up since I'm not sitting on the side rails or really lounging against the headboard. I have a queen adjustable bed and this works fine with an adjustable base. We didn't put on the slats and removed the little rails on the inside of the side rails that hold the slats for a regular mattress and box spring. I am pleased with my purchase and I am a Pottery Barn/Restoration Hardware girl.