Dressers and Chests
Dressers and chests are key pieces of bedroom furniture, providing much-needed storage for a neverending clothing collection. If you maintain a capsule wardrobe, one bedroom dresser might be enough while others might require two or three. Although your bedroom furniture is need-based, it's also determined by the space in your room. Before you take on the wide variety of dressers for sale, review these helpful tips:
What's the difference between bedroom dressers and chests?
A chest is a tall, vertical stack of drawers, often referred to as a chest of drawers. A dresser is a wide set of drawers with a lower profile. The layout of your room will likely dictate whether you should be shopping for a chest or dresser. A tall chest of drawers works well with limited floor space while a long dresser may be better suited for those with the desire to use the top surface as a shelf to display decor and personal items.
What size bedroom dresser should I buy?
Even though you want to have plenty of space for clothing and accessories, a large dresser in a tiny space could prevent you from maneuvering around your own bedroom. Jot down dresser dimensions and map out where it might go before you buy. Consider not only the dresser's footprint, but also the space surrounding it that you'll need to open cabinets and drawers. Also think about the the type of items you'll store in each dresser drawer. Do you need a
three-drawer dresser
or a
six-drawer dresser
? Would you rather have several shallow drawers in a
lingerie chest
or open shelves for housing DVDs and game systems in a
media chest
?
What style dresser should I buy?
For a modern look, try a simple
white dresser
or a
black dresser
. A
mirrored dresser
is inline with contemporary style, and if you prefer a more traditional look, try a
solid wood dresser
or a chest in a neutral-colored stain. You could also display some unique antique decor or vintage jewelry on top. Consider how you'll use your new dresser too. Single bathroom households might benefit from a
dresser with a mirror
where one person can get ready in the bedroom while the other showers. If bedside devices are interrupting your sleep cycle, invest in a
chest with a built-in charging station
to unplug before bed. You could even use chests beyond the bedroom. For example, use a
rustic dresser
in the dining room in lieu a buffet of to stash tablecloths and extra dinnerware.
Sponsored Products
Featured Reviews of Dressers and Chests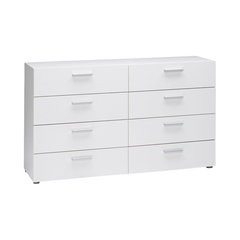 Tvilum Austin 8-Drawer Double Dresser, White
Dressers and Chests
Great purchase :): love this dresser! Its HEAVY - and takes a bit of time to put together. But very high quality for the price, looks really clean and I think will stand the test of time well. Would buy again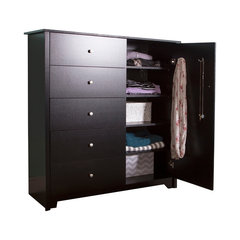 Bramble Chest, Pure Black
Dressers and Chests
Lots of Storage: Satisfied my picky teenager. plenty of storage space--drawers to the left, shelves on the right. Heavy, quality piece. Husband said easy to assemble. Modern black color to match her teen style bedroom. Happy mom, happy kid! :)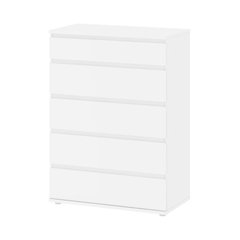 Aurora 5-Drawer Wide Chest, White
Dressers and Chests
Good Product for price: First off, you have to really pay attention to the directions. It takes critical thinking at sometimes. Most parts aren't labeled so if the picture has a part that has 3 holes in it but you picked up a part that looks exactly the same except it has two holes then you have the wrong part. In other words, to make up for not labeling most parts they make sure to draw the picture the exact way the parts are. Separate all screws before you even begin. Some screws, or what not, look the same but are a diff size. As far as the finished product goes, it's great looking! All my drawers close all the way. (The bottom slightly doesn't) Only thing is that it does not glide whatsoever. Somewhat hard to get a grip on to open as well. Other than that it gets the job done. Took me about 3 to 4 hours to put together. That's with me taking my time. I really wish the drawers weren't so stiff. Might try spraying wd40 on the slides to see what happens. Hope this review gives enough insight, considering it took me two months to decide to buy it or not.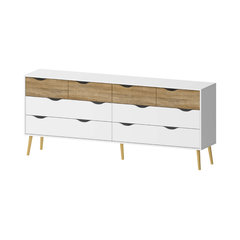 Dressers and Chests
Well constructed: Good product; took several hours to assemble, but pieces were well-machined, and it went together easily. Only drawback was a sizable dent on the main bottom piece from shipping. I was already too far into assembly to take it apart and deal with sending such a large item back. Very disappointed in the damage, but pleased with how it turned out besides that.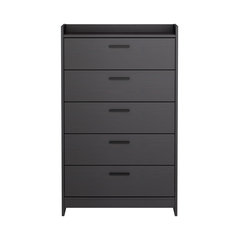 Elmer 5-Drawer Chest, Espresso
Dressers and Chests
Good purchase, we are happy!: Totally sturdy! The drawers slide easily and we are happy. I did not give 5 stars because one of the drawer's was missing the bottom piece so we cannot use that drawer (or finish assembling that drawer) until the seller send us a new piece. We ordered 2 at the same time. Assembly for the first chest was slow and it took a bit to identify all of the piece correctly, but the second chest took half the time b/c we realized that we could build the chest and build the drawers simultaneously...which you can't determine from the instructions so we had to get through one to figure that out. Also, the pieces were dirty with tons of dust and dirty out of the box. It was a mess to clean up after the assembly was complete. There were also some scratches and a corner of the chest was damaged when we opened the box. After getting it to my apt and unpacking all of the pieces, I was not going to send it back so we are living with it. also drawers only hold about 13lbs is what the instructions state, which should not be an issue for most people since the drawers are not very tall so exceeding the weight with average clothes is not likely. If the seller would add a section in front of the instructions that just stated what assembly can be done simultaneously and if they shipped all of the pieces, then I would give a 5 for sure. All-in-all, I would order again.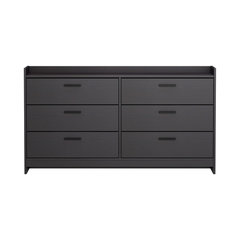 Brooklyn 6-Drawer Dresser, Espresso
Dressers and Chests
6 drawer dresser: overall very happy with look..... the quality of the dresser........... but the instructions were not very clear and some of the parts were not aligned properly to the furniture pieces.......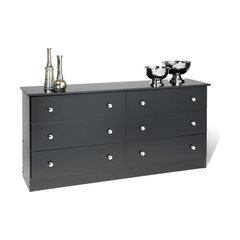 Black Edenvale 6-Drawer Dresser
Dressers and Chests
great for the price...: pleased with the dresser but lower than I wanted but that was my mistake for not checked the dimensions more carefully. It works well for the guest room....the depth is rather short but again, for our purpose it works ok. Packaging was excellent as was shipping. All parts were included and it was easy to assemble. Looks quite nice in the room. Love the length of it!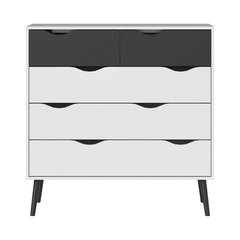 Dressers and Chests
took almost 5 hours: The instructions were a bit vague and hard to follow. this is not the first piece of furniture that I've put together. The sliders didn't make sense and the face of the drawers were not highlighted enough to show that they were different. I needed to take it apart once it was all together to move the drawer faces to match the picture. Over all experience was pretty good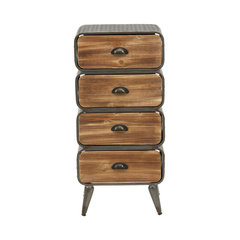 Dressers and Chests
Great Item!: Good Purchase. Very Thankful to have this item. Beautiful, Sharp looking item. A little loud with the metal drawers, especially when others are still sleeping. Would definitely buy again.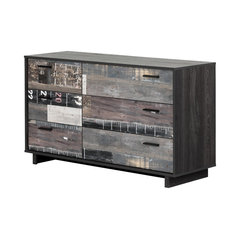 South Shore Fynn 6-Drawer Double Dresser, Gray Oak and Factory Planks Effect
Dressers and Chests
Great dresser for the price: The box is heavy, the pieces many, but once you get started it's easy to put together, just like Ikea furniture. The finish is darker than I expected (and does NOT match any similar dark taupe finish from Monarch furniture), but still very attractive. The drawers fit nicely and slide out easily. I also ordered a night stand, yet to be delivered. I would recommend this product.