Wallpaper
Because of the surface area it consumes, wallpaper packs a big punch. A wall covering is one of the easiest ways to add interest to any room. With a variety of colors, textures and patterns available, wallpaper can add dimension and personality to your space, and it is often a do-it-yourself weekend project. If you're currently trying to decide between fabric, paper, patterned or textured wallpaper designs, here is what you should consider.
What type of wallpaper material works for my space?
Home wallpaper is no longer all about floral paper designs. If you're not a fan of this old-school material or style, there are many other style and material options available.
Embossed: Great for covering walls with imperfections, embossed wallpapers are textured and can be painted. They're easy to clean and hang.


Fabric: This textile-based luxury wallpaper is tough to clean and hang, but it adds great texture and has a more trendy feel. A special clear paste must be used.


Flocks: This designer wallpaper consists of a paper or vinyl base featuring a pattern created from velvet-like raised designs. Their detailed aesthetic can be the focal point of the room, however not all types are washable or easy to handle, and it can be difficult to hang.


Foils: This metallic paper will add brightness to a room and works best on clean walls with no damage or flaws. Though it's harder to hang, it's fairly easy to clean.


Grasscloth: Woven from long strands of grass, this wallpaper design is extremely textural and has an organic quality. It's popular in more contemporary homes, though it's hard to hang and tough to remove, and you must use clear adhesive to prevent bleeding.


Vinyl: This is the basis of most stock wallpapers. It's easy to clean, hang and remove, and it works great for bathrooms.


What home wallpaper designs are available?
Subtle wallpapers do exist, but if you're looking for a "wow" factor, you'll want to enhance your space with an interesting texture or pattern. You want to pick a style that not only complements your decor but also the size and shape of the room. If you have other patterns present in the space (for example, on throw pillows, rugs or wall art), you want to choose a complementary scale. Avoid overwhelming the room by simply doing an accent wall, or stick with plain colors on linens and accessories. Also keep in mind that horizontal patterns will make a room seem wider, while vertical patterns will make ceilings feel taller. Drop patterns will distract the eye from irregularities, like an oddly shaped room.
Which wallpapers can I hang myself?
If you're applying your new wall covering on your own, you want to make it as easy as possible, especially if it's your first time. Self-adhesive wallpaper is the easiest option, because you simply peel the backing off and stick the paper in place without needing paste, water or activator. Pre-pasted treatments are also fairly easy, since they are pre-coated with adhesive and just require water to activate it.
After you pick out your adhesive type, you'll want to be sure you have enough wall material. Standard home wallpaper rolls measure approximately 11 yards in length and 20.5 inches in width. Wide width rolls are the same length but measure 27 inches in width. Be sure to measure your space carefully to calculate the number of rolls you'll need to cover your desired space, then add one extra roll just in case.
As you start to apply it, be sure the first piece is straight — it will dictate how well the rest of the pieces are applied. There are many great tutorials on the application process, so be sure that you consult expert advice if you're unfamiliar with the technique.
Is it easy to remove wallpaper?
If you're renting a place or like to change things up often, this is an important consideration and can affect the type of wallpaper you choose. Most pre-pasted and self-adhesive wallpapers are strippable or peelable with water or specified chemicals. Non-pasted varieties are usually the hardest to remove, so be sure you love it before you redecorate.
Find more popular products on Houzz
1 - 36 of 38,899 products
Sponsored Products
Featured Reviews of Wallpaper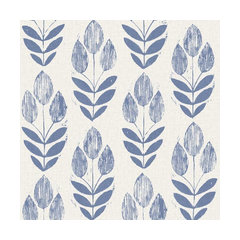 Scandinavian Blue Block Print Tulip Wallpaper Bolt
Wallpaper
Color as shown.: Color as shown. Sturdy paper. Easy to apply. Used in bathroom. Have received many compliments. Just what I as looking for to keep room light, but still add color. Hard to find the right shade of blue in wallpaper that isn't too dark and goes with white.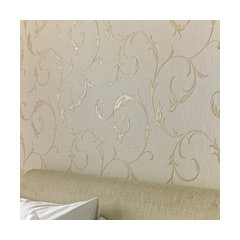 Wallpaper
Classic Elegance: Wow, is all I can say. This wallpaper is great. The background is a texture paper and the gold swirls make it an elegant touch. It was perfect for my office. I would highly recommend if you like a high end touch.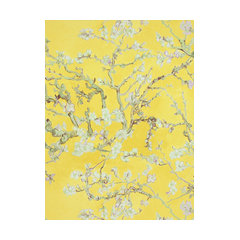 Non-Woven Floral Wallpaper For Accent Wall 17143 Van Gogh Wallpaper, Roll
Wallpaper
A Pretty Sample with Texture and Good Weight: The paper sample has a good weight which indicates it should be applied with glue. The color is deep, the pattern pleasingly subtle, and the texture rich. I am glad to have ordered the sample because it helps me in deciding where it will be used.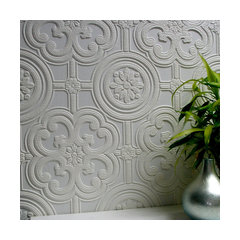 Egon Paintable Textured Vinyl Wallpaper Bolt
Wallpaper
Absolutely lovely!: Although I had a little trouble finding a clay based wallpaper paste, it went on beautifully. After reading reviews from others about using a clay based paste, I was terrified to try it. I spoke to a couple of professionals that have used clay based wallpaper paste and actually hung this type of paper, they reassured me that it really was quite easy. It went up like a dream. I put it up on 3 walls in my bathroom and will paint it a rich cream color with a plain accent wall painted a rich charcoal gray. We live in a large old home built in 1930. It was renovated completely with a modern look but still keeping a hint of the old. This wallpaper is a new and modern update to what was once old. It's beautiful with clean lines and fresh new details. I'm anxiously awaiting for the lead crystal light fixture from Houzz to put up in my beautiful new guest bathroom! I highly recommend!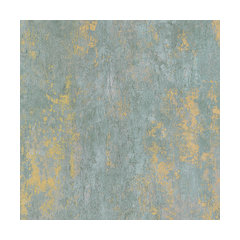 Regal Texture Blend, Aqua, Green, CS27342, Double-Roll
Wallpaper
Beautiful wall covering: The blue and metallic combination look upscale and classic. We installed in our history home that has modern style cabinetry. The product is a nice heavy weight material and was forgiving as we tugged, pushed and adjusted it during installation.... we had never installed wallpaper before. Thankfully we only had to do it on a small accent wall area, but it turned out great and we get compliments on it.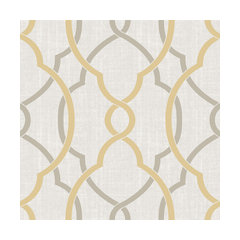 Sausalito Taupe/Yellow Peel and Stick Wallpaper Bolt
Wallpaper
Tricky: Love the final look of the paper but it was not as easy to put up. I thought I could do it by myself with no problem but realized I needed a second hand after upon laying the second panel. While its easy to peal off the wall and re-position over and over its important to make sure the wall paper backing does not touch because it was impossible to peel apart. This was a learning curve for me and I would order this product again.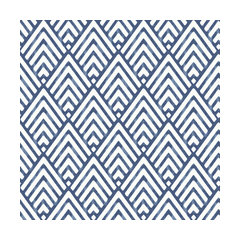 Arrowhead Deep Blue Peel and Stick Wallpaper, Bolt
Wallpaper
Bathroom revamp: Love this wallpaper. Took about three panels to find a rhythm. With a proper squeegee, ruler, and xacto I was in business. Really amps up my upstairs bathroom. Half beadboard, half wallpaper. Now to change the shower curtain and towels...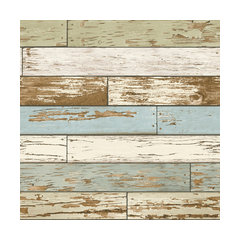 Old Salem Vintage Wood Peel and Stick Wallpaper Bolt
Wallpaper
Arrived on time to a very small town in Missouri.: Arrived on time to a very small town in Missouri. The product representation was on target. Colors were true to pictures. Application was easy as instructions said. Easy on and Easy off. I would definitely recommend this product for any use. I used in a very small room in tight quarters and it was so easy to apply. Ordering another roll to use as accent panels on cabinet.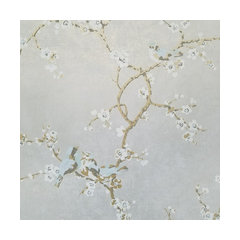 Birds and Blossoms on Silvery Gray Wallpaper, Single Roll
Wallpaper
Absolutely Gorgeous!: This wallpaper is BEAUTIFUL! I'm so very pleased with it....I used this in my downstairs half-bath. It arrived perfectly packaged and on time. Great instructions on how to hang it. I did it all myself and it turned out gorgeous. There's a slight golden sheen to it that is so pretty, the paper is great quality and easy to work with. Just spray the back with water, let it sit for a few minutes, then hang. It transformed my bathroom into a space I love being in!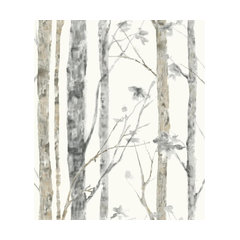 RoomMates RMK9047WP Adhesive Film Adhesive, 20.5"x198"
Wallpaper
room transforming: gorgeous! i put this on one wall in my bedroom and it looks natural on a gray wall with white, silver, and gold furnishings or colors in the room. I only wished it was rolled the opposite way because i had to roll up, instead of down. I am pleased with colors, quality and ease of application.