Beds and Headboards
Arguably one of the most important pieces of furniture you'll ever purchase, your bed can make or break your sleeping patterns. Of course, your mattress is key, but even with a great mattress you'll still have trouble sleeping if your bed is bunk. With tons of beds and headboards available, it can be overwhelming to choose just one; but if you stick to what fits your space and speaks to your sense of style you'll be sleeping pretty in no time.

The aesthetic appeal of your bed should beckon you to come sink into its layers of comfort. Along with a full range of sizes, beds also come in a variety of styles. Some may enjoy the simplicity of a platform bed, while others enjoy the functionality of bunk beds. If you love traditional decor, you may even prefer the elegant swoops of a sleigh bed.

Bed frames sometimes need a little extra spark of style, which you can find in the addition of headboards and footboards. These, too, come in a range of styles, from an upholstered headboard to a simple wooden style. Whatever you need to create a cozy space for nightly hibernation, you'll find it here on Houzz. So plump up those pillows, tuck in those sheets and catch some Zs.
1 - 36 of 25,079 products
Sponsored Products
Featured Reviews of Beds and Headboards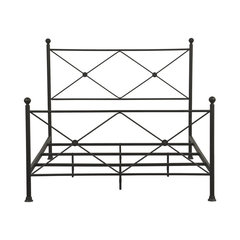 Right 2 Home All-in-One Black "X" Metal Queen Bed
Beds and Headboards
Excellent deal! Looks amazing!: I bought this frame for a spare bedroom. I didn't want to spend too much but also wanted to make the room comfortable. The frame is wondeful. It was very easy to put together (I did by myself) and is very sturdy. Looks just as pictured. You just can't beat the price.
Taren 8" Pocket Coil Mattress, Twin
Beds and Headboards
Great Mattress: I was a little skeptical when I bought this product because I wasn't sure how firm a mattress would be if it was delivered rolled up. When I opened the package I thought to myself Oh No, this thing is so thin. But as soon as I unwrapped it, it sprung up. It only took less than 24 hours for it to become ready to sleep on, even though the web site said to wait 48 hours until sleeping on it. I find it extremely comfortable and works great on my nieces bunk bed. I am planning on purchasing one for the top bunk. I didn't but them at the same time due to the fact I was unsure. But it works great so I will be buying another one.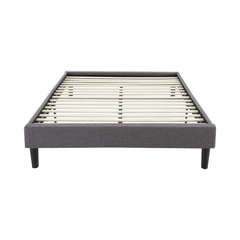 Modern Gray Linen Fabric Platform Bed with Wooden Slats, Queen
Beds and Headboards
Impressed: The instructions may be abysmal, but if you have common sense you'll get through this lego set just fine. I'm very impressed with the frame for the price. Zero squeaks, feels sturdy, looks good with everything. Only downside is the large gap behind the mattress (the mattress rests on the slats but not the fabric edges) that pillows will fall into. All-in-all: Would recommend.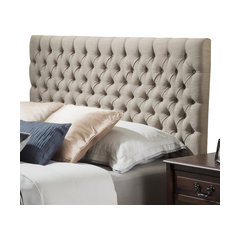 Denise Austin Home Cannes Adjustable King/ California King Fabric Headboard, San
Beds and Headboards
Love this!!: This was super easy to assemble. The came with screws and washers to attach it to our bed frame, unfortunately we had to run to the store to grab a smaller stew and nut to fit through our frames hole, but we still used the washers it came with. The height is adjustable also. We decided to put ours an inch above our mattress to create that height, but our shame and pillows cover the gap...just knows it's all adjustable to your preference :) great product for the price and came super fast.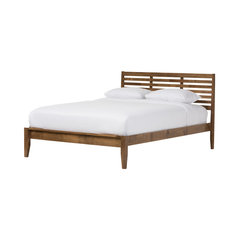 Daylan Mid-Century Modern Solid Walnut Wood Slatted Bed, Queen
Beds and Headboards
solid bed: We ordered this bed for our guest room and are so happy with the purchase! We've been looking at beds with a similar style and design that are 4-5 times more expensive. The wood doesn't feel cheap and looks decent. Assembly definitely required two people and took some time, but came together fairly easily once we figured out what we were doing. The only thing I can think of regarding the other negative review is they didn't follow the instructions exactly. They don't give you extra screws/or anything so don't lose anything. In my opinion, the only negative is the support beam under the middle of the bed is a bit flimsy, but honestly don't care that much. We've had guests sleep here a few times now and they've all complimented our bed!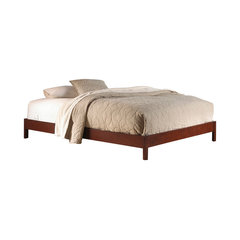 Kemble Platform Bed, Mahogany, Twin
Beds and Headboards
The Perfect Platform Bed Frame!: The Quality of this all wood platform bed frame is very good! Its one of the few that I found that actually lets the mattress set down inside, instead of laying on top. It was everything I expected from the pictures and description. This was very easy to set up, it went from box to complete set up in less than half an hour. It's very sturdy, all the parts were there, no scratches dents or dings. I would definitely recommend this product.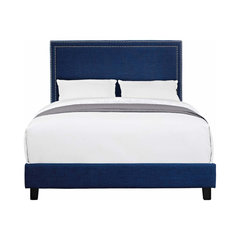 Adrano Upholstered Platform Bed, Blue, Queen
Beds and Headboards
Excellent bed: I purchased this bed for my 8 year and he is in love with his new bed. It took my husband and I less than 45 minutes to put it together. All parts came in perfect conditions. It has a beautiful color. You cant get better than this for the price . The light in the room doesn't do justice to the navy blue color of the bed plus it was night time and I was running out of battery.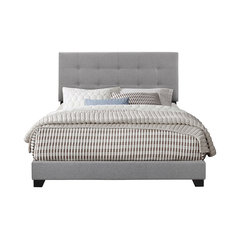 Zamparippa Button-Tufted All-In-One Upholstered Bed, Glacier Linen, Queen
Beds and Headboards
Beautiful bed: I love this bed, the linen upholstery is finished very well and the color is a medium grey. The bed was very easy to put together and the instructions were very clear. I made the mistake of thinking I did not receive all the parts, but the panels and screws are zipped into the back of the headboard. The bed is designed to hold a box spring and mattress which I really like because the mattress is high enough that it is easy to change the sheets. i also found the price outstanding, even when we converted to the us dollar and paid duties to ship to Canada. I am very happy with the overall purchase.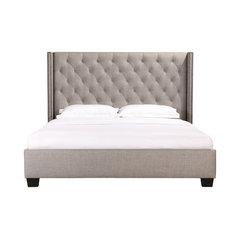 Combe Upholstered Bed With Nailhead Trim, Queen
Beds and Headboards
Combe Upholstered Bed With Nailhead Trim, Queen: This bed has such a luxe look, like something you would see at a 5-star hotel. I love the button tufting and nailhead trim. The color fabric is easy to match to existing decor as well. Assembly instructions are pretty simple, you just connect the side rails to the headboard and footboard, install the central support and then place the slats on the side rail support.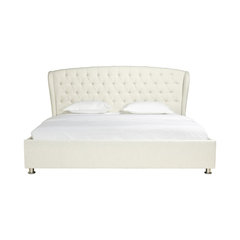 Clarissa Cream Tufted Upholstered Panel Bed With Headboard, Queen
Beds and Headboards
This bed is great quality for the price.: This bed is great quality for the price. It was easy to assemble (I was able to do much of it without a second person) and looks beautiful once it's assembled. It's a beautiful addition to our master bedroom.