Beds and Headboards
Arguably one of the most important pieces of furniture you'll ever purchase, your bed can make or break your sleeping patterns. Of course, your mattress is key, but even with a great mattress you'll still have trouble sleeping if your bed is bunk. With tons of beds and headboards available, it can be overwhelming to choose just one; but if you stick to what fits your space and speaks to your sense of style you'll be sleeping pretty in no time.

The aesthetic appeal of your bed should beckon you to come sink into its layers of comfort. Along with a full range of sizes, beds also come in a variety of styles. Some may enjoy the simplicity of a platform bed, while others enjoy the functionality of bunk beds. If you love traditional decor, you may even prefer the elegant swoops of a sleigh bed.

Bed frames sometimes need a little extra spark of style, which you can find in the addition of headboards and footboards. These, too, come in a range of styles, from an upholstered headboard to a simple wooden style. Whatever you need to create a cozy space for nightly hibernation, you'll find it here on Houzz. So plump up those pillows, tuck in those sheets and catch some Zs.
1 - 36 of 24,649 products
Sponsored Products
Featured Reviews of Beds and Headboards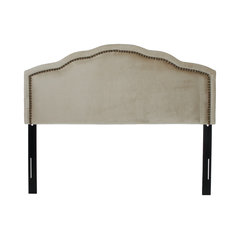 Wimbley Crown Design Queen Size Headboard
Beds and Headboards
BEAUTIFUL HEADBOARD: I was blown away buy the look and the price of this headboard. It packed in box and was in excellent condition when received. It was easy to put the legs on and It looks just like the picture. I love the color and the fabric and especially the nail head design. it looks great in my room and I'm very happy with it. I would recommend this headboard to anyone.
Taren 8" Pocket Coil Mattress, Twin
Beds and Headboards
Great Mattress: I was a little skeptical when I bought this product because I wasn't sure how firm a mattress would be if it was delivered rolled up. When I opened the package I thought to myself Oh No, this thing is so thin. But as soon as I unwrapped it, it sprung up. It only took less than 24 hours for it to become ready to sleep on, even though the web site said to wait 48 hours until sleeping on it. I find it extremely comfortable and works great on my nieces bunk bed. I am planning on purchasing one for the top bunk. I didn't but them at the same time due to the fact I was unsure. But it works great so I will be buying another one.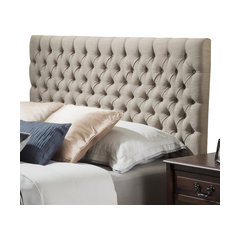 Denise Austin Home Cannes Adjustable King/ California King Fabric Headboard, San
Beds and Headboards
Love this!!: This was super easy to assemble. The came with screws and washers to attach it to our bed frame, unfortunately we had to run to the store to grab a smaller stew and nut to fit through our frames hole, but we still used the washers it came with. The height is adjustable also. We decided to put ours an inch above our mattress to create that height, but our shame and pillows cover the gap...just knows it's all adjustable to your preference :) great product for the price and came super fast.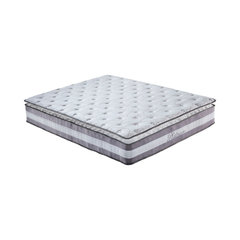 13" Plush Pillow Top Hybrid Memory Foam and Spring Mattress, Queen
Beds and Headboards
Very good mattress for amazing price: This mattress filled back to a full 13 inches within 2 minutes out of the box. This is a really good quality mattress, medium firm, not plush. I putt a $12 egg crate topper on it from Wal-Mart and now it's perfect for me. I'm a side sleeper. At 13 inches and with a topper I have to use deep pocket sheets for this mattress. I love that the mattress is so tall because now I have no need for the extra box spring. I just threw this mattress on a platform frame and was done. The big test now will be to see how many years of use I get out of a $200 mattress. If I can get 5 years before it starts sagging, I will be over the moon happy with this mattress!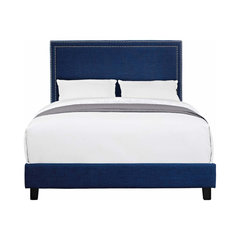 Adrano Upholstered Platform Bed, Blue, Queen
Beds and Headboards
Excellent bed: I purchased this bed for my 8 year and he is in love with his new bed. It took my husband and I less than 45 minutes to put it together. All parts came in perfect conditions. It has a beautiful color. You cant get better than this for the price . The light in the room doesn't do justice to the navy blue color of the bed plus it was night time and I was running out of battery.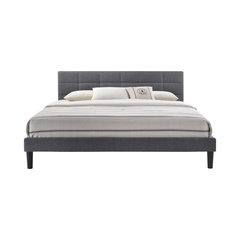 Nash Tufted Platform Bed, Gray, King
Beds and Headboards
Super easy to put together and oh so classy: My bed arrived earlier than expected big Plus already. I was able to put it together with my 14 year old son before my Hubby arrived from work, I wanted to impress him and so I did. Very happy and satisfied with my modern bed.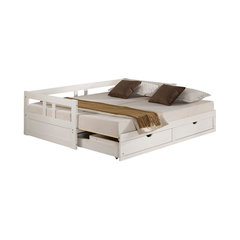 Samuella Convertible Daybed, White
Beds and Headboards
Daybed for my office/guest room: I put this all together by myself (no help from the hubs)! It took me almost all day, but I got it done. The hardest part is lining up the bed slats on each piece so the trundle will pull out without jamming. I bought 4-5" foam mattresses, and they both sit on the daybed top and fit great. I look forward to having a guest so I can see how the king bed works for them. Great price too - I have seen this same model on other sites for much more.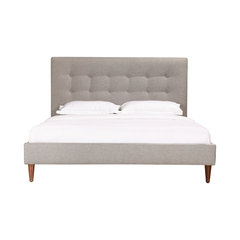 Monty Upholstered Bed, Gray, Queen
Beds and Headboards
Love this bed!: I looked all over the internet for a gray upholstered bed that is of good quality but doesn't break the bank. This bed definitely fit the bill! I was impressed at how nice it looks in person, and it was less than half the price of a bed I was eyeing at West Elm...and it shipped faster too!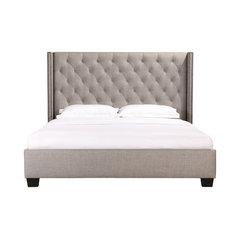 Combe Upholstered Bed With Nailhead Trim, Queen
Beds and Headboards
Combe Upholstered Bed With Nailhead Trim, Queen: This bed has such a luxe look, like something you would see at a 5-star hotel. I love the button tufting and nailhead trim. The color fabric is easy to match to existing decor as well. Assembly instructions are pretty simple, you just connect the side rails to the headboard and footboard, install the central support and then place the slats on the side rail support.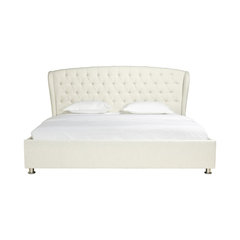 Clarissa Cream Tufted Upholstered Panel Bed With Headboard, Queen
Beds and Headboards
This bed is great quality for the price.: This bed is great quality for the price. It was easy to assemble (I was able to do much of it without a second person) and looks beautiful once it's assembled. It's a beautiful addition to our master bedroom.