About Us
For over 25 years and with over 400 locations nationwide, we've focused on doing one thing - hard surface flooring - better than anyone else. LL Flooring began as Lumber Liquidators in 1996 when Tom Sullivan, a building contractor, began purchasing excess wood and wood flooring that other companies didn't need and reselling it from the back of a trucking yard in Massachusetts. Over the next 20 years, we grew steadily and expanded our selection to include vinyl, laminate, engineered hardwood and bamboo, offering over 400 floors in both traditional looks and the latest on-trend styles. We've helped transform millions of homes across the country with digital resources like our Floor Finder tool and our Picture It floor visualizer tool, plus teams of flooring experts in store to help you with every step of your project, from inspiration to installation. In April 2020, Lumber Liquidators officially changed its name to LL Flooring in order to better reflect who we are. No lumber. No liquidation. Whether you're a new DIYer, or you're a seasoned Pro helping a client, we have high quality flooring and all the tools and services you need to bring your vision to life and transform your home. For locations and details, visit www.llflooring.com today.
Back to Navigation
Our Stories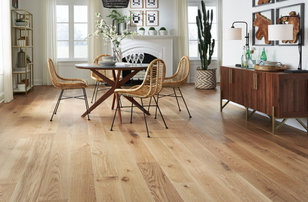 Sponsored story
Find out how to infuse your spaces with the glory of the outdoors
Item 1 of 1
Back to Navigation
Back to Navigation
Credentials
5 Houzz Awards
2 Houzz Badges
Back to Navigation
Write a Review
58 Reviews for LL Flooring
The crew we had today was awesome. They did the job in 1 day and started before 9 am and worked in almost 5:30 . The guys I had yesterday was good but didn't complete the job. But the 5 guys we had made up for it today. They even sweep my floor in all the entry ways. My floor looks great. I am super happy with the job they did. My floor looks amazing.
Relationship
Ordered material samples
I ordered three samples of LVP. I received the first one, but the order status on the other two never updated. I called to ask if they had any more information, and the representative curtly gave me a date they were showing for the order to be fulfilled. That date has passed, and one of the two remaining samples has been picked but not shipped, while the other remains open still. I understand delays, but set expectations and be polite when you miss them.
We've bought vinyl planks from the Morrisville Store, NC and got the wrong product delivered. My contractor has installed it in the laundry room and when we went to check it we realized these vinyl planks were much lower quality and not what we bought- being JUST a few days away from moving into the new house. LL Flooring manager was able to replace the product on the next day and refunded the delivery fee and the labor. Thanks Lumber Liquidators!

I purchased with you already. We had a rude salesman who told us there was no discounts, but our product was in stock. So, we ordered at full price. Then we got a call from him 10 minutes later saying our product was not in stock and he would have to order it online. He still would not extend us a 5% discount which is offered online and if we had ordered it we would have gotten the discount. Product came in, my husband picked it up and had to load it himself, no help. WOW now it's starting to get really bad. Then our transition strips never came in pushing our contractor out even further but offered us to come in and pick something close to it, this is after a month. Then once home, the product (flooring) was damaged. Called Nicole, no return for open boxes due to COVID – policy is on the door – rude and never explained anything like that to us at purchase time. No transparency only "you should have read it on the door." So, we had to purchase more, no discount – so burned us good all the way around, also pushed our contractor out again! She, Nicole, also got smart with my husband and said at least we didn't charge you for the transition strips you picked out - WOW their error and with an attitude. NEVER ORDERING/RECOMMENDING THIS COMPANY TO ANYONE EVER.
Let me start by stating I love the quality of the floors and they look great in my home. However, the installation process was abysmal to say the least and is cause for me not to return as a customer to LL. The installers did not wear masks and laughed when I suggested putting them on. This was not a huge concern of mine. Otherwise, I would not have let them in my home. However, I do believe when travelling from home to home your installers should wear masks during the pandemic. They were here until well after 9:00pm installing the floors. They disturbed my neighbors with the cutting and hammering. I was told the installation would take no more than a day but clearly they should have left around dinner time to return the next day to finish. Without permission – they used my microwave and charged their cell phones in my bathroom. Prior to their arrival, we removed all furniture and items from their path to ensure they had access to install the flooring in the designated areas. The 2 installers rearranged my furniture placing dirty items on my new sectional so that they could have access to my dining room table to eat lunch. This was very rude. I found stains and scratches on my sofa after removing the items they placed on the section. They played loud music and sang loudly while working. This would not have been an issue if I was not a work from home employee. They blocked my neighbor in her garage by parking their van in her driveway without permission.
I thought I will give LL a try. We found the floor we liked and ordered it. Samples we have been shown were great but the floor we received was extremely poor quality. They were damaged, poorly stained, some of them had holes going through the planks, they did not have 90 degrees. Some of them even had ink stains covered with lacquer. We started installing hoping the next box would be better. However, after 17 boxes we realized we won't be able to finish the project with that amount of damaged floor. I returned unopened ones to the store, but the company refuses to take back the opened boxes one claiming that I started installing the floor and then that I bought it 'as is'. I can only attach 6 pictures here, I have a lot of them. Horrible. Please stay away from them, They do not stand behind the product they are selling and falsely advertise it - showing perfect samples, but what you are getting is just bad.







It has been more than 6 weeks since I ordered my floors with them through my contractors. They have been delayed twice now. But nothing has ever delivered. Now they have no updates, no delivery, no response and no refunds. My whole project has been delayed a whole month. Please avoid and go somewhere else really care about their customers.

Installation Cost: Approximately $10,400 Size: 1100 sqft. Estimated Time: 5-7 days Start Date: May 18, 2020 Completion Date: June 16, 2020 The materials we purchased are great, were delivered in a reasonable time, and were given plenty of time to acclimate. For the rest of the review, I am going to be as fair as possible, and include any mitigating factors to the problems I experienced. I really considered not even bothering to take the time to write a review, but my wife said "I wish I had heard our story before we hired them". So I'm sharing my experience not trying to convince anyone to use them or not, rather to provide information so others can make an informed decision. The installation was a nightmare. I paid more than $10,000 for on installation services alone for an 1100 sqft project. This included building up the subfloor that was 19/32" (less than the mfg recommended 22/32" for our flooring) and nail-down bamboo. The cost breakdown was about $6600 for standard "replace existing flooring with new flooring" work, $1000 for custom work they knew about from the start (stair risers), and $2800 to build up the subfloor when they discovered it wasn't thick enough on day 2 of work. Lumber Liquidators assigned the installation project to RW Flooring. RW Flooring assigned/sub-contracted the job to Combs Custom Floors, and they assigned it to one of their installation crews. The installation "crew" was one guy and his helper. I say helper because the guy was really just there to help carry things - the installer had to explain to him how to cut and remove carpet on the first day of the job. From week 2 through week 5, my living room, dining room, master bedroom, and both bathrooms were unusable, and my dining room table was stored in my kitchen so it had to constantly be moved to open the refrigerator or dishwasher, and to open cabinets and drawers. For two weeks of that time, we were walking on bare subfloors, because the existing floor had been removed, but only a small section of the new flooring had been laid. Week 1 starts, and it was supposed to take about 4-5 days. The subfloor build up was supposed to add 1-2 days. The first week was basically completely lost because the installer only showed up for an hour on Monday (because he was still working another job even though he was supposed to start mine that day), and discovered the subfloor issue just a couple hours in on Tuesday. By the time we paid for the extra cost on Wednesday, they weren't able to send installers back out until the following week. Week 2 basically started on Tuesday, despite being scheduled for Monday. The installer was only at my house for about an hour on that Monday, too, because he was still finishing the job he took when he wasn't sure if I was going to pay the extra cost the previous week. During the course of the first week, the installer explained to me that things were moving slowly because he didn't have the right tools anymore. He sold them all when he retired from flooring to start a food truck, but when COVID-19 happened he had to go back to flooring. The installer worked 38 hours and 40 minutes this week (yes, I kept a detailed log of not just the time, but what was accomplished each day), including Saturday. By the end of the week, the dining room and living were both partially complete, and the foyer, closets, bathrooms, and master bedroom were all down to sub-floor, which had mostly already been built up. At this point, it was clear to me this was not going to be a 5-7 day job, as we were 5 days in (not counting the 3 days they were there for 1-2 hours and didn't do any real work), and it looked to be less than halfway done. Week 3 was when the real problems began. The installer's assistant wasn't back with him this week, so he was by himself (except for a few hours where a couple other guys showed up to help finish the subfloor - they were not part of his crew and were not "authorized" by LL to be there, which becomes important). Monday and Tuesday were full days of work, but by the end of Tuesday, only the master bedroom and some more of the living room had been laid. We still had the master bathroom and foyer with no flooring, the hall bathroom and coat closet hadn't even had the old flooring completely removed yet, and the living room, dining room, and hallway were still missing the last few rows of flooring. AND none of the quarter round had been laid, nothing had been cleaned up, I had old flooring in my garage and front yard still, and the custom stair risers hadn't even been started. This was the day the installer asked me to sign the paperwork saying the job was complete, because if he didn't turn in the signed paperwork that day, he wouldn't get paid until a week later. I refused to sign (as nicely as possible) until the work was ACTUALLY complete. He arrived after 1p on both Wed and Thu, and on Wed he was on his phone at his truck for three hours then left. On Thu he spent 3 hours trying to fix a problem he had created by laying all the rows in the dining room forgetting to take into account the size of the stair nose, and having to cut every row back by hand, while already laid, in a perfectly straight line (he was not successful). At this point, I contacted Combs Custom Flooring, and found out the installer told them he had already finished the project and had started his next job already (which is why he wasn't showing up as expected at my house). While I was on the phone with with Combs Custom Flooring, we fired the installer, who was at my house while telling the guy I was on the phone with that he was at another job site because he didn't want to tell them that he wasn't close to being done at my house yet. The guy from Combs told me he would come out the following week with the owner and two more people, they would be in town all week, and they would take care of everything. Week 4 was supposed to begin around 11a Monday, but I got a call from Combs saying they wouldn't be there until Tuesday. They showed up Tuesday, looked at everything, and said they would come back Wednesday and Thursday and take care of it. They came Wednesday afternoon at 1p with a crew of 3 people, fixed a few damaged boards and stair noses, and three hours later said they were leaving and wouldn't be back. They were going to send THE SAME INSTALLER BACK to finish the job, which they agreed would take him at least 2-3 more days to complete. I argued with the owner of Combs Custom Flooring for 20-30 minutes, telling him that I did not find that acceptable, we agreed to fire the guy for VERY GOOD REASONS (he's dishonest and unreliable, works too slowly, and doesn't do quality work), and I didn't want him to come back. He just kept saying "it's his job, we have to give him the opportunity to finish it". He said they never told me they were going to finish the job, they only meant they were going to fix the problems I pointed out. I was dumbfounded by this whole exchange, and ended up telling them I refuse to allow him to complete the job. They said they could "try to find another crew to squeeze me in next week". I tried contacting RW Flooring to tell them I was having a major issue with their subcontractor. The owner of that company emailed me the day the job started and wrote, "Should you experience any issues good or bad, my direct cell # XXX-XXX-XXXX or you can email any time", but he never answered his cell phone, and neither he nor his Regional Director (who I also called and emailed) returned a single phone call or email. On Thursday evening, I emailed the LL store where I bought the materials and paid for the installation, and requested a refund for the installation services that were not completed so I could find and hire someone else to do the work. I got a reply saying it had been forwarded to the "regional install manager", but I didn't hear from that person. Week 5 began with a follow-up email to LL, again requesting a refund. I was given an 800 number for customer support, and an 800 number for installs. These were general phone numbers, mind you, not direct numbers to someone who could immediately help resolve the problem (not the "regional install manager", whose number I had requested). While in the queue for the "installs" line, I FINALLY got a call from the Regional Director at RW Flooring. I yelled at him for not returning my call Wed night, Thu, Fri, Sat, or Sun. I told him at this point I'm not even willing to let him keep the job at all, I'm going to find someone else. He asked if there was anything that could change my mind. I said bring a competent, professional crew of at least 4 people to my house tomorrow and be completely, 100% done by the end of the day. He called me back an hour later and said he had a top notch crew from Nashville that would come to Louisville the next day and get it done. I talked to the owner of that company who said he would come from Mississippi with his crew to make sure it got done right. They arrived on time, and were done by 6pm on Tuesday. So, really long review that comes down to this. LL uses lines like "Just select your floor, we'll arrange the rest", "We'll be with you every step of the way, ensuring that each stage of the project is a success", and " enjoy peace of mind from start to finish" to promote/sell their installation service. It was one of the primary reasons we even considered LL when trying to decide on the flooring we wanted. But in my experience, those statements are completely false. LL left me to deal with the contractors they employed myself, and really offered me no support or recourse when I had significant issues. The store manager was sympathetic to my plight, but unable to help me himself. They gave me no hassle at all about returning unused materials, getting a refund on the work I did myself (I removed toilets and at the original installer's direction, despite me having paid for it already, and moved the furniture when the job was complete because the final installers had no idea where anything came from) and gave me a couple free bottles of scratch remover and a cover-up pen. It took way too long and was an incredibly maddening experience. My wife cried about it, and I'm not too proud to admit that I felt like crying more than once, too. They did not protect any of the furniture or put up any plastic or anything to contain debris and sawdust, they didn't clean the glue squeeze-out as they went, and the floors were swept, but not cleaned, when they were done, so we've been pretty non-stop cleaning since they left. In the end, we're pretty happy with the floors, but there are some issues that I guess we've just resigned ourselves to living with. The dining room flooring has small gaps between the ends of the rows, and the stair nose they come up against. There are some minor protrusions from face nails. The new subfloors are uneven, with dips and bumps in places - our bedroom door had to be cut to allow it to open over a bump in the floor, so now there's a 1" gap under the door when it's closed, and there are a couple places where you can feel that one board is "lower" than the others around it. With LL, I think it all comes down to who does that installation. The problem is, in my experience they engage both ends of the spectrum - really top tier installers who take pride in their work and are professionals, and bottom dwellers who just want a paycheck but don't want to do the work and unprofessional and uncaring about how that affects the customer. And since the customer has no control over which one they get, I would not recommend using Lumber Liquidators.
BEWARE! LL supplied my floor. It was not the one I ordered. It was installed. Now I have to Pay to tear out and re-install! Not to worry...They offered my a $200 discount! What an incredible insult!

Comment from LL Flooring:
Hi there Ron - We're sorry again to hear you had a poor experience. On your previous comments you were provided the phone number for Customer Care. The best channel for assistance is through that team. They have access to your information and can help with details. We'd urge you to reach out again to 800-366-4204 if you have additional questions. In the meantime, here is some information which can be found on our website and within your order information:

- You are responsible for final inspection as to grade, color, finish, defects and other quality issues. If dissatisfied, DO NOT INSTALL. You are solely responsible for following installation instructions, checking moisture levels in product and subfloor, and ensuring that the product purchased is appropriate for its intended application and jobsite conditions prior to installing.

We hope this helps!

- LL
Zero stars, if I could. I had a wood floor put in by them and they were awful. Late every day EXCEPT the day they wanted payment, then he was here waiting before the time agreed upon. They were awful, did a terrible job. I ended up with glue all over the top of the hardwood floor as well as on every appliance, cabinet, wall, and several boards had to be changed out. One board buckled and it had NO lock pieces on it, they had cut them ALL off! They used my furniture to cut wood on! Slid my fridge in over a PILE of wood cuttings and left them there for me to find when I moved my fridge to paint! My electricity bill was over $400.00 and it was winter! They were here for twice as long as they were supposed to be. They were rude and condescending and left trash in my driveway. I won't even get into the gouges, scratches and scrapes on the brand new wood floor, I have about sixty photos of them. One guy said he couldn't do the work properly because he had back surgery recently! I asked him "why didn't they send someone who could do the job"? He made a noise like I was asking too much! I vowed never to have one of those people back into my house so I bought woodworking tools, learned how to use them and finished the job myself, replacing boards that needed it. It looks great now, no thanks to Lumber Liquidators! If I had it to do over I would have installed the floor myself. I wanted to sue them for damages but the attorney said I had to let them in my house to try to fix it. Never going to happen!



Third Space Builders, LLC.
Lumber Liquidators has a variety of unique hardwood floors that we have used for some of our interior projects. The staff is very helpful and we would like to recommend Lumber Liquidators to any company looking for professional style flooring at a reasonable price.

Space Planning Technologies Inc.
I have sourced beautiful wood flooring from Lumber Liquidators on several high end projects over the past 10 years. They have a wide selection and range of product and very quick turn around times. Most importantly, my clients have been happy with the quality every time. I will continue to use them for future projects!

Back to Navigation
Back to Navigation