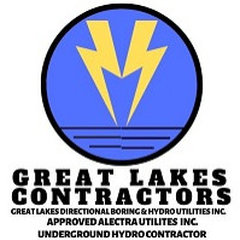 Great Lakes Contractors - Directional Boring
General Contractors
About Us
DIRECTIONAL BORING Underground hydro service lines can be installed using this method, also known as Horizontal directional drilling (HDD). This is a trench-less, accurate, and cost-effective method that does not interrupt power service to the public and other buried infrastructure lines in the work area. This method is usually employed in urban locations where conventional trenching methods is not an option. HYDRO INSTALLATION FOR CUSTOM HOMES Homebuilders and developers require hydro service installed on their projects. We work closely with home builders and local hydro distributor companies to make sure the facilities installed for underground services are up to code and standards for each unique homes. TEMPORARY POWER Temporary power poles bring power to the job site from overhead electrical lines during the construction phase of residential or commercial projects. We make sure the temporary power service installed is approved by ESA (Electrical Safety Association) and the pole is retrieved after permanent power has been installed on-site. MINI EXCAVATION & BACKHOE SERVICE Our mini-excavator service typically covers medium-sized demolition projects, mining, driving piles, and overall large-scale industrial projects. Our backhoe service is smaller and adaptable for farming, snow removal, loading jobs, and small-scale construction and excavation projects. HYDRO VAC EXCAVATION This careful method removes soil to expose critical underground utilities. HydroVAC excavation uses high-pressure water and an industrial-strength vacuum to break up soil and collect debris in the work area. Unlike the traditional hand digging method, the process is safe and efficient. INSTALLATION OF CONCRETE VAULTS Sensitive telecommunication, electrical, and mechanical contractors use precast vaults for housing switching, connecting or splicing equipment, and other utility purposes. Concrete vaults are uniform, strong, durable, and economical. These vault installations house expensive equipment that's essential to your business or company running smoothly.
Services Provided
Barn Design & Construction, Custom Home, Demolition, General Contracting, Home Additions, New Home Construction, Roof Installation, Site Preparation, Waterproofing, Excavating, Fire Damage Restoration, Mold Removal & Remediation, Water Damage Restoration, Yard Waste Removal, Underground hydro installation, Residential directional boring, Directional drilling, Directional boring, Telecommunications underground cable
Areas Served
Mississauga, Hamilton, Markham, Niagara Falls, Toronto, Vaughan, Niagara-on-the-lake, Guelph, St. Catharines, Brampton, Maple, Barrie, Port Colborne, Halton Hills, Georgetown, Oakville, Bolton, Greater Toronto Area, Niagara Region
Awards
LISTED AS A PRE-APPROVED CONTRACTOR FOR ALECTRA UTILITIES INC.
Back to Navigation
Back to Navigation
Business Details
Business Name
Great Lakes Contractors - Directional Boring
Phone Number
(416) 320-5898
Address
Mississauga, Ontario L5C 1W4
Canada
Followers
Back to Navigation
Reviews
You could be the first review for Great Lakes Contractors - Directional Boring
Select your rating
Back to Navigation
Contact Great Lakes Contractors - Directional Boring