About Us
Yavapai County's Notable & Prestigious Interior Designers
For over two decades, Stephanie Larsen has been celebrated for her ability to transform spaces, taking innovative and deeply personal approaches to serving her clientele. A true storyteller, each project extends an artful celebration of the simple joys of living well through a blend of traditional and modern design that is instantly recognizable, and equally unforgettable.
Services Provided
3D Rendering, Art Selection, Bathroom Design, Bedroom Design, Closet Design, Color Consulting, Custom Bathroom Vanities, Custom Blinds & Shades, Custom Bookcases, Custom Built-ins, Custom Cabinets, Custom Entertainment Centers, Custom Fireplace Mantels, Custom Furniture, Custom Home Bars, Custom Kitchen Cabinets, Custom Murphy Beds, Custom Rugs, Custom Walk-in Closets, Dining Room Design, Downsizing, Drafting, Entry Design, Floor Plans, Furniture Selection, Home Theater Design, House Plans, Interior Design, Kids Bedroom Design, Kitchen Design, Laundry Room Design, Lighting Design, Living Room Design, Mudroom Design, Nursery Design, Playroom Design, Project Management, Space Planning, Wine Cellar Design, Home Office Design, Kitchen Remodeling, Remodeling
Areas Served
Flagstaff, Sedona, Village of Oak Creek (Big Park, West Sedona, Scottsdale, Prescott, Available Nationally
Awards
Voted Best Interior Designer by Kudos Magazine in Sedona 2009-2021, ASID Design Excellence Award Winner - Gold 2020, ASID Design Excellence Award Winner - Bronze 2021
Back to Navigation
Our Stories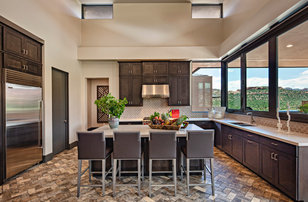 Sponsored story
Learn how to combine modern design and organic elements from a Sedona interior designer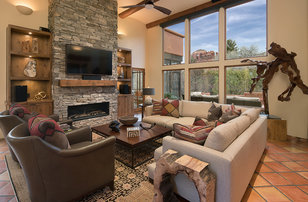 Sponsored story
A Sedona interior designer shares ways to revitalize and transform your traditional interior
Item 1 of 2
Back to Navigation
Back to Navigation
Back to Navigation
Featured Review
Stephanie Larsen has a reputation for being a true professional with exceptional design knowledge and experience.
Read Full Review
Write a Review
26 Reviews for Stephanie Larsen Interior Design and Associates
Average rating: 5 out of 5 stars
5.0
|
26 reviews
Stephanie Larsen tastefully exucuted a flawless design for Sedona Vacation Villas' new Hillside Villa. Her custom designed pedestal sink crafted from a tapered slab of quartz stone has been a huge hit with our high end vacation rental guests. Each guest suite has its' own distinctive signature yet all her designs are magically woven together with an overall theme of both comfort and luxury. Guest reviews have all been FIVE STARS and we rarely have a guest who doesn't ask us where we got "this" or "that". Not to mention, Stephanie is a detailed oriented upbeat person who is an absolute joy to work with, even when things get stressful. Her organizational skills made ours lives easy. I don't think you could find anyone better in Arizona than Stephanie.

Comment from Stephanie Larsen Interior Design and Associates:
What a wonderful review Jerry, thank you. It was my pleasure executing a beautiful design for your vacation villa here in Sedona! I am happy to help your clients with whatever they love from the villa. I look forward to working with you again in the future!
Stephanie has an incredible skillset that includes a keen eye for cutting edge design, while making a space feel like home. She is very knowledgeable with lighting and how to best showcase a fixture to create that WOW factor. She is fun to work with, very patient, and diligent with details. You're in good hands when Stephanie is on your team!
I have worked with Stephanie on multiple designs for the past 10 years. She is exceptional with colors and with customer's. She listens to customer needs and desires as to what they want or looking for in their design. Stephanie seems to have the gift taking a design to new levels with her customers and exceeding what they were anticipating. From flooring to furniture to cabinetry and countertops, pastel's and paints, Stephanie is the best and I HIGHLY recommend her talent to everyone in need of a designer. Sincerely, Curt
After months of indecisiveness on how to go about improving our living space, my husband and I hired Stephanie Larsen for some much needed guidance. It was a smart decision. Stephanie is friendly, professional, attentive, and incredibly talented. The flooring, trim and paint color she picked out for us completely transformed the space. Our entire main room and kitchen area went from sterile and unremarkable to warm, elegant and inviting. We couldn't be happier with her work and look forward to enlisting her help again to pick out furniture, window treatments and area carpets. Two HUGE thumbs up for Stephanie Larsen Interior Design!



Stephanie had a wonderful vision on how to transform a dated southwestern house into our beautiful contemporary home. We enjoyed working with her and appreciated how she listened to our concerns and guided us with kindness toward an amazing outcome.


Over the last year I have had the pleasure of working with Stephanie on her social media and digital presence as well as a range of PR strategies. Having worked with a wide range of clients throughout my time in this business, I can confidently say that Stephanie is the best of the best. Her professionalism, willingness to receive and offer feedback, listen and cultivate truly personal relationships with everyone she works with has made her and her firm a strong and highly regarded presence throughout Northern Arizona and beyond. I cannot recommend Stephanie enough if you're looking to revitalize and transform your space, my experience with her has been nothing short of wonderful and I can guarantee your's will be too.
Relationship
Received an estimate
Stephanie came to my home as a consultant. Within a very short time, she was able to give me suggestions on paint colors and flooring. Her expertise in this area, updated my home and gave it an entirely new and fresh look. Her input was invaluable. She was very professional and to the point. I will definitely use her again.
Stephanie Larsen has a reputation for being a true professional with exceptional design knowledge and experience. I found her to be all those things but also creative, intuitive and a pleasure to work with. She immediately understood how I wanted to transform my newly remodeled home into a clean modern space but still maintain a warm cozy feel. After our first meeting Stephanie selected samples and prepared a detailed design package of all the artwork, furnishings, and accessories she felt were my style and would be ideal for my home's indoor and outdoor spaces. I was so impressed with the beauty, quality, and functionality of everything she picked out and could not think of anything I wanted to change. Stephanie communicated with me through every step of the process and facilitated the staging, inspection and delivery of all my items. Stephanie is extremely passionate about what she does and will treat your home as if it were her own. She will be there from start to finish and beyond. Everyone who visits my home talks about how Zen and cozy it feels. Thank you, Stephanie, for my wonderful transformation!

I have collaborated with Stephanie on many projects. She is friendly, professional and extremely talented. She listens to her clients and creates spaces that they love. I worked with her on renovation projects and projects from the ground up. The results have always been spectacular. I would highly recommend her services!

I recently went up to Sedona to work on two projects for Stephanie Larsen Design. She contacted other designers in Scottsdale and asked who they worked with and luckily she chose my services. My experience was nothing short of wonderful working with her. She is admired immensely by the community of Sedona which she has spent the last 20 years doing her magic for her clients. I can always tell when a professional like Stephanie loves her work - her passion is unequaled and contagious to be around. Just a absolute dream to work with. She can take on any project for her clients style wise and deliver what they want and not dictate her preferences - which is a rare quality for highly artistic designers. I hope we have a long and productive relationship together helping each other achieving our professional goals. Sincerely Steve Thompson





Comment from Stephanie Larsen Interior Design and Associates:
Steven, YOU are a dream to work with and I can't imagine working on a project without you. You have really made my projects come to life and you have helped me to capture the design of my projects beautifully. Thank you so very much for the wonderful review!
Stephanie was professional, helpful and extremely creative. She was able to put together my entire home from the start to the finish, and make it look like a model! She worked with me since I hadn't done this in the past and it exceeded my expectations!
Stephanie is a consummate professional. Her creativity is evident in her beautiful and varied projects, a confirmation that she is never at a loss for ideas to make each one different from the last. I have had the pleasure of working with Stephanie for years, and her warm and approachable disposition allows her to create easy, comfortable working relationships with her clients and vendors. Her priority is to design stunning interiors while catering them to her clients tastes and needs. She is organized, focused and detailed in every aspect of her work. Without reservation, she is one of the best designers in Arizona.

Stephanie is great to work with. She is extremely detailed oriented and wants to make sure her clients get what they want. I'd work with her any day.
Our remodel job was very much a collaboration. Nothing 'dictated', she listened and valued our ideas and as a result we were able to get to something even better than imagined. She also was our advocate with suppliers and contractors, facilitated where necessary and intervened as needed upon our behalf. A really nice experience, highly recommended. 5 stars!
I have worked with many designers though the years. None compare to Stephanie Larsen! So lucky to have found her in Sedona, AZ for our new construction. She is a true professional, has impeccable taste, and is wonderfully creative. Stephanie listened to our wants and needs and has an intuitive sense for what works. Stephanie advocates for her clients and is an absolute joy to work with...we have so much fun! We are thrilled with our stunning new home. I would work with Stephanie again in a heartbeat. Highly recommend!!
Stephanie Larsen did outstanding work for us on a recent major renovation and we love the results! We found Stephanie was easy to work with, as well as thorough and prompt. She listened carefully, then delivered a design that incorporated our needs and wishes. She used high quality products and finishes within our budget. She also incorporated existing features that I wanted to keep, making everything work together for a totally coordinated, updated fresh space that is more timeless than trendy. Our renovation required the use of several contractors and vendors, and it quickly became apparent that Stephanie has a good rapport with them, because they were committed to her, always working to get things done right and in good time. For example, when one item arrived with a very small flaw that might go unnoticed, Stephanie advocated for us and the vendor changed it out immediately. I absolutely love the beauty of the design and my husband is very pleased with its functionality. We both agree that it is a wonderful upgrade and we are so happy we did it!
Wonderfully talented and exceptionally gifted with a keen eye for creating each detail within the wider vision of each room and home. Stephanie is a true professional. Warm, energetic and easy to communicate with, she has helped up create a beautiful home. 5 stars for sure!

Stephanie is super talented. We can't say enough how happy and thrilled we our with the results of the entire home project. She captured our personalities and didn't need much direction - but was able to get confirmation that we were on the same page and then keep things moving in a timely fashion. The final results have been a dream for us and I highly recommend Stephanie in the highest way possible. Down to the tiniest details, she gave our home a makeover in all the right ways.
We renovated the kitchen, living room, library, full bath and dining room. Stephanie assisted us in the design phase as well as paint colors, furniture and accessories. She is wonderful to work with, honest, and hard working. She helped the project move forward quickly and was always available for questions or assistance. She worked well with our contractor and other trades. I would whole heartedly recommend her to anyone.
Stephanie did major interior design work regarding my 4,000 sq. ft. home in California. She is very professional. I like her style...she listens carefully and is able to integrate your interests and lifestyle into her design vision for you. Her work quality is the best. Stephanie kept her word on timeline (four months) and stayed within my budget. She is educated, knowledgeable, and gifted in her field. I HIGHLY recommend her!
Stephanie new exactly what to do. Our kitchen remodel turned out even better that we thought! She is organized, skilled, on-time and returns phone calls! It was a pleasure working with her. I will be happy to recommend her. See the before and after pictures below.


My wife and I are extremely pleased with Stephanie's knowledge and experience. She listens and communicates well and is not afraid to steer you in another direction if in your best interest. This is our third home to renovate and decorate and Stephanie gave by far the best advice. She is decisive and yielded the contemporary look we desired. We actually had fun with this project and this has not always been the case. We highly recommend Stephanie without reservations and commend her for a job well done
Stephanie Larsen helped us create our dream home. And we could not recommend her more highly. She's a gifted designer who listened to us about our desire to create not just a beautiful home but a home we could live in. We ended up doing a significant remodel. Throughout the entire process Stephanie was skilled at asking us great questions that made the design better. She was also a tremendous advocate with suppliers and contractors to have things done perfectly. That was important because for most of our project we were not in Sedona. We wanted a designer who was incredibly skilled. We got all that plus a person of tremendous integrity. We are so grateful we were able to work with her. We have worked with designers before but none compare to Stephanie.
Our realtor did an excellent job in helping us to find a home that we are exceptionally happy with. He crowned his work by recommending an outstanding interior designer, Stephanie Larsen. We can describe Stephanie as being professional and extremely goal directed. Her goal was to provide us with the guidance needed to produce an elegantly furnished and accessorized home. She is expert in blending textures, colors and designs in to a beautifully crafted finished product. Stephanie clearly made an effort to assimilate our preferences in the plan that was the framework of our home's furnishings and the end result was the product of her expertise and our tastes. She was effective, prompt, reliable, focused and persistent thus making it easy for us to work with her. She has excellent support staff and resources and we feel this broadened the scope of what was available to us. We highly recommend Stephanie and look forward to continuing working with her.
Stephanie was engaged to consult by us on a new home being built in Sedona during 2013/14. From paint and plaster finishes to the color of the roof tiles and everything inside the house, Stephanie's attention to detail and sense of style is wonderful. We found she would listen to what we trying to achieve and then put it together in clever and sometimes unexpected ways. The whole process was very collaborative and the end result worthy of a magazine cover. The general reaction we get from new guests at the home is "WOW!"

QC Quality Construction Company
Being a general contractor it is important to me that decisions are made on time as to not delay the building process. I can always rely on Stephanie to make those decisions and implement a beautiful design. She is always very professional and I prefer having her expertise on all of my projects my company undertakes.
Back to Navigation
Back to Navigation
Contact Stephanie Larsen Interior Design and Associates
| | |
| --- | --- |
| | Stephanie Larsen Interior Design and Associates |
Typical Job Cost $50,000 - 2 million


Depending on the scope of work each project varies