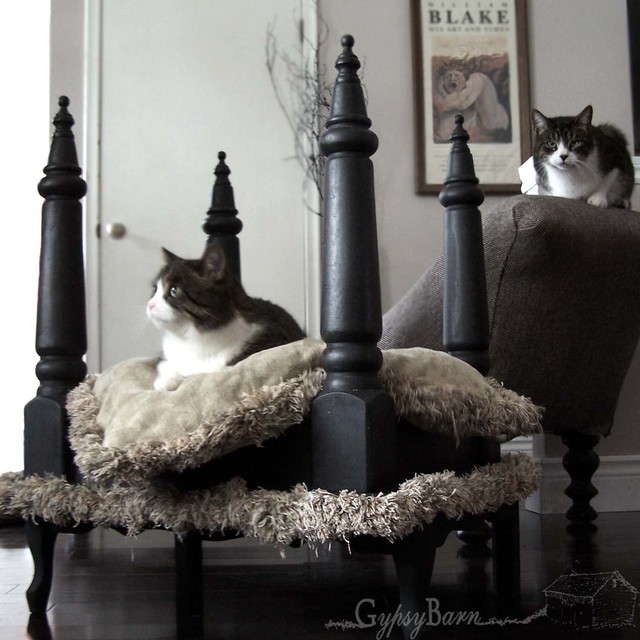 Custom Furnishings
, Toronto
A lovely 4 post bed for those super spoiled kitties! We took an old oak end table, flipped it, added some feet to the bottom, some cute toppers to the upside down legs, and of course a nice golden pillow to perch on! The other pillow we had was wrecked, so we took the fringe off the sides and added it to the bottom of the bed for a nice dust ruffle effect :)
What Houzz contributors are saying:

Dr Lisa Chimes added this to How to Find a Rescue Cat That's a Good Fit for Your Household
Jun 15, 2018
Should you adopt more than one cat? Reducing boredom and increasing physical activity are important for cats' overall health and well-being, and having multiple cats at home can help accomplish these goals. Kittens do very well in pairs — they will be great companions and keep each other entertained, which is something to consider if they are going to be left alone for long periods. Sometimes you can adopt two bonded adult cats, which is a great option if you are not keen on kittens.

What Houzzers are commenting on:

Georgia Madden added this to bathroom bliss-discarded
Dec 11, 2017
Tell usHow do you keep your pet-friendly home clean and fresh? Tell us in the Comments below. And don't forget to like, share or bookmark this story. Join the conversation. MoreGet more cleaning tips