Sponsored Products
Featured Reviews of China Cabinets and Hutches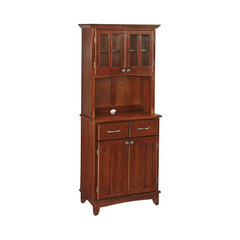 Buffet of Buffet With Wood Top and Hutch, Medium Cherry
China Cabinets and Hutches
Great Value: A bit of a pain to put together, but well worth it. I use mine as liquor storage in an apartment. It is the perfect size. It's real wood, and a great value. I am an experienced hobby woodworker, and I could not believe how nice this piece is, for a few hundred dollars. The wood alone should cost that much. It certainly exceeded my expectations.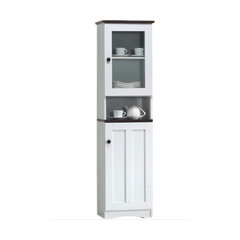 Lauren 2-Tone White and Dark Brown Buffet and Hutch Kitchen Cabinet
China Cabinets and Hutches
Great Cabinet: Took a long time to put together, but it ended up being worth it. The cabinet is really attractive, has a lot of room, and seems relatively sturdy. For the price, I wish the back was particle board, rather than tacked on cardboard.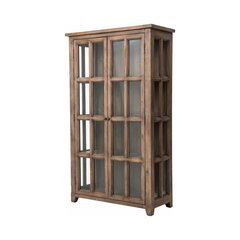 Irish Coast Large Display Cabinet
China Cabinets and Hutches
SUPERB CRAFTSMANSHIP!!: One day while looking at homes I saw this cabinet in one of the models. I knew then I had to have it. After extensive research I found this on Houzz.com. I immediately ordered it and received an email from Eva saying that the cabinet was out of stock but should available in a couple of weeks. Two weeks later Eva emailed to tell me that the product was back in stock and would be shipping in the next couple of days. I received the cabinet today and I couldn't be happier. It is stunning!! It's well constructed, came in 1 piece and the craftsmanship is just incredible. You never know what you're going to get when you order furniture online and trust me...I was hesitant. I'm so glad I took the leap of faith and ordered it. You won't be disappointed. Thanks Eva!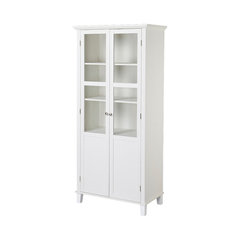 Eleanor 2-Door Storage Cabinet, White
China Cabinets and Hutches
Built-in look without the price: Just made a few modifications on my table saw and I have what looks like a high end kitchen. They were easy to put together except for the backs. The Backs come in 2 pieces and getting them seated in the groove that doesn't line up well and joined in the center at the same time is a definite challenge but it all looks great in the end.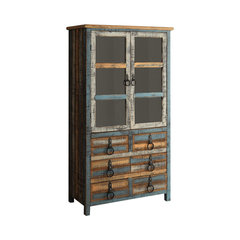 China Cabinets and Hutches
Excellent choice: We needed a cabinet for our guest room that was not too big but with drawers and glass doors to display family pictures. The colors are pretty for our coastal home. Very happy!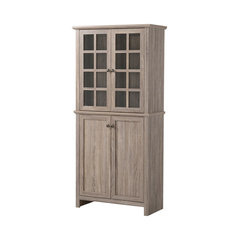 Homestar 2 Door Glass Storage Cabinet, Reclaimed Wood
China Cabinets and Hutches
Nice Cabinet: Order arrived on time. Easy assembly, solid construction. Only issue I have is shelves will not line up with slats on front of glass doors making it look uneven when viewing items in glass door cabinets.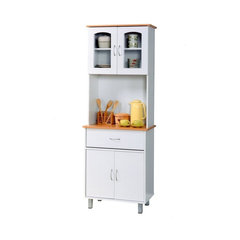 China Cabinets and Hutches
Love it.: It does come in many pieces but I expected that. My husband is a retired home builder and remodeler so he is very handy and is also very familiar with cabinet assembly. It took a while but the finished product is terrific....sturdy and attractive.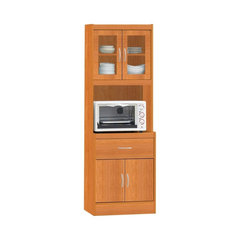 China Cabinets and Hutches
Overall good: The product and assembly instructions were all very good. Delivery on time. I wish they had clear dimensions and better way to visualize and match the color. The color on the actual product is darker than on the picture.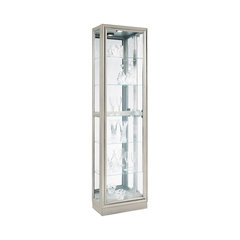 Pulaski Silver Curios Curio
China Cabinets and Hutches
fantastic surprise!: the cabinet just arrived in my home today, and i have to say that even though others were pleased with the quality of this piece, i am stunned at how beautifully made the pulaski silver curio really is at such a remarkably low price. it truly looks possibly 3 times more expensive than it was. fit-and-finish is great, and looks amazing in the space for which i ordered it. well-packaged for shipment; all put together already but for the glass shelves you'll position as desired. you can buy this one with confidence.