1 - 36 of 65,145 products
Sponsored Products
Featured Reviews of Contemporary Artwork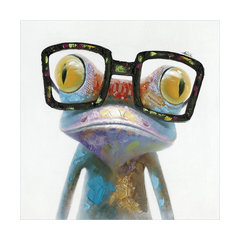 "Hipster Froggy" Decor Original Painting, 40"x40"
Contemporary Artwork
Cutest frog ever!: The colors are very vibrant. Stretched canvas over wood frame. Comes ready to hang. I have black and white Frog wallpaper up in my craft room and this is the perfect accent. Reminds me of my cutest ever grand daughters that all wear glasses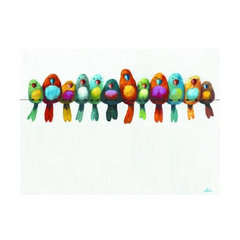 Yosemite Home D'cor Original Painting: Birds on a Wire III, ARTAC0436C-REV1
Contemporary Artwork
This is Perfect: I have had so many compliments on this picture, and I have not had a chance to get it hung up yet. LOL! It catches everyone's eye the minute they walk in the door. Thank you Houzz!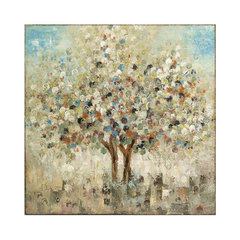 Imax Seasons Hand Painted Oil Canvas Tree Painting Blue Beige 36" x 36"
Contemporary Artwork
Fine: This is the second picture I've ordered from Houzz. I loved the first painting because it exactly met expectations. In this one the colors were just right, but the texture of the painting was less pronounced than I thought it would be.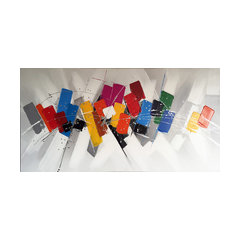 Wall Decor Painting Saturday Morning Abstract
Contemporary Artwork
perfect decor: I looked around for other abstract paintings but was not able to get the price range I needed and the design I was looking for. The Saturday Morning Abstract was the perfect design and price range I needed. Looks great on our wall.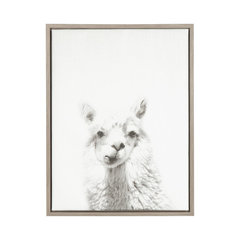 "Alpaca" Canvas Wall Art, Black and White, 18"x24"
Contemporary Artwork
Alpaca Aficionado: Every house needs a bit of whimsy in its design. This art piece added that to a grouping behind our living room sofa. If you've never visited an alpaca farm, you might want to consider it - they will make you laugh!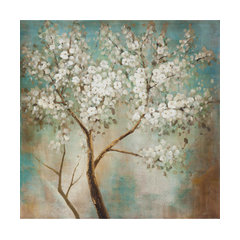 Tree, Bloom Original Hand Painted Wall Art
Contemporary Artwork
STUNNING: This print is even prettier in person...the colors are vivid and rich and compliment my color scheme so beautifully. The frame is well constructed and it is ready to hang. I am so delighted with this purchase.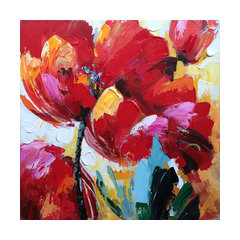 Hand Painted Flowers Wall Decor Artwork IV
Contemporary Artwork
Very Attractive Piece: The actual art is more vibrant than the image (which is pretty vibrant, imo). I haven't hanged it yet, but it's better in a spot that you look at the art from a distance rather than close-up.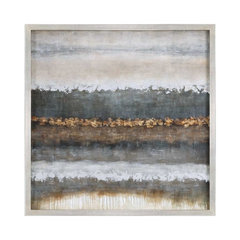 Uttermost Layers Landscape Art
Contemporary Artwork
Beautiful statement piece: This landscape art is very large and makes a great statement in a large dining room wall. Needed a piece with impact power in an other wise version ordinary room; this did the trick!! Very happy:)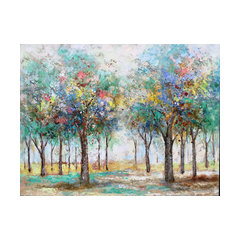 "Colorful Trees I" Hand Painted Oil Canvas Artwork; Modern Art; Fine Art
Contemporary Artwork
A beautiful addition: i him this in my foyer and it brought life to a very bland wall. the colors are not overwhelming and the size of this piece is perfect in addition to my other are work. great addition to my home!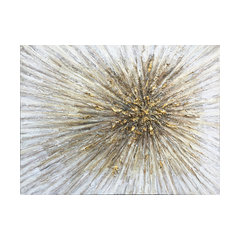 "Gold Spikes" Hand Painted Canvas Art
Contemporary Artwork
Even better than anticipated: I was abit worried about the yellow not being vibrant enough per a review for a similar product. I was pleasantly Surprised, had set the bar low as it would be a bedroom wall piece, but it draws the eye every time one enters the room and looks beautiful. Very pleased with it and the way it transformed the space.