Cookware
If you're an avid home chef, finding the right cookware is key. Pots and pans are used on a daily basis, so they need to withstand frequent use and abuse. We all need the basics — skillets, frying pans, saucepans and stockpots — though specialty items such as dutch ovens and woks also help us prep our favorite meals. As you prepare to splurge on new pieces, be sure to consider the following to find the best cookware for your needs:


What types of cookware should I buy?

One of the easiest ways to stock up is to buy a cookware set. They usually range from seven- to 15-piece sets, though of course there are more specialized options for the expert cooks. At the minimum, your cookware collection should include large and small saucepans with lids, a stockpot with a lid and a fry pan. For more diversity, mix in a covered saute pan and a smaller frying pan or skillet so you're prepared to cook a stove top dish of any size.


What specialty cookware pieces should I buy?

If you already have a standard set, now it's time to specialize! Griddles and grill pans are always popular additions, while dutch ovens are functional as well as beautiful countertop accessories. Kettles are great for making tea on cold days, and roasting pans work well for turkey and chicken. Of course, when you buy it, you need to store it, so think about what dishes you make the most, and if you have the space to store the item when not in use.


Should I buy stainless steel, ceramic or cast iron cookware?

This is an age-old question that all depends on your budget and cooking concerns. Stainless steel cookware is nonreactive, heavy-duty and fairly affordable, though an uneven heat distribution means your cooking might suffer. Copper cookware is quick to heat up and offers more even cooking, but can leave a metallic taste in some foods. Aluminum is lightweight and budget-friendly, though it can warp or scratch with high heat and might not last as long. Ceramic cookware is known for it's even cooking ability and nonreactive qualities, which means virtually no chemicals will leach into your food; some models are even dishwasher safe for easy cleanup. Finally, cast iron is durable, heats evenly and will last a long time, but does take awhile to heat up, and requires initial seasoning and on-going care. Decide what qualities are most important for you and fit within your budget — slowly building up your collection with high quality cookware is always good way to go.
Sponsored Products
Featured Reviews of Cookware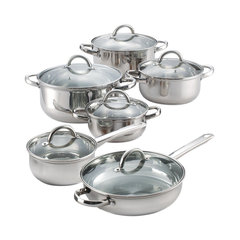 Homer 12-Piece Stainless Steel Cookware Set
Cookware
Great Deal! Love this set!: Exactly what i was looking for and my first time using Houzz I was looking for a stainless steel pot set that had riveted handles- which are apparently hard to find at a decent price. I was hesitant about using Houzz because i had never heard of it before but they are very professional. The communication was great and the shipping was fast. Highly recommend and will use this site again. Used the pots already and they cook very well.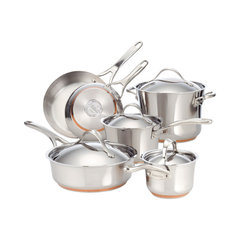 Nouvelle Copper Stainless Steel 10-Piece Cookware Set
Cookware
Nouvelle Copper & Stainless 10-Piece Cookware: This is a beautiful set of well designed and excellently crafted cookware. I have finally decided to do some pretty serious cooking & this set wii help fulfill my goal. It replaced some odds -and-end pieces I had put together. My brother who graduated from the CIA was actually impressed with the set. Now let's see if my cooking does the same!!!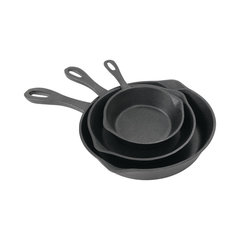 Cookware
I've fallen in love with Houzz: I love my new pans, they came fast and packaged well. I bought them because my mom used to cook meal in these types of pans when I was small. She's gone now, so in memory of her, I have my own now.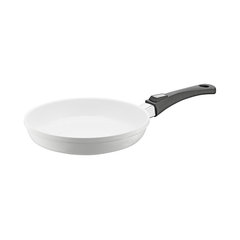 Vario Click Pearl Induction Fry Pan 8.5"
Cookware
Love Berndes pans: Having owned other Berndes pans I already knew I would love this new addition to my collection. Very little oil or butter required. Fried eggs just slide out of the pan. Just be careful - these pans can chip very easily.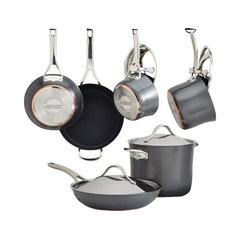 Nouvelle Copper Hard-Anodized Nonstick 11-Piece Cookware Set, Dark Gray
Cookware
Equal to sets costing double the money: I've owned this set for about 2 years, and after daily use it hardly shows any wear. This stuff is heavy duty well made with a thick plate of induction friendly stainless sandwiching a thick plate of copper for super even heating. The sides are beautifully finished hardened aluminum, and covers are highly polished heavy duty stainless. The non-stick surface stands up to daily use exceptionally well, and evenly browns meat with ease. The saute pan will make the most beautiful carmelized onions you've ever had. Every piece is well made and super easy to clean helped by the flush-ground handle rivets inside each pan. Stainless handles remain cool to the touch. If you look closely at some of your favorite cooking shows e.g. T.C., you'll see these are the same pans they use. If you want a top quality set of cookware at an unbeatable price, you won't be disappointed.