Microwave Ovens
There are three basic microwave styles: Countertop, built-in or over-the-range. A wide variety of features are available for all of these, but a significant distinction is that built-in and over-the-range microwaves tend to be larger, cost more and may require an electrician to install. Countertop microwaves are usually more compact, are less expensive, and only require an electrical outlet.


What should I do before buying a microwave?

When looking for a microwave, the first thing to do is to measure the area where you want to place the microwave. Make sure there's room to open the door, and that everyone in your household (who will be using the microwave) can reach it easily and comfortably. You don't want anyone to spill any hot liquids when reaching for a dish! It's also important to make sure that the vents on the microwave aren't covered. There should be an inch or two of space in front of each vent.


What should I look for when buying a microwave?

Once you've determined how big your microwave should be, think about what you want to get out of it. How often will you use it? What exactly will you be using it for? If you or your family doesn't use microwaves a lot — just for warming up basic dishes or occasionally defrosting — it's probably best to just purchase a simple microwave with basic functions. But if you're someone who uses the microwave for just about everything, you'll want to pay attention to the more advanced features that are available. Many microwaves have sensors that tell you when the food is done, automatic defrost settings, or convection options. Be aware of how much you'll actually use these functions, and how much they will add to the overall price. A convection microwave isn't a necessity unless you plan on really preparing food in the microwave, and not just warming or defrosting. A convection microwave won't provide the same results as a regular oven, and can be much more expensive.

Also, check how easy it is to clean. Any racks, dishes, or turntables should be easily removed (even better if they're dishwasher safe!). A carousel turntable is another nice addition. This ensures that food is cooked evenly, and you won't have to stop and rotate a dish while its warming up.

Find the microwave that's right for your home by searching through different styles and sizes on Houzz.
Sponsored Products
Featured Reviews of Microwave Ovens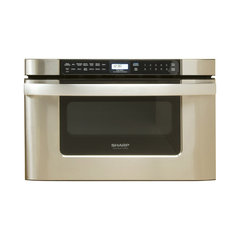 Insight Pro Microwave Drawer Oven, Stainless Steel, 24"
Microwave Ovens
Perfect fit for under our coffee bar!: We had been looking for a microwave to fit under our coffee bar, when we came across this drawer oven! This is a new construction that we are about to move in to, so will have more info on the actual functionality later. I have warmed food in it for while we are working on the house, and it seemed to do a great job! We have a 42" counter height that this went under, and it makes it very easy to access the microwave with it being a drawer! Delivered on time and in mint condition!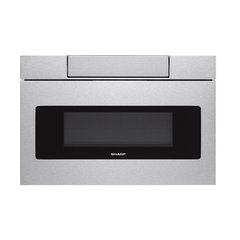 30" Flat Panel Microwave Drawer in Stainless Steel
Microwave Ovens
Great idea!: I have this microwave and it is great. Convenient and great appearance. Cooks great and I love the melt option. I don't like the defrost option. The unit actually stops quite often for you to rotate and turn your item over and beeps. I have to stay right there and do it or it will not defrost. I would prefer a beep reminding me and the unit continue to run. Also, the instructions are printed very small inside the door facing. Mine is installed in a lower cabinet so I have to almost stand on my head with a magnifying glass to read the option instructions. I need to take a picture of them , enlarge it and mount it where I can read it. Maybe I will memorize them soon. Other than that I love it and it is a great conversation item! We have had this unit for about six months and use it all of the time. We had a great cabinet professional that converted our existing cabinets to accommodate the microwave.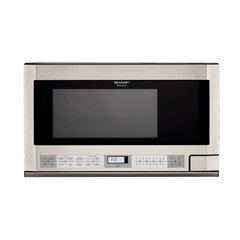 Over the Counter Microwave, Stainless Steel
Microwave Ovens
Perfect for the space: This seems to be the only microwave to fit the 24" space I was looking for beneath a cabinet. I have not yet operated as it is just now being installed, though it looks really good.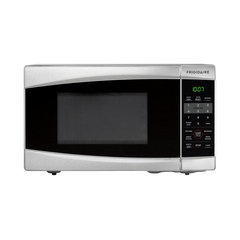 Countertop Microwave, Stainless Steel, 0.7 Cu. Ft.
Microwave Ovens
Terrific!: I totally agree 100% with all the positive reviews! This is a VERY handsome unit with all the bells and whistles of a larger model, including, a turntable AND it has a light inside, and everyone's favorite, an "add 30 seconds" button! Many smaller units do not these features. It looks great and is perfect. Arrived 3 days from order date, awesome! Thank you.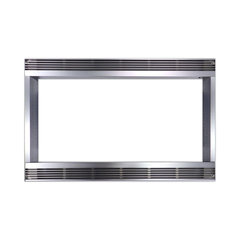 27" Built-In Trim Kit for Sharp Microwave R551ZS, Stainless Steel, 27"
Microwave Ovens
Installed quite nicely: We had to replace our old built-in microwave, and this Sharp unit was the closest fit. Installation went smoothly and without really studying it, you would never know that this was not the unit that originally came with the house.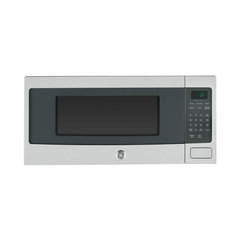 Countertop Microwave Oven
Microwave Ovens
Installation was a breeze, I love the slick design with dark gray tone and stainless, matching my other appliances.: Installation was a breeze, I love the slick design with dark gray tone and stainless, matching my other appliances. It's easy to operate. The price was comparable to others of the same size and design.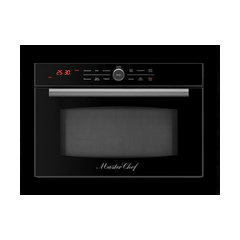 Master Chef, 24" Built in High Speed Convection Microwave Oven, Black Trim Kit
Microwave Ovens
24" Built In Oven for my new Kitchen Island!: This oven is great. I just had it installed into my new kitchen island. So far, the drop down door feature is great and I love how it cooks! It does everything it says it does. Thank you to this great company Master Chef!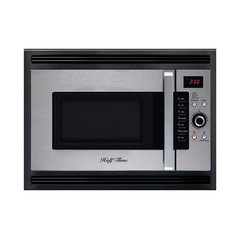 Half Time 24" Built In Convection Microwave Oven, Stainless Steel/Black
Microwave Ovens
RV Ready!: I have this oven in my RV. Its a unique size "24" so this oven is great. Wherever I am on a trip, I know I can count on this oven for my camping trips! Perfect for the RV family! Thanks Master Chef!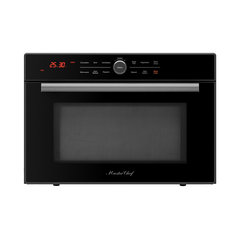 Master Chef, 4 Ovens in 1, High Speed Convection Microwave, Countertop, Black
Microwave Ovens
Fantastic Product: I just remodeled my kitchen and put this fantastic oven on my countertop. It looks like a commercial oven and its as beautiful in person as it shows in the picture. I don't even use my old oven anymore. This product is by far the best convection microwave I have ever had!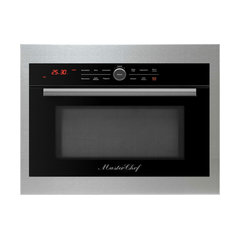 Master Chef, Built in High Speed Convection Microwave With Stainless Trim Kit
Microwave Ovens
5 Stars! This oven is awesome!: I have had the Master Chef Oven for a few months now, all I can say is wow. It does everything and more! I can bake, brown, roast, grill. Last night, I made a pork tenderloin with sliced potatoes all at the same time. It was done in 20 minutes! The customer service was fantastic too!