Featured Reviews of Modern Wall and Floor Tile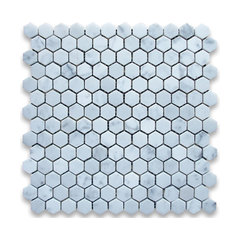 12"x12" Carrara White Hexagon Mosaic Tile Polished, Chip Size: 1"
Modern Wall and Floor Tile
Top quality product!: This tile is as good as it gets for mosaics, seamlessly interlocking with perfect grout lines and no obvious sheet outline when grouted. The Carrera marble is pretty uniform in color so as not to be too busy. I really do love this tile!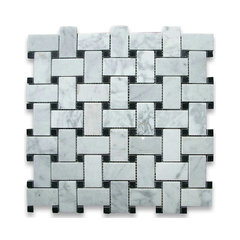 12"x12" Carrara White Basketweave Mosaic, Black Dots Polished, Chip Size: 1"x2"
Modern Wall and Floor Tile
Beautiful product: We bought this tile to replace our bathroom flooring which used to be a white porcelain hexagonal tile. I liked it but the grout lines drove me crazy. The tile is gorgeous and looks great in our bathroom. We have a white vanity with a black granite counter top and it looks great. My husband installed the tile which seemed to be a bit of a headache for him but he got it done. We used a dark gray grout. Price was great for this tile and looks so elegant and sophisticated.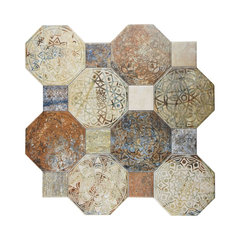 17.75"x17.75" Tallinn Ceramic Floor and Wall Tiles, Set of 10, Multicolor
Modern Wall and Floor Tile
Awesome!: originally purchased for bathroom floor but loved it so much we ended up tiling our entire kitchen and back hallway with this tile. I was worried it would be too busy but the colors are washed so it just looks amazing. Additionally, there are so many different hues, it matches any decor of your choice.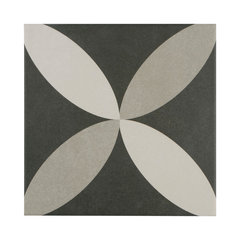 7.75"x7.75" Mabel Floor/Wall Tiles, Set of 25
Modern Wall and Floor Tile
Great look but: This tile answered many of the questions I have for striping a bathroom floor. My one concern is the grout lines will diminish the stripe effect I am going for. Time will tell and I may return to using two different color tiles in a wider diminish to achieve the striped look.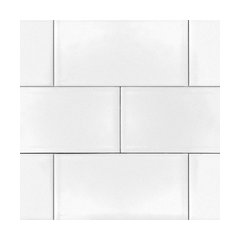 Subway Backsplash Tile, Shiny Gloss, 3"x6"
Modern Wall and Floor Tile
Great find!: I oredered a sample of subway tile before committing to a project. I was skeptical that it may not be that great because of the price. I thought there had to be a catch. I was blown away that it was so beautiful and the price is so cheap! I will now be ordering more!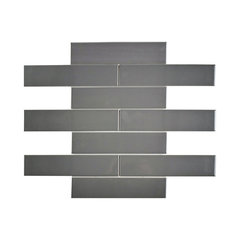 1.75"x7.75" Broadway Junction Subway Wall/Floor Tiles, Set of 10, Glossy Gray
Modern Wall and Floor Tile
Love the Look!: I love the Soho subway tiles! I like subway tiles, but they sometimes remind me of a bathroom. Since the tile is for a kitchen backsplash, this longer more slender tile in matte gives it a contemporary sleeker look. I LOVE it. I will be ordering more.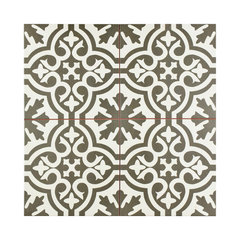 17.63"x17.63" Catarina Ceramic Tiles, Set of 5, Brown
Modern Wall and Floor Tile
Perfect for our bathroom remodel: These are exactly what I wanted for our master bathroom remodel. They are true to the images and description online. Make sure to use the manufacturer recommended grout color to get a good match!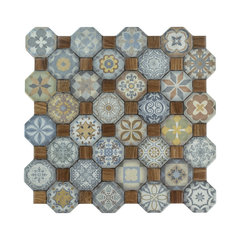 12.25"x12.25" Yasmine Wall/Floor Tiles, Set of 13, Multicolored
Modern Wall and Floor Tile
Very nice: I just got them, and am looking forward to seeing them installed. They're definitely substantial, which was a concern since I purchased them based on appearances and the specifications without a sample to touch and experience in advance.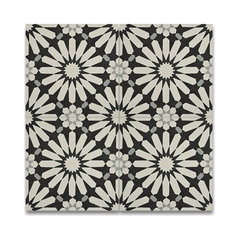 8"x8" Black and White Cement Algar Handmade Tiles, Set of 12
Modern Wall and Floor Tile
Moroccan tiles are beautiful: These tiles are sturdy with a soft black and medium grey pattern that will be a gorgeous floor for my tiny bathroom. They are being installed this week so I can't wait. I will use a concrete sealer on them which may darken the pattern a bit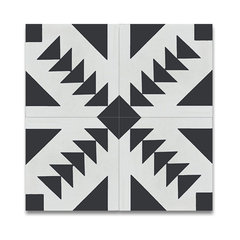 8"x8" Monet Handcrafted Geometric Cement Tiles, Set of 12, Black and White
Modern Wall and Floor Tile
Wonderfull Fireplace!!: Used this on my fireplace and it looks great and is good quality. Colours are for sure a more greyed out black and warm white. I did however mark some of the tiles and Im a little bit afraid of what will happen when I try to clean them (suggestions welcome)