1 - 36 of 874,208 products
Sponsored Products
Featured Reviews of Products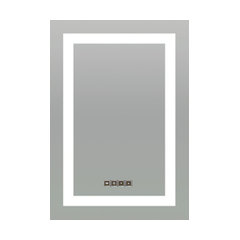 Leo Bathroom Mirror With Dimmable LED Border and Demister
Products
Great mirror with multi functions/switches: I purchased two LED lighted mirrors for a remodel. This Leo, and a Rennington - because this Leo only comes in one size. Its perfect for my guest bath, bright enough and multi-function to cover all uses. Even a demister for a clear mirror when taking a shower (not tested yet). But we know the demister works and I want to caution anyone purchasing with small kids that the demister function makes the mirror surface very hot. My electrician didn't get burned, but had tested when installed. He should have taped wires away from clear portion of mirror/FYI - or they will show through as shadows when mirror is on. Anyway, he went to take mirror down (big job - screws to frame/instead of lift-off bracket) and the mirror was very hot to the touch. Could be a concern if you don't know, or if small children have access. Be advised. But love the look, function and with overhead lighting works perfect without shadows. *added note - this mirror came SO WELL PACKAGED for shipping. 10 starts to Leo for caring so much that the product arrives safely and functional!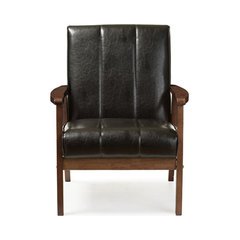 Nikko Faux Leather Wooden Lounge Chair, Black
Products
Comfy, sleek, and sturdy: We bought the chair and love seat and it's sooo perfect for our small space! It looks high quality. The chairs have the perfect amount of Cush and slight lean back angle to be comfy. The first was a little tricky to assemble but the second was a breeze once we figured out not to tighten the bolts all the way as you go not until the very end.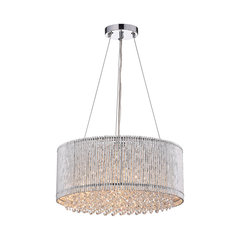 Yvette Crystal Chandelier
Products
Very pleased with my purchase: Not only did my new light fixture arrive early, but I am very pleased with the product. It is exactly as shown on the Houzz website, finish, dimensions and description. I would recommend this light fixture to others interested in adding a touch of elegance and glamour to their home.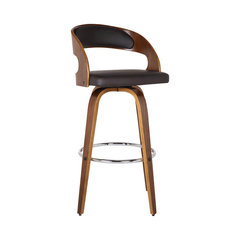 Galvin Counter Stool, 26"
Products
Exactly what we needed: We needed 26" high stools for our taller than normal kitchen counter. These are perfect and soooooooo comfy. They swivel easily and slide gently on our hard wood floors. We were well packaged and easy to assemble. They also arrived earlier than expected which was great.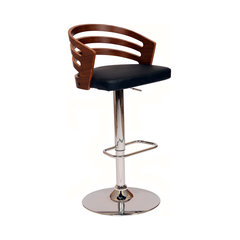 Deshield Swivel Bar Stool, Black
Products
Good looking and functional: I bought two of these for use with my bar height counter. The height also adjusts perfectly for use with the bar height as well as a counter height dining table I have when I need extra seating.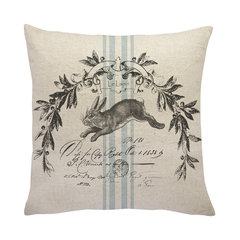 Lapin Linen French Throw Pillow
Products
Perfect in my kitchen on the white and yellow striped long bench cushion.: Perfect in my kitchen on the white and yellow striped long bench cushion. I could be anywhere in the French countryside. It is stuffed just enough to hold its shape well on the bench but still be cozy when snuggled against it while reading a journal with coffee. Also, it looks clean and fresh, but also has that "well-loved over the years" look. No odor, another great point. Arrived timely in a clean plastic bag that held up in transit. I recommend this to anyone else liking its decor.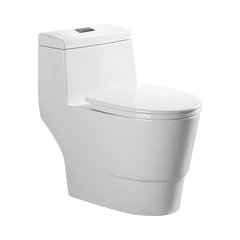 Dual-Flush Elongated 1-Piece Toilet With Soft-Closing Seat
Products
Very good quality toilet, Sleek and Stylish: Really nice, low profile, low water toilet. The very smooth exterior provides both great looks and ease of cleaning. Easy to install. Has strong flushing mechanism can be adjusted to your preference. Love this toilet!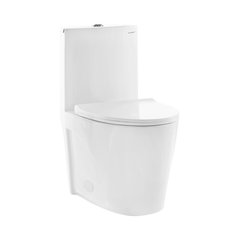 St. Tropez 1-Piece Elongated Toilet, Dual Flush, 0.8/1.28 GPF
Products
Bathroom remodel: While remodeling our bathroom, I decided to order this model of toilet for its sleekness and dual-flush operation. It looks great, a little difficult to install with small port access secure base. Works great, the right choice for our bathroom. Very quick shipping too.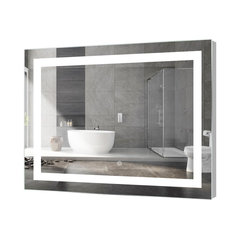 Kent Rectangular LED Mirror with Sensor, 48"x36"
Products
Great for Makeup: I put this mirror in my daughter's bedroom for her makeup station. She loves it. It was easy to hang (it does not come with screws or mollies for drywall). Lighting is great and gives a nice glow.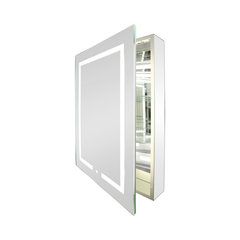 Kent LED Mirrored Bathroom Medicine Cabinet
Products
Kent LED Mirrored Bathroom Medicine Cabinet: This medicine cabinet is cool! Is has a light in the front which can easily be switched on and off. The light goes all the way around the perimeter of the mirror. To assemble you just attach the wall hanger onto the wall, connect the wire and clip the cabinet on the wall. Perfect for modern bathrooms with its sleek design!