Outdoor Hanging Lights
Your home can make a grand entrance with the right outdoor ceiling lights. No, we're not talking about those plain old simple bulb-and-shade combos. You can easily up the ante and make a visually stunning entryway with a choice outdoor chandelier or colorful outdoor pendant lighting. Warm lighting will create an inviting atmosphere that almost begs guests to trot up the front steps and ring your doorbell, while unique fixtures will announce loudly to the world how sophisticated your design style is. If your door or front windows are set to take the stage, some sleek and minimalistic outdoor ceiling lights will illuminate your entry without stealing the show.

Whether it's outdoor hanging lights or a unique drum shade pendant fixture to display on your porch, we've got plenty of styles for you to choose from here on Houzz.
Featured Reviews of Outdoor Hanging Lights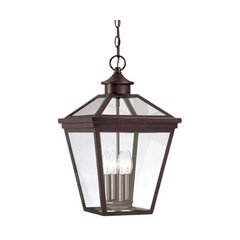 Savoy House Ellijay Hanging Lantern in English Bronze - 5-145-13
Outdoor Hanging Lights
Modern and great quality: We love this lantern for our newly re-built front porch! The design and quality is better than expected even and we're very happy. This is a large size and we needed to exchange it for the small size, but otherwise it's perfect.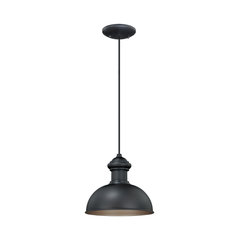 Franklin 10" Outdoor Pendant Light, Oil Burnished Bronze and Inner Light Gold
Outdoor Hanging Lights
Outdoor Pendant Light: It took a long time for me to find just the right light for my Chalet Style front porch. It gives the porch a warm inviting light, unlike the '80's "brass" and glass light that was there. The inside reflection is easy on the visitors unlike the cold glare of the other. I find Houzz and all vendors provide great customer service especially on-line. Thanks!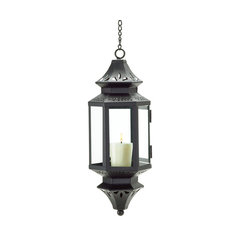 Outdoor Hanging Lights
Hanging Moroccan lantern: Ordered two of these lanterns. Arrived very quickly and were packaged very well. Hanging them in the house between kitchen and dining room. Added 3x3 candle to each lantern. Looks great. Good price.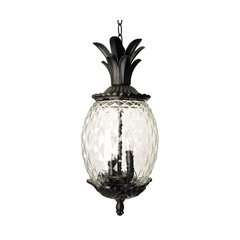 Acclaim Lighting 7516 Lanai 3 Light Pineapple Outdoor Pendant
Outdoor Hanging Lights
Beautiful fixture- quality is excellent: even prettier than expected. This light is very good quality and the fixture seems to be quality material and workmanship. Service from Acclaim was excellent, delivered with broken globe and they replaced no questions asked very promptly.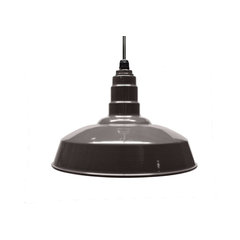 16" Standard Steel Warehouse Pendant Light
Outdoor Hanging Lights
Outstanding Product: I ordered this steel light with a red exterior, white interior, and black cord. I expected steel but not this level of steel. It's very well constructed and exceedingly sturdy. It has the weight and feel of antique steel lighting with enamel paint. Something I'd expect from the turn-of-the-last-century when quality was the only way to retain customers. I'm very pleased and would recommend this to anyone interested in this style light.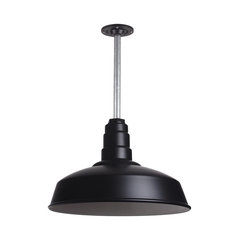 Barn Lighting 16" Pendant With Rigid Stem, Matte Black
Outdoor Hanging Lights
Very pleased: I was a little skeptical ordering this fixture because of the price. I was concerned the friendly price would equate to a lightweight, cheaply made product. I feel like I got an incredible value! The fixture is heavy duty, the components are solid and beefy, not at all "cheap". I purchased 5, galvanized finish, for the exterior of a shop and they look fabulous. Could not be more pleased!